Locarno 2020 Returns
74 year old world-renowned film festival from August 5-15 at the beautiful Swiss city
View(s):
Reaching the 73rd year, in a cinematic journey since 1946, Locarno Film Festival with a new outlook will be held from August 5 to 15 despite lockdowns, closure of cinemas and film production come to a standstill worldwide.
With the theme 'For the Future of Films' the 2020 edition of the Locarno Film Festival will be held at Swiss-Italian town of Locarno, making it the world capital of auteur cinema. This special edition, designed to be a "year zero", gathering films and viewers in the great digital Piazza that is the world wide web. The audience will connect from all over the world to discover the premieres of today and support the films of tomorrow.
The festival will also come with the reopening of movie theatres, with a mixture of past and future, of history and a desire to innovate. And so, with competitions, rediscoveries and surprises, Locarno 2020 will host dozens of screenings in the city, in venues such as PalaCinema and GranRex, as well as the PalaVideo in Muralto. A surprise selection will get things started.
Secret Screenings
Ten screenings of unnamed films, a theatre ready to welcome movie-goers and an Artistic Director happy to surprise them. This is the formula of the Secret Screenings, for which Lili Hinstin will have Carte Blanche, inviting the audience to discover the unexpected on a pathway through the cinema of past and present. About the films to be shown, right up to the moment when the lights go down and the screen lights up, nothing will be known about the films shown – except perhaps just a clue or two. Otherwise only the starting time and the theater will be revealed in advance.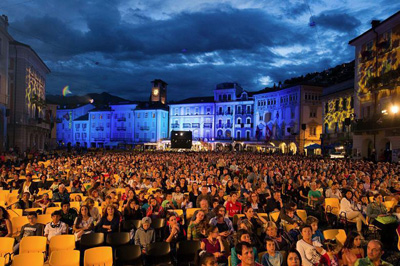 A line-up of ten films picked by the Artistic Director without regard to restrictions of regarding dateage, placeorigin, or even festival connections: from gems of the past waiting to be rediscovered, via to timeless classics always worth seeing again, to unexpected premieres. The films will be screened from 5 to 15 August in the early evening slot, with repeats the following day.
Leopards of Tomorrow
There could be no re-opening of theatres without welcoming back screenings of the Pardi di domani (Leopards of Tomorrow), a competitive section reserved for short and medium length films by young and new filmmakers. Presented online and with their line-up fully available on VOD, the short films competition will also feature in the physical program, with premiere screenings in evening slots and repeats over the following days.
Through the Open Doors
For its eighteenth birthday, Open Doors will be returning to the theatres with a kind of ideal journey through the history of the sidebar. An opportunity to see again revisit films that are otherwise hard to find, and to get (re)acquainted with filmmakers discovered across in almost two decades of traveling the least trodden pathways of world cinema. Ten films to celebrate the taste for discovery and desire for cinema that define of the Locarno Film Festival's most boldly exploratory section.
43 Films, Hunting for a Pardino    
Online and in cinemas, these are the films in Locarno 2020's Pardi di domani competition
There are 43 of them, and on August 5-15, both online and in theatres, they will give life to the Pardi di domani competition, as part of Locarno 2020. Twelve of them are in the national competition, while the remaining thirty-one will compete for international awards. The international jury assessing the films and giving out the Pardini will consist of Kiri Dalena, Mamadou Dia and Claudette Godfrey. Additionally, a new initiative, Padrini & Madrine, will guide the audience in terms of discovering the 43 films and their makers.
After weeks of careful, passionate consideration, having viewed over 2200 submissions, the Pardi di domani selection committee (Tizian Büchi, Liz Harkman, Stefan Ivanić and Head of Section Charlotte Corchète) has chosen the 43 films coming from 34 countries, ranging from the United States to the Philippines, from Finland to the Democratic Republic of Congo.
The complete line-up of the two Pardi di domani competitions are  1978, by Hamza Bangash – Pakistan, An Act of Affection, by Viet Vu – Portugal/Vietnam, Aninsri daeng (Red Aninsri; Or, Tiptoeing on the Still Trembling Berlin Wall), by Ratchapoom, Boonbunchachoke – Thailand, Bethlehem 2001, by Ibrahim Handal – Palestine, Digital Funeral: Beta Version, by Sorayos Prapapan – Thailand, Ekti ekgheye film (A Boring Film), by Mahde Hasan – Bangladesh, Fish Bowl, di Ngabo Emmanuel –Rwanda, Giòng sông không nhìn thấy (The Unseen River), by Phạm Ngọc Lân – Vietnam/Laos , Gramercy, by Pat Heywood e Jamil McGinnis – USA, Here, Here, by Joanne Cesario – Philippines, History of Civilization, by Zhannat Alshanova – Kazakhstan, I ran from it and was still in it, by Darol Olu Kae – USA, Icemeltland Park, by Liliana Colombo – Italy/UK, Kako sam pobedio lepak i bronzu (How I Beat Glue and Bronze), by Vladimir Vulević – Germany/Serbia,  Life on the Horn, by Mo Harawe – Somalia/Austria/Germany, Memby, by Rafael Castanheira Parrode – Brasil, Nour (Noor), by Rim Nakhli – Tunisia, O Black Hole!, by Renee Zhan – GUK, Pacífico Oscuro, by Camila Beltrán – France/Colombia, Parcelles S7 (Land Lot S7), by Abtin Sarabi – Senegal/Iran/France, Play Schengen, by Gunhild Enger – Norway Retour à Toyama (Return to Toyama), by Atsushi Hirai – France/Japan, Spotted Yellow (Zarde khaldar), by Baran Sarmad – Iran, Statul Paralel (The Parallel State), by Octav Chelaru – Romania, Szünet (Break), di Levente Kölcsey – Hungary, Ta cong an chu lai (Cloud of the Unknown), by Gao Yuan – China, The Chicken, by Neo Sora – USA, The End of Suffering (A Proposal), by Jacqueline Lentzou – Greece, Thiên đường gọi tên (A Trip to Heaven), by Linh Duong – Vietnam/Singapore, Thoughts on the Purpose of Friendship, by Charlie Hillhouse – Australia and Where to Land, by Sawandi Groskind – Finland.
For the entire duration of Locarno 2020 from August 5-15, the international Pardi di domani competition will be available worldwide, free of charge, on a VOD platform.
Compiled by Susitha Fernando – Source Locarno Film Festival