A road movie in search of freedom from youth unrest
By Susitha Fernando
'Soosthi' from July 17
View(s):
'Soosthi', young director Kushan Weeraratne's maiden film, produced by Udara Palliyaguru for Guththila Stratergic Solution is to be released at Regal, Majestic, Lido and other CEL circuit cinemas.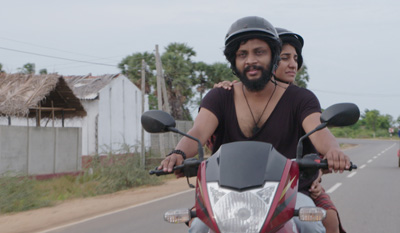 'Koombio'  teledrama famed Kalana Gunasekara and talented Samanalee Fonseka are playing lead while  other roles are played by W. Jayasiri, Maureen Charuni and Disny Rajapaksa.
The film reivolves around a young girl and a boy who decide to commit suicide. But unexpectedly they come across at the location had selected to take  their lives.
Brought up as the only child of a traditional family Susanthi or Susi undergoes severe depression due to various reasons. The only dream of her parents are to make her a doctor but when this dream is shattered they get their daughter married to a doctor. This worsen Susi's depressive mentality and she become suicidal.
One day her state of depression get worsen and she decided to take her life. The place she decides to end her life is a tall building in the city. As she reached the summit of the building she comes across Malaka, a young man who too had come to end his life there. The two strangers become friends and they decide to postpone their plans to end their lives for a week. Instead the couple take up a journey to see the country. In a motorcycle they set on a long tour, a journey of their lifetimes. What would be the end of this journey?
Screenplay written by Kalana Gunasekara, 'Soosthi' is cinematographed by Chinthana Somakeerthi and Chimantha Mahanamage is the editor.  Colour mixing is by Yashoda Dhanupamage and Sound designing and musical score written by Asha Rajapaksa, Mananuwan Rupasinghe is the make up artist. Visual effects by Nirodha Weranga, production executive-Sachith Fonseka, graphic designing of the film is done by Duminda Kaluarachchi.