SLFP in sideline battles on other fronts also
View(s):

For the now emaciated Sri Lanka Freedom Party (SLFP), the August 5 parliamentary elections campaign is not the only task.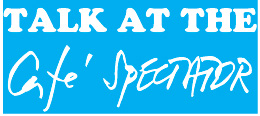 It has opened up several other fronts at the same time. The political commentary in our issue today reveals how a ding-dong battle between the SLFP and its stronger partner the Sri Lanka Podujana Peramuna stalwarts is now playing out on election platforms.
According to the SLFP's Deputy Leader Rohana Luxman Piyadasa, the party has written to the Election Commission complaining against the Samagi Jana Balavegaya (SJB), using the colour blue. This colour has throughout been associated with the SLFP.
Much the same way he snatched a large segment of UNP parliamentarians to the SJB and gave the nominations to contest, SJB leader Sajith Premadasa has changed colours too. Along Kotte Road his multi-storeyed office earlier flew green flags. It is now carrying green and yellow flags. But party stalwarts say their colour is green, and some of them sport green and yellow – a true rainbow party.
Prof. Piyadasa said that if the Election Commission did not take action, the SLFP would initiate action in courts.
Another front the SLFP has opened up – a small army of lawyers who are monitoring the media, meetings and other publications. The SLFP Lawyers Association Acting Secretary said "if they are defaming former President Maithripala Sirisena or destroying his good name, we will initiate legal action against them."
One of the accusations against former President Sirisena, he said, was that he was occupying an official bungalow.
"Past Presidents Chandrika Bandaranaike Kumaranatunga and Mahinda Rajapaksa too have received official residences," he pointed out.
---
Mystery contract to exploit ilmenite in Mannar
A committee of officials will be appointed to probe reports that an Australian company together with Sri Lankan counterparts has been granted a contract to extract ilmenite in the Mannar area, the Cabinet decided this week.
The move came after the Industries and Supply Chain Management Minister Wimal Weerawansa told ministers that media reports had claimed such a project was under way. However, he told his colleagues that his Ministry had given no such approval and no records were available in his Ministry. Such a joint 'project' also had a website, he said.
The Minister said queries made by him had revealed that such a project was under way. The committee is to be named next week.
---
Top posts: Ministers' nominations to be fully checked
Nominations for government positions including even corporation heads – made by ministers to President Gotabaya Rajapaksa – are being given strict background checks.
A government source said such checks included even whetting by intelligence agencies before the appointment is made. There have been occasions when a few were rejected, the source added.
---
Maithri to step down, will MR lead the SLFP?
Former President and Sri Lanka Freedom Party (SLFP) leader Maithripala Sirisena, will step down from his post after the parliamentary elections.
He made the announcement at an election meeting in Kalutara. He said that he would pave the way for younger people to take over the leadership.
For the election of a new leader the modalities have not yet been determined. It is likely to draw interest both from in and outside the party as some SLPP members have said that Prime Minister Mahinda Rajapaksa will be the next leader of the SLFP.
---
Beware your hand sanitiser may explode
Here is a warning for motorists who place their hand sanitiser bottles on top of their dashboard when parking their vehicles in a parking lot.
Exposure to sunlight could cause the content to heat up and end in an explosion. This is because of the high alcohol content in the sanitisers.
A recent incident in the American state of Chicago, led to a major fire where a car was all burnt inside, the dashboard, seats and upholstery. The front window too was cracked. The owner had placed a bottle of sanitiser on top of the dashboard. The rays of the sun heated it and that led to the explosion. The particular sanitiser contained 80 percent alcohol.
Health authorities in Sri Lanka advise motorists to keep the sanitiser either in their car locker, compartment on the doors or compartments where there is no direct sunlight.
---
Polls Chief drives SLFP candidate off the road
Election Commission Chairman Mahinda Deshapriya was in Jaffna this week to oversee election arrangements and discuss related issues with officials in the peninsula.
It was brought to his attention that there were complaints that Angan Ramanathan contesting under the SLFP ticket had publicised certain ongoing road projects which he claimed were the result of his own action.
Mr Deshapriya directed that boards be placed in areas where construction work was now under way, saying the projects were Government backed.
---
Minister in his own high tech jam
Transport Minister Mahinda Amaraweera, has become the victim of new measures he initiated to jam mobile phone conversations in prisons.
The Hambantota District Angunukolapelassa prison is one such case. His private residence is located close to the prison area. The installation of jamming equipment meant that he could not use his own mobile phone.
Not until he discovered a spot where the mobile phone signals were good enough to dial out. So, he went there, made the calls, and returned.
---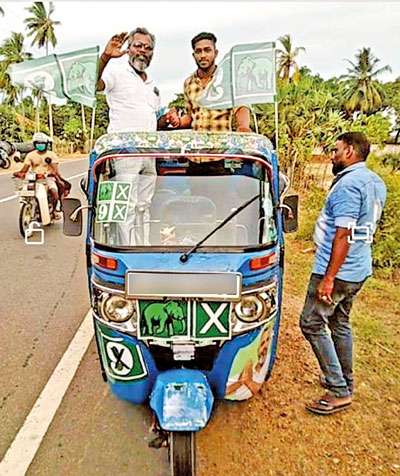 Tuk tuk campaign by UNP candidate in Jaffna
Vinayagamoorthy Sakhathevan, the United National Party (UNP) candidate for the Jaffna District at the parliamentary elections has found a novel way to campaign.
He stands inside a three-wheeler scooter that is parked at different road intersections to draw the attention of his supporters. As people pass by, he greets them and calls upon them to cast their vote for him.
Here is the candidate together with a supporter and a three-wheel driver.
---
Ultra-modern gym for troops in Jaffna
Army Commander Lt. Gen. Shavendra Silva yesterday declared open an ultra-modern gymnasium for troops at the Security Forces headquarters in Palaly, Jaffna.
---
Lady politico cause of row in the SJB
A former minister, now on the SJB national list, is drawing flak from a section of the party led by a candidate from the Colombo district.
At two successive meetings, the candidate unleashed a strong barrage of criticism against the ex-minister. According to an SJB source, him being shifted from one electorate in Colombo to another, appears to be the grouse.
The ousting, they claim, has come after pressure on the SJB leader Sajith Premadasa from the ex-minister. They say it was all because a lady politico wanted it done to accommodate a close relative.