Shades of blue make it through
View(s):

My dear Mahinda maama,

I thought I should write to you even though I know you must be busy with your election campaign and your attempt to win a two-thirds majority on the fifth of August, when I heard some comments made by another Mahinda, Mahinda Amarey, who is also from your neck of the woods, Hambantota.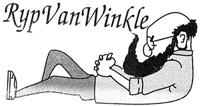 Just when we thought that the Blue party was dead and that its last rites would be performed after the big election in a few weeks, Mahinda Amarey tells us that you will be likely to take up the leadership of the Blue party after the election because we will finally be able to say goodbye to Cheerio Sirisena.
Mahinda maama, everyone knows you by that name, although your real name is Mahendra – and we know you like the former name more. Why else would you name a port, an airport, and a cricket ground in Hambantota and a theatre in Colombo after it? Yet, I think this name is beginning to give you trouble.
Probably because you liked 'Mahinda' so much, you packed your last Cabinet with five other 'Mahinda's. In addition to Amarey, there was Samarey who crossed over from the Greens, Wije who was injured in the bomb blast, Yapa from Hakmana and Mahindananda, the sporty one as well.
The past weeks have shown that Mahindananda, though having the names of two of the better schools in the country and being educated at probably the best school in the nation behaves like he never went to school. And now, Mahinda Amarey adds fuel to fire, saying you will be taking over the Blue party!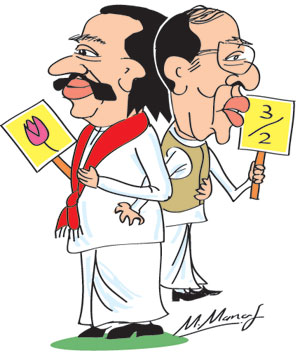 Mahinda maama, that statement comes as quite a shock to us because, listening to some of the Blues and former Blues who are now battling each other for the general election, one would think that the two main parties in the fray are the Blue party and your 'pohottuwa' party, with no Greens involved.
We saw that chap Roshan in Polonnaruwa take on Cheerio Sirisena, even attacking Dudley Aiya's rice mill business. Then, the other day, Dayasiri of 'Disce aut Discede' fame tore in to your loyal ally, Prasanna, saying he didn't pass his 'O/Levels' – and they are not even contesting from the same district!
With tussles like this between Blues and the 'pohottuwa' candidates occurring in almost every district, as everyone scrambles for the 'manaapey', who would have thought that Cheerio Sirisena would simply walk away from the job and that you would be welcomed back as the leader of the Blues?
The other reason why Mahinda Amarey's statement is surprising is because he is well known to be His Master's Voice, his Master being Cheerio Sirisena. In the past, as we have all heard, he has even made snide remarks about you – at the behest of his Master, Cheerio Sirisena, when he was the boss.
Amarey says that the Blue party has had strong leaders since it was founded by SWRD nearly 70 years ago and, having led the party for 10 years, no one will challenge you if you want to lead it once more. If you do that, says Amarey, you will be able to restore the Blue party to its former glory.
The poor chap seems to have finally let the cat out of the bag, hasn't he? What he is inadvertently suggesting is that Cheerio Sirisena is not a strong leader and that he has squandered the legacy left behind by SWRD, Mrs B, Satellite and you, and reduced the Blue party to rubble and ruins.
Be that as it may, what do you think Satellite's reaction to all this would be? After all, the 'B's ran the party like it was a family business until you took over and then it really became a family business for the next 10 years. I am sure Satellite will have a few choice words to express her sentiments!
Besides, how would you explain a return to the Blue party to all the 'pohottuwa' chaps who have endured harassment from Cheerio Sirisena just because they supported you instead of him? Will they be able to let bygones be bygones and forgive and forget? And, what will Gota malli have to say?
The Blue party has a rich history and deserves to be saved from extinction. If anyone can do so, it will be you, Mahinda maama. Still, it was a party of the 'B's for the 'B's by the 'B's until you took over. Now the 'pohottuwa' party is the party of the 'R's for the 'R's and by the 'R's. Do you want to change that?
Yours truly,
Punchi Putha
PS: You need to be careful about resurrecting the Blues. That might give ideas to the 'telephone' chaps to resurrect the Greens. They might then chase the Green Man away and install Sajith and the Greens will be a force to reckon with once again. Now, you don't want that, do you Mahinda maama?