White elephant in the making as athletics body rejects high altitude training centre in Nuwara Eliya
Athletics
View(s):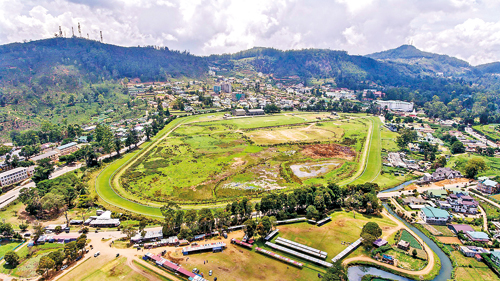 The proposed multi-million dollar high altitude training centre in Nuwara Eliya could be another white elephant in the making as experts have said the selected location is unsuitable to the project's intended purpose.
The Government is currently negotiating the venture with project partner France-based Ellipse Projects SAS to reduce the cost of Euro 75.5 million (Rs. 15 billion) by 20 per cent. But the Athletics Association of Sri Lanka (AASL) says the best location should be at an altitude of 2,000 metres. The identified spot is 1,868 metres.
While high altitude training will benefit athletes, critics question the need to spend so exhorbitantly on a "fancy" training centre in Sri Lanka while the Government struggles to maintain even existing sports facilities. How, they ask, will the administration generate returns from such a heavy investment? And they point to the possibility of serious environmental damage to one of Sri Lanka's most popular tourist destinations.
"We had our Kenyan coach visit there and he was not happy with the location," said AASL President Maj. Gen. (Rtd) Palitha Fernando. "So, we are currently training our athletes in a location in Piduruthalagala which has the ideal altitude for high altitude training."
Rejected by the Cabinet Review Sub Committee (CRSC) of the Treasury in two previous instances (2009 and 2013), the project has been pursued under every Government thereafter despite the question of viability and location suitability. Once completed, the centre is expected to provide indoor and outdoor training facilities at an altitude of 1,868m. But there is concern also about the cost. The centre will have 400-metre and 200-metre running tracks, a 400-metre natural running track, two pavilions, a cricket ground, an indoor stadium, swimming pools, training centres and five-star hotel.
"There's no necessity for such sophisticated training facilities," Maj. Gen. Fernando said. "We need a good jogging track on a suitable location for training. Besides, this is not the priority. Why not channel these funds to provide synthetic tracks to all provinces. This will have a significant impact compared to a high altitude training centre."
The proposal has come up several times since 2015. It was last floated under Dayasiri Jayasekera, a former Minister of Sports. His administration even signed a technical agreement with Ellipse Project SAS in July 2017 with UKEF agreeing to finance 70 per cent while the remaining 30 per cent was to be funded by a local bank. But it was put on hold by the then Government over questions of economic feasibility. Instead of borrowing at a time when money couldn't even be found for the Central Expressway, it wanted to implement the venture as a public-private partnership to generate income for the Government.
Sports Ministry officials confirmed, however, that the financial agreement has been signed and the Government has already paid a sum of Euro 264,492.34 – approximately Rs. 52.9 million – as loan facilitation fees. "We have got a new proposal from the project partner with a cost reduction," an official said, on condition of anonymity. "We have sent it to our project consultant, University of Moratuwa, to study to see whether it's feasible."
High altitude training allows athletes to improve lung capacity together with building endurance and physical fitness. This promotes enhanced competitiveness.