Making a difference with the stories we tell our children
By Adilah Ismail
What started off as a single book project to help young children directly impacted by the Easter attacks, grew into Kiribath Publishers that celebrates one year of publishing children's books
View(s):
A few years ago, Sachee Ranaweera was looking for board books for her young son. Board books have rounded edges and simple storylines, are designed to cultivate curiosity and are sturdy enough to withstand the tactile inquisitiveness of a toddler. While there were numerous English books available, what Sachee was specifically looking for were board books written within Sri Lankan contexts and reflecting its diversity. Her search finally yielded a solitary copy of an old board book by beloved author Sybil Wettasinghe, who passed away last week, tucked in a book store. But little else.
For Sachee, this is the gap that Kiribath Publishers fills – thoughtful, well-written children's stories with faces, places and situations recognizable to Sri Lankans. She has since purchased every book the year-old publishing company has published, either for her son or as gifts for young children. A counting book about Sigiriya for instance, she explains, situates numbers through an excursion in Sigiriya – counting the stairs, the monkeys, mirror wall reflections, bathing pools and hornet nests ("Ssssh! Don't wake them up!" the book cautions)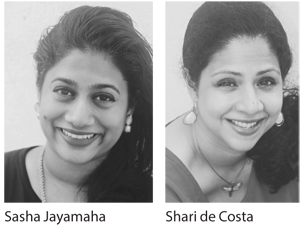 Kiribath Publishers began as a response to the Easter attacks in Sri Lanka last year. Sasha Jayamaha received a call from an NGO requesting if the counsellors at a counselling facility she co-runs could be sent to help those in Batticaloa directly affected by the attacks. Soon, there was a realization that the scope of work was deeper than expected and there were large numbers of children affected. Sasha and a friend, Shari de Costa, wrote a children's book titled When Bad Things Happen specifically as a tool to help parents in the affected churches speak to their children about what had taken place and to process the trauma through their belief systems.
Dileeni Abraham, a teacher and trainer of counsellors at the Colombo Theological Seminary, shared the book with a group of teachers of children in church and community contexts in the Batticaloa area two months after the Easter bombings. She explains that having the book helped teachers and parents speak to their children about difficult experiences such as these instead of sidestepping what happened.
"I definitely believe that books and storytelling are very helpful ways to help children understand their emotions around loss, grief, traumatic and violent events. Children can identify with the children in the stories – their feelings, thoughts, confusion and with how the children in the stories are able to grieve, find a resolution to their emotions and learn to accept losses and see that life does go on. Through stories, children can understand their own physical and emotional experiences due to trauma. It normalises their experiences as well as builds resilience as they identify with the resolution that the children find in the stories. It also helps children open up and talk about what they are feeling and experiencing which is an essential part of healing from trauma," noted Dileeni, emphasizing the importance of well written, sensitive stories set in the local culture.
Illustrated by Royden Gibbs, When Bad Things Happen isn't for sale as it was written for young children directly impacted by the Easter attacks. But the wider reception to the book and its translations as well as seeing the excitement of children recognizing characters like themselves and familiar spaces in the story they were reading, were reminders that there was a vacuum to be filled and work to be done.
In its first year, Kiribath Publishers have published 15 books for children aged 2 – 8 years and are now mulling over expanding their age groups. Their range of books spans all three languages and formats such as lift-the-flap, board books, colouring books, counting books and more. Sasha and Shari work to ensure that the books are trilingual and match different writers with illustrators according to themes and formats. It's been a year-long learning experience to understand the market, and the economic slowdown has slightly dampened the plans the duo had for the year but they intend to keep learning and growing.
"When we were growing up we read books mainly set in England or America with places and characters that were foreign to our experience. We wanted the next generation of Sri Lankan readers to have books they could identify with," says Shari.
In Guess Who?, an interactive format is combined with Singlish to teach children the names of animals like the lizard, water monitor, peacocks and civets through local dialects. The Girl on the Sun explores the wonder and imagination we experience as children and is available in English, Sinhala and Tamil and comes with a colouring book. The publishing company's latest book, which is out this month, is When Parents Argue. The book enables adults to have a conversation with a child about domestic arguments and help them understand that parents are not perfect and make mistakes. Meanwhile, a forthcoming publication examines income inequalities.
The stories we tell our children can make a difference — and it is this which undergirds the books carefully sent out into the world by Sasha and Shari and the people they work with, through Kiribath Publishers.
"It (story telling) is incredibly important especially since there is so much change from when we grew up to the era of technology our children are growing up in. They need to know they can imagine alternative worlds and go on adventures simply using their
imagination and they do not simply need to live through a screen and what it feeds them. Imagination is a powerful tool and storytelling feeds it," explains Sasha.