Appreciations
View(s):

He led a full life

Helmut Hendrichs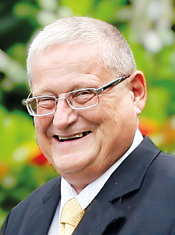 Three months on since his demise it is still with a very heavy heart that I pen these words about my dear Papa, Helmut Hendrichs, who, following a short battle with cancer, passed away peacefully on April 15 with my mother beside him.
Papa was born in Nordkirchen, Germany as the only child to his mother Paula and father Dr.Franz Hendrichs, a former mayor of Selm Bork who also served in the German army in WW1. Following his higher studies in Muenster University, he started his early career in journalism,writing for the Westfaelischen Nachrichten newspaper.
He was an explorer at heart and would fondly reminisce tales of his travels and road trip from Germany to Afghanistan in a caravan. Fuelled by the adventures of his idol, the famous Norwegian adventurer Thor Heyerdahl, it was this thirst for exploring and travel that brought him to Sri Lanka in 1980. However, what made him make Sri Lanka his home was love. His love for the country and the love of his life – my mother Iresha Hendrichs (nee Jayawardena).
After much convincing by him, he was given her hand in marriage which they celebrated with a beautiful wedding at the Mount Lavinia Hotel. Together they started their life in their plantation in Matugama.With his new experiences on the plantation, fluent Sinhala language skills and passion for reading, he soon became an expert planter. He was accepted into the planting community and was a regular at the events of the old Tebuwana planters club. To his staff he was their 'Sudhu Mahathaya' who they respected and loved.
If you ever met Papa as a stranger, he was someone who you would never forget. He was friendly and could strike up a conversation with anyone. He was able to talk about anything with anyone as his general knowledge was incredible fuelled by his love of reading. We used to joke that he was like a walking encyclopaedia. Even though he touched many people, he had a few friends whom he held very close to his heart. He would call them frequently and thoroughly enjoyed the time he spent with them. Papa was known to be very direct and honest. What you saw was what you got.
He enjoyed his food, specially being spoilt by the excellent dishes made by the chefs at his self-acclaimed 'second home' the Hill Club in Nuwara Eliya. Spending a lot of time in Nuwara Eliya he was usually found sitting by the fireplace at the Hill Club or enjoying the views of the green with a tea in hand at the Golf Club. Here he also indulged in his passion for horses, which he passed on to me, and was respected within the horse racing community as a judge of the Royal Turf Club. Papa was a keen member of the German charity organisation 'Die Hilfebrueke' and as a part of it he was a familiar face at the International Christmas Bazaar every year. When in Colombo, he spent most of his time in the Colombo Swimming Club, where he was a member for  over 25 years.
As a husband, he was an honest partner to my Ammi and loved her very deeply.  As a father, he gave me everything I could have ever asked for. His flow of advice and knowledge was constant. He would not hesitate to tell me off, but I knew that this was with the best intentions and unconditional love. As a father-in-law he trusted my husband Jehan to make the right decisions and look after his precious family.  As a grandfather, or Opa in German, he was proud of his grandchildren and enjoyed their company.
As Papa was an only child living in his adopted country Sri Lanka, he considered Ammi's family as his family.  He was very proud of being part of the Jayawardena family.
We miss him very much but take comfort in the fact that he led a life full of enjoyment, love and great friendships. We spent a lot of the last 12 months together as a family and those memories will be cherished forever.
Thank you, Papa, for everything. We love you very much. You will be in our hearts forever.
Your beloved daughter,   Natascha Hendrichs Leelananda
---
She was not just a music teacher but second  mother and mentor to students and staff
Joy Ferdinando
A legendary teacher of music and the arts Joy Ferdinando was called to her Maker on June 27, after a brief illness. She had a record 68 years of teaching music starting from small beginnings.
Joy came from a Moratuwa family that had music in their blood. Her two sisters were also music teachers but it was Joy who strode forward to start her own institute – the International Institute of Music, Speech and Drama over 20 years ago.
There was no turning back and soon she had experienced teachers and examiners from across the country including the North and East backing her with students sitting for local and foreign exams.
Joy was the Sri Lanka representative of IILCM- the London College of Music Examinations – University of West London and was later made a Fellow of the Society of Teachers of Speech and Drama, UK.
She was responsible for starting the ever popular Festivals for Music, Speech and Drama which gave an opportunity for local students of all ages to display their talents. Her contacts and relationships with London enabled her to get down foreign adjudicators to judge the festivals and every year saw the standards grow by leaps and bounds. This made her very happy.
The summer camps followed.
Joy was a hardworking lady who never took 'no' for an answer and her support team always worked hard to achieve the best results. Though she seemed tough on the exterior she had a heart of gold  and was always on hand to help her sudents and staff when requested. On numerous occasions she permitted students to sit for exams and take part in festivals even though they had not paid their fees. She often said 'I cannot deprive these children of showcasing their talents'.
Every year Joy took her institute staff on an overseas holiday to show her appreciation to them for a job well done. She was like a second mother and mentor to them. Joy loved overseas travel and had a small group of friends who went on many a trip with her. She often visited the UK to keep abreast of  the work of the London School of Music.
The multitude of tributes paid to her is evidence of the magnitude of her loss. Teachers, parents and children came in their numbers to pay their last respects to her at her daughter's home where her remains lay surrounded by flowers and music.
The mission she started with her institute will I am sure, be carried on by her staff and management for the benefit of future generations.
My family and I have known Aunty Joy for more than 28 years and we were privileged to have known such a charming lady.
Aunty Joy, you are now in a better place. may your soul rest in peace.
Johanne De Zilwa
---
She was a shining light in  the community of the Capital District of New York
FAZANA SALEEM-ISMAIL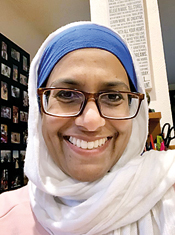 Fazana Saleem-Ismail passed away at the age of 47, on June 25, after a brief but courageous battle with stomach cancer.
She was a Research Scientist at the Professional Development Program of the Research Foundation of the State University of New York (NY). She was also the Founder of Jazzy Sun Birthdays, a volunteer project that provides personalized birthday parties for children living in homeless shelters throughout the Capital Region of New York.
Born and raised in Staten Island, NY, Fazana spent most of her primary school years in the US save for two extended stays in Sri Lanka as a youth during which she attended Ladies' College, Colombo and Wycherley International School.
She held a BA in Economics from Bryn Mawr College (PA) and received her Master of Public Policy degree from Georgetown University (DC) where she focused on Family and Children's Issues and Food and Nutrition Policy.
While at Bryn Mawr, Fazana served as President of the International Students' Association and the Muslim Students' Association. She was the President of the Georgetown Public Policy Student Association and received an Outstanding Student Service Award.
Fazana conducted social science research at the U.S. Department of Agriculture (DC), Mathematica Policy Research (NJ) and the Institute for Health Policy (Sri Lanka).
She served as a Senior Program Officer and Director of the Earned Income Tax Credit Program at the Robin Hood Foundation (NY) and received a Community Capacity Builders Award from the Neighborhood Technical Assistance Clinic in recognition of her work.
She and her family moved to Sri Lanka to assist with tsunami-rebuilding efforts as volunteers with the Lanka Relief and Development Foundation (Sri Lanka) in 2005 and remained there until 2007.
Since founding Jazzy Sun Birthdays in 2011, Fazana celebrated the birthdays of more than 300 children with the help of over 400 volunteers. She was proud that not only does the project make homeless children feel like kings and queens for a day but it brings together people of different racial, ethnic, religious and socio-economic backgrounds and helps young children who volunteer develop a working understanding and awareness of the issue of poverty.
Individuals from South Africa, Canada and Sri Lanka wrote to Fazana seeking her advice on replicating her project in their countries.
Fazana was also actively involved in anti-Islamophobia efforts.  She was also instrumental in organizing and participating in "Ask a Muslim" events during which individuals were encouraged to ask questions of Muslims in an effort to dispel stereotypes and build bridges.
She was a committee chair of the Capital District Coalition Against Islamophobia and was a founding member of the Albany chapter of the Sisterhood of Salaam/Shalom.
Fazana was a highly-respected member of the community of the Capital District of New York and was featured in local newspapers, magazines and TV news stories while she received numerous awards for her volunteer work.
One organization created a special "Dreamer Award" for Fazana in 2014 stating that, "She has single-handedly and in a very unique way made a significant impact on her community." In 2015, Fazana was selected as a medalist for the prestigious Jefferson Awards for Public Service.
Fazana Saleem-Ismail is survived by her husband, Jiffry; daughter Sanari; son Jaazib; parents, Dr. and Mrs. Fawzy Saleem; and brother, Afsaan Saleem.
AS
---
Remembering one of Lanka's brave sons
Maj. Gen. Ananda Hamangoda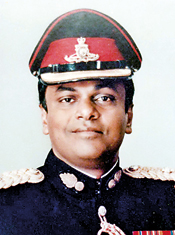 They shall grow not old, as we that are left grow old;
Age shall not weary them, nor the years condemn.
At the going down of the sun and in the morning
We will remember them.
- Laurence Binyon
Major General Ananda Sri Sisira Kumara Hamangoda, RWP, RSP, USP, was a brave, smart and efficient army officer who made the supreme sacrifice 24 years ago.
Brigade Commander of the 51-2 Brigade based in Jaffna, Hamangoda was killed on July 4, 1996, when an LTTE female suicide bomber detonated explosives strapped to her waist as the motorcade he was in stopped at Stanley Road in Jaffna town.
A brilliant student of Maliyadeva College, Kurunegala, Ananda excelled in many spheres as a sportsman, student leader, house captain, senior cadet, and more importantly, as the school's best orator. Hailed as a role model for the school by his teachers and peers, Ananda captained the school's badminton team in 1971 and won the Gold Medal for overall best performance in the school that year.
He started his initial army training as a member of Maliyadeva's Junior Cadet Platoon which won the All Island Junior Cadet Championship continuously for several years from 1965. Later he graduated to the Senior Cadet Platoon ending up as the Sergeant.
Born on November 1, 1950 in Kalutara, he enlisted to the Sri Lanka Army (Regular Force) as cadet officer in 1973 and received his commission later on as a Second Lieutenant in the 4th Regiment of Sri Lanka Artillery. From that stage onwards, the promotions were many: Second Lieutenant Hamangoda became Lieutenant in 1976, Captain in 1979, Major in 1983, Lieutenant Colonel in 1990, Colonel in 1994 and finally Brigadier on November 15, 1995.
His army career extended over 23 years, which was half his life span of 46 years. He followed several advanced courses at some of the finest military academies in the world in Wellington, India, Pakistan and Sri Lanka.
He served as the commanding officer of the 6th Field Regiment, Sri Lanka Artillery from October 1992 to March 1994 and as commanding officer of 51-2 Brigade in Jaffna in 1995.
He was actively involved with operations 'Vadamarachchi', 'Akunu Pahara', 'Idiri Pimma' and 'Riviresa' and received several medals of gallantry, among them the 'Uttama Seva Padakkama', the 'Poorna Boomi Padakkama', the 'Vadamarachchi Medal' and the 'Riviresa Medal'.
With the rapid expansion of the Army, he on his own initiative raised a new Field Battery in the newly founded 6th Regiment of Sri Lanka Artillery and became its first Battery-Commander. Afterwards he was also appointed the first Second in Command in the newly raised 7th Light Artillery Regiment in November 1988, in view of his excellent and extensive knowledge on artillery and wide experience in the battlefield. His dedication towards the Artillery Regiment was commendable; he rendered a yeoman service to the Regiment with his knowledge and experience.
His sporting prowess in cricket, volleyball as well as in boxing contributed to the advancement of sports activities in the Army.
Ananda was married to Indrani Dissanayake, a teacher at Royal College, Colombo and they had two daughters Buwani and Maheshni and one son Dulshan.
A close friend
---
My son who made the supreme sacrifice
 Niroshan Srideva
My dearest son Niroshan Srideva, a final year Medical Student of Sri Jayawardanepura Medical Faculty was murdered quite unexpectedly on July 6, 2001, in front of my eyes at our residence in Colpetty.
It is my destiny to live on with this sorrow.
Just after Niroshan's perishable body was cremated there was a shower of rain that fell in that area (after a long spell of drought in July) for a few minutes as if the Gods above were shedding tears of sorrow and blessings. He was an ardent devotee of Swami Sri Sathya Sai Baba.
Niroshan had a charming smile, eyes that twinkled and lasting sweetness in his words. As far as I am aware no one ever noticed any slightest trace of anger, dislike, despair or hate on his face. He was the embodiment of innocence, humility, large heartedness, fraternal attachment, steadfastness of faith and courage.
Niroshan shone at the Medical Faculty. Even though I really miss my son I have some consolation to note that his comrades, associates and friends, who knew him very well, take great delight in recounting his goodness and his sterling virtues.
Niroshan sacrificed his life for the sake of saving his father. Maybe he would have thought at that moment—" Is there any act of gratitude nobler than dedicating this body which was received from my father to save his life alone"and thus he offered it with spiritual bliss. By this act of sacrifice he proved to the world that "service of father is the son's eternal duty".
Niroshan, I do not know what merit in my previous life secured you as my son. But now your loss has given me longlasting pain and agony. I try with difficulty to follow Swami' s words to 'treat joy and grief with equanimity'.
Loving Dada   Dr. C. Srideva
---
To a life well-lived
 DR. RAJPAL KUMAR DE SILVA
On the first anniversary of his passing-July 15
A well-lived life…
A gift to celebrate
A collection of memories and moments
Of relationships nurtured
Kind deeds done
Of lives that were touched
A legacy of love!
M. A.
---