Kandakadu cluster – all measures being taken, so don't panic: Health DG
By Kumudini Hettiarachchi, Ruqyyaha Deane & Meleeza Rathnayake
View(s):
Don't panic. We are doing everything that needs to be done," assured the Director-General of Health Services, Dr. Anil Jasinghe on Friday night, referring to the Kandakadu cluster which mushroomed this week.
This cluster is an extension of the Suduwella infections as those people were sent there and this disease usually adi adi thiyenawa (drags on), he said, when the Sunday Times queried from where the index case of this set of COVID-19 hit people would have originated.
Explaining that the Kandakadu cluster has mushroomed quickly, unlike the navy cluster which dragged on slowly over a period of time, Dr. Jasinghe said that of 472 tested so far, 339 are positive.
"Therefore, the positivity rate is 71% and this cluster won't last that long, as the navy cluster. The positive people will be looked after at Kandakadu itself as most of them are asymptomatic. If they develop symptoms we will transfer them to the Welikanda Hospital," he said.
Dr. Jasinghe said that with major support from the State Intelligence Service (SIS), the staff who has gone on leave, those who visited the inmates and service providers who came to Kandakadu are being traced.
"Tracing of contacts is being carried out meticulously. It may be difficult to find all the buses on which the female staffer from Nattandiya travelled as we have to go by her memory but fortunately she had worn a face-mask throughout. Her family members and others she came into contact with are being quarantined either at a centre or in their homes," he said.
While RT-PCR tests are being carried out at Kandakadu and those who came into contact with those at Kandakadu, community testing is also being carried out. On average, about 1,500 tests are done per day, it is learnt.
Meanwhile, the RT-PCR testing laboratory at the Bandaranaike International Airport, Katunayake, would be functional shortly with the capability of conducting about 500 tests per day.
The start of the Kandakadu cluster
The person who tested positive was at the Kandakadu Drug Rehabilitation Centre for 3½ months and was brought to the Welikada Prison, along with another prisoner on June 27 for a court hearing, by the Polonnaruwa prison officials, said the Commissioner of Prisons (Administration & Rehabilitation) at Welikada, Chandana Ekanayake.
He said that before sending him back, an RT-PCR test was done on July 3 which was not good. The prison staff immediately isolated him and another test was done on July 6 which came back positive.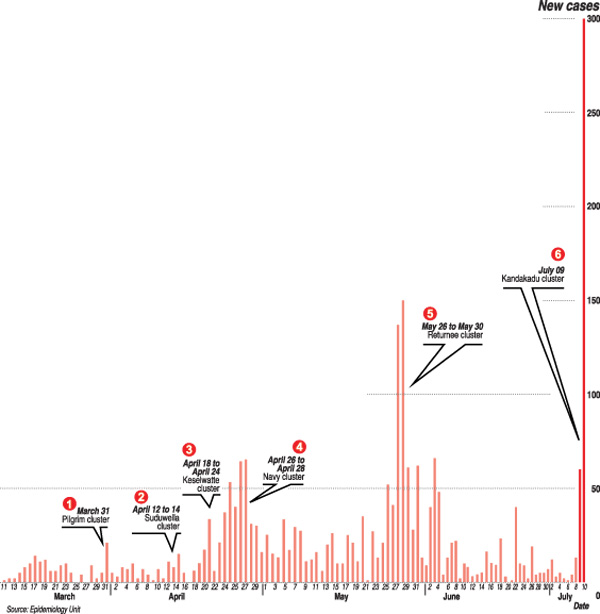 While the Welikada Prison has about 3,000 inmates, this person was in a ward with others and staff who would have come into contact with him numbering around 230 people. They have been sent to the Maduru Oya and Punanai quarantine centres, he added.
Two units at Kandakadu
After the detection of the COVID-19 positive detainee at the Welikada Prison on July 7 who had been brought from the Kandakadu Rehabilitation Centre, all detainees and prison staff were subjected to about 700 RT-PCR tests. All of them were negative, Army Commander and Head of the National Operation Centre for Prevention of COVID-19 Outbreak, Lieutenant-General Shavendra Silva told the media.
On the same day, all those at the Kandakadu Rehabilitation Centre were tested and 57 were found positive. When a woman instructor who was on leave in the Marawila area tested positive, her parents, family members and contacts were also tested and sent into quarantine. The test results are awaited, he said.
The two Drug Prevention, Treatment and Rehabilitation Centres in Kandakadu and Senapura areas in the Polonnaruwa district have 1,150 detainees and employees. These centres are managed by the Justice Ministry, it is learnt.
Steps have been taken to convert the nearby army-managed Kandakadu Quarantine Centre to a field hospital which can accommodate 500, anticipating any increases in positive cases when test results are issued, Lt-Gen. Silva said.
He added that the infection may have come into the centre by a few convicted drug addicts who had been brought there on a court order a few days ago or by the 116 visitors who had visited their relatives under rehabilitation on July 4 after restrictions were lifted. All of those visitors had been identified and are now in quarantine. Eight other instructors who are on leave have been identified and are being brought back for quarantining.
The rehabilitation centre and the quarantine centre at Kandakadu are about one kilometre apart, Army spokesman Brigadier Chandana Wickramasinghe said.
On July 7, after the detection of the COVID-19 patient at the Welikada Prison, his contacts of 186 at Welikada; 11 at the Polonnaruwa Prison; and 7 at the Pallekele Prison were traced. Around 204 people have been sent to quarantine centres, he added.