No globetrotting for a while; but have an adventure right here!
By Francesca Mudannayake
Founded in 2016, Ceylon Ramblers Club gives the opportunity to tackle various trails in different parts of Sri Lanka
View(s):
At the end of a long hike around Kalupahana (situated near Horton Plains), everyone takes pleasure in the final destination: a cool dip in Lanka Ella falls. The air is clean, the water is soothing, and the company is great. Not many of us in the group knew much about Bambarakanda Falls or Kalupahana before going on this one-day hike but the impressive views, fat leeches, and all around good atmosphere made it something unforgettable.
Ceylon Ramblers Club (CRC) revels in providing these experiences and as one of its founders, Sudhakaran Thevar (known as Sudha), says, "Adventure is always an adrenaline rush. It keeps you at the tip of your toes and for most people, completing an excursion gives them a sense of accomplishment. It's also a rewarding feeling to disconnect from the world and be in the moment."
It's not an exaggeration to say that tourism has been deeply impacted by COVID-19 travel bans and a diminishing disposable income makes it tough to go on an overseas holiday during these uncertain times. So, the future of travelling may possibly lie with domestic tourism and CRC has long been in the business of cultivating a wider interest about the hidden parts of this country.
What really attracted me about CRC was the subsidised cost and how each experience was always timed to coincide with various public holidays so that anyone could join.  Founded in 2016, it specializes in taking people to different, remote parts of Sri Lanka (and abroad) to tackle various trails. "We provide hikes, mountain bike tours, camping, diving, paragliding, and high-altitude mountaineering (overseas). The list keeps increasing." When you go over to their Facebook page you encounter photos of Kegalle's scenic Bible Rock side by side with ones of Spiti Valley in the Himalayas.
Sudha himself has always been a keen adventurer – as a youngster, he'd skip school to go hike in the hill country so it's no surprise he started the club. "Exploring has always been something that's close to my heart. Starting the CRC was an easy decision because I wanted others to experience the same moments that I enjoy and value the most." To hear him talk about his insane trips with the club is to understand just how much of the natural world we have yet to explore. "I've chased sunrises, witnessed amazing sunsets, dived into a different world under the ocean, raced down winding roads near acres of tea fields, wandered through rainforests, experienced new cultures in Nepal and north India, para-glided from a snow-capped mountain top, and base-camped at the Everest and Annapurna mountain ranges. I feel truly blessed to witness such amazing moments."
For each experience, the company provides you with a scale of difficulty in their info box (6 for beginners, 19 for the completely mad) so you're well aware of what you're getting into if Everest isn't your calling.  However, the actual joy of going on one of the hikes is the bond you build with your fellow companions through communal suffering– you're well aware they're just as unfit as you are and even though the trail is actually quite easy, you know your thighs were not built for this. On a recent hike, I found myself considering how remarkable it all was, seeing as we all tumbled into the bus early morning as strangers but came back to Colombo possessing in-jokes and some great, shared memories.
It's a highlight for Sudha – "The CRC has always been about bringing like-minded people together. New experiences are always great when you have others to share them with.  When I see others enjoy the moment as much as I do, I know I've done my part in creating something unforgettable for them."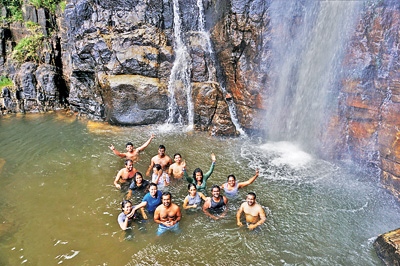 I've also always been pleasantly surprised that we're never taken to run-of-the mill eateries for breakfast or lunch but rather to the homes of people who live and work in the area – almost like a collaboration that works with and gives back to the people who have been here for so long.  Sudha says, "Creating an experience involves including many characteristics that are unique to the location. One important factor is food. We try whenever possible to have villagers prepare meals that are simply amazing and specific to the location and culture. We also rely on their expertise on the lay of the land." Not only do you indulge in the food they have made but you also get a chance to talk with them. It's important to recognize that for the most part, we do live in a bubble and going on trips like this exposes you to things that are much bigger than expected. It humbles you almost."
With the pandemic exposing the stark disparity between classes and ethnicities, it's more important than ever to understand and support each other as we move forward. International tourism has always been touted as a way to break down barriers between people, but maybe we've been missing out on doing this closer to home. I know I have, but CRC lends a hand by bridging that gap with sensitivity and a flavour of adventure.