ICAC 2020 the next level of Research Initiative of SLIIT calls for papers
View(s):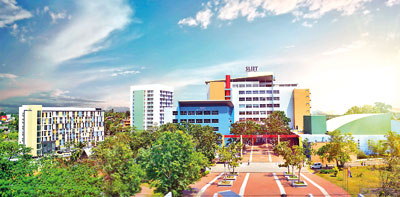 ICAC Conference was initiated by the Faculty of Computing, SLIIT and the first conference was held in December 2019.
This year, the second conference will be organized for the second time with expanded scope and content. The 2nd International Conference on Advancements in Computing (ICAC 2020) will be held at the SLIIT on the 10th and 11th of December 2020.
ICAC 2020 will be an excellent opportunity for researchers to be exposed to the world of innovations through research and to be able to showcase their talents and share their knowledge with the academia and the industry.
This conference is a forum for the industry and for the academia to collaborate and contribute in important fields of research for the "Advancements in Computing". The conference will present original contributions producing the outcome of recent research in the areas of interests including but not limited to, Computer vision, Natural Language Processing, Data Analytics, Distributed Systems, Cyber Security, Internet of Things, Robotics and Intelligent Systems, Human Computer Interaction, Data Communication & Networks, Information systems and Soft Computing.
Dr. Pradeepa Samarasinghe, Senior Lecturer, Faculty of Computing, SLIIT is the General Chair of the ICAC2020 while Prof. Chandimal Jayawardena, Dean, Faculty of Computing, SLIIT and Prof. Koliya Pulasinghe, Professor, Faculty of Computing, SLIIT are co-chairing the event.  The keynote speakers are Prof. Thushara Abhayapala from Australian National University and Dr. Thrishantha Nanayakkara from Imperial College, London.
Similar to ICAC 2019, ICAC 2020 will be technically Co-Sponsored by the Institute of Electrical and Electronic Engineers (IEEE) and the papers presented at the conference will be published in IEEE Xplore Digital Library, which is the research database with the highest international access. This will be an excellent opportunity for Sri Lankan Authors to take their research outcomes to the international readers.
Apart from the usual conference proceedings there will be workshops conducted by the domain experts.  Authors and interested parties are cordially invited to visit www.icac.lk for more information and contact ICAC organizing committee via info@icac.lk for any inquiries. You can also visit our facebook page www.facebook.com/ICAC2020.
The paper submission was opened on 1st July and early bird registration is open from 15th November 2020 onwards. SLIIT opens arms to all research enthusiasts to participate in ICAC-2020 to witness an unforgettable academic experience.