Policies and principles first, please
View(s):

My dear Akila Viraj,

I thought I must write to you after hearing some of your comments last week, saying that your party- the Greens party, contesting on the 'elephant' symbol – will win the forthcoming election and that those who abandoned you to join young Sajith will desperately want to return to the fold after the poll.
You went to the extent of saying that more than fifteen of Sajith's candidates are talking to you about joining the Green camp after the election. I admire your optimism but then, if they were really doing that, I was wondering why you would publicly say so at a news conference – and upset their plans.
What was even more astounding was another comment you made- that JR won the 1977 election fielding what you called a 'B' team. More than 90 Green organisers had left the party after JR sacked Rukman and he was forced to field a 'B' team at the election but yet won a landslide, you claimed.
I must congratulate you, Akila Viraj, on your sound knowledge of the Green party's political history. After all, at the time JR sacked Rukman in the seventies you would have been but a few years old, running around in your 'jungee', yet you seem to know exactly what happened at the time.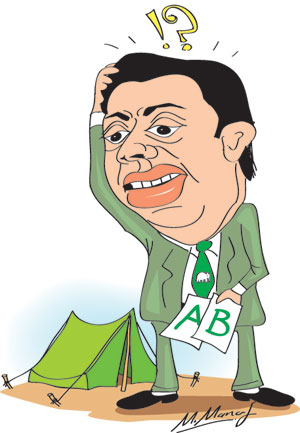 What surprised me though was your description of the candidates fielded by JR – a team that included Preme, Gamini, Lalith, Ronnie, EL, ACS (also known as 'All Countries seen'), Gamani, Nissanka, DB and Thonda (Snr.) as the 'B' team. Many people regard that as one of the best teams we have had.
Please correct me if I am wrong, Akila Viraj, but what you are also inadvertently saying is that this time around too you see yourself as the 'B' team because the 'A' team has left you to join Sajith. So, you really expect history to repeat itself and for you to record another landslide victory, do you?
Akila, we have seen how busy you and the Green party has been these last few weeks. One of your candidates filed a case asking that the nominations submitted by Sajith's camp be rejected. That was dismissed by the courts. Then, you were complaining to Maco about Sajith using the Green colour.
To be fair, Sajith's chaps were also busy fighting you. Your counterpart in their camp, Madduma Bandara, went to courts challenging their suspension from the Green party. That too was thrown out by the courts. The last we heard, they were appealing to a higher court against that decision.
I am not sure whether you are aware of this, Akila Viraj, but most people still feel that the principal task of the Green party is to do battle with Gota maama, Mahinda maama and the 'pohottuwa' party and not to lock horns in a do or die struggle with Sajith and his 'Telephone' team.
If you had been looking around, talking to people, listening to the news and reading the newspapers you would have noticed that the 'pohottuwa' chaps are not going around simply asking people to vote for them- they are asking for a two-thirds majority, so they could amend the Constitution as they wish.
It may be too late to patch up your differences with Sajith and his team. The outcome of this election will decide whether you or his camp will survive as the major opposition party. In the meantime, why can't you do us a favour and concentrate on the 'pohottuwa' instead of trying to attack each other?
If you can learn from the political history of nearly fifty years ago when JR sacked Rukman, why can't you learn from more recent history- like the last general election. That was when the Blues were hopelessly divided and Cheerio Sirisena told us he will never appoint Mahinda maama as his PM.
During that campaign, the Blues were attacking each other more than they were attacking the Greens and they ended up on the losing side. The rest, as they say, is history- Cheerio Sirisena had to eat his own words and install Mahinda maama as his PM- only for that to be overturned by the highest court.
So, Akila Viraj, can we have a campaign where we decide to vote based on policies and principles, not personalities and party name boards? You don't want to be in the same boat as your Kurunegala colleague Dayasiri, would you – as the general secretary who presides over their party's demise?
Yours truly,
Punchi Putha
PS – Talking of fielding a 'B' team because of seniors suddenly leaving, that is indeed what happened to the Green party after the Tigers took out the 'A' team of the party's leadership – Preme, Lalith, Gamini and Ranjan. A "B' team captain took over and the Greens have been a 'B' team since then!