Covid-19 dictates terms for August 5 elections
By Our Political Editor
View(s):
The pandemic is far from over; 300 positive cases in a day at Kandakadu drug rehab centre; reminder of the need to follow health guidelines at political rallies
Major parties say manifestoes are coming soon, but opposition hit by lack of campaign funds
Elections chief assures polling booths are safe for voters, seeks gazette notification on  health regulations
There is a strange paradox to the August 5 parliamentary elections over the unseen but deadly virus that is dictating all events.
It continues to batter the economy and causes vast unemployment. Adding to it are more returnees from jobs abroad. The date for the polls, the most important event for Sri Lankans this year, has been pushed back at least twice.
Amidst this, crowds at meetings are mingling shoulder to shoulder as VIP candidates turn up. This has become all too common. The near normalcy set in motion after months of lockdown seems to have spawned a high degree of complacency. Though Covid-19 is still prevalent not only in Sri Lanka but to an extremely high degree in most other countries, most Sri Lankans behave with the apparent belief that the pandemic is now over. The fear in them has gone but the scourge remains. Adding to this irony is that now most people are not wearing face masks.
Alarm bells rang on Thursday when it transpired that just more than 200 people were confirmed as new cases of Covid-19 — all in a day, since the pandemic hit Sri Lanka. Even the Government Department of Information appeared hesitant to break the bad news of such a high toll. Hence, it took the safeguard of saying, 'at the time the news release was being issued,' 56 confirmed cases were detected that night. By Friday morning, it said, there were 196 cases. Later on, Friday, the figure rose to just over 300 confirmed cases.  Almost all of them were from the Kandakadu drug rehabilitation centre. Yet, the health machinery, geared since the outbreak, is coping with the new spike. Consequently, the return of Sri Lankans from overseas has been delayed due to accommodation facilities at quarantine centres.
Thursday's spike is only a reminder that the deadly disease is far from over. It comes as a grim reminder that it takes only one infected person to spread the virus and force hundreds into quarantine. A female employee from Kandakadu centre travelled in three different buses to reach Marawila. She was found to be positive. Tracing passengers in the buses has become an arduous task. In Ambalantota 15 persons from three families have been placed on self-quarantine in their homes. In Pelmadulla, ten families have also been placed on self-isolation in their homes. Thus, political meetings where social distancing is not practised, and face masks are not worn pose a dangerous public hazard. That it is happening despite a high-pitched public campaign to urge people to follow health guidelines is ironic. Making it worse, it comes when lukewarm poll campaigns are showing a marked increase with some degree of political activity.
Manifestoes next week
Next week, the main contenders for the elections will declare their manifestos. Speaking for the Samagi Jana Balavegaya (SJB), now the veritable main contender, its Campaign Manager and former Minister Harin Fernando said the party's manifesto would be released tomorrow (Monday). According to Ravi Karunanayake, Assistant Leader of the United National Party (UNP), the party's manifesto would be made public tomorrow.
"It will focus mainly on strengthening the economy, particularly the home economy," said Sagala Ratnayake, a former Minister and a party front-liner.
Prime Minister Mahinda Rajapaksa has declared that the Sri Lanka Podujana Peramuna (SLPP)-led ruling alliance's manifesto would be the programme of work spelt out at the November presidential election by Gotabaya Rajapaksa, now President. The Janatha Vimukthi Peramuna which goes as National People's Power will also release a manifesto, its leader Anura Kumara Dissanayake said.
Significant enough, parties which are the main contenders, appear to have no major national issues to raise. The only key issue which has assumed some controversy was raised by UNP leader Ranil Wickremesinghe. That was a query to the government — "tell us whether you will sign the Millennium Challenge Corporation (MCC)" compact. Wickremesinghe's Yahapalalana government went to great lengths to make the deal with United States a reality. In fact, a staffer from the MCC in the United States, a government body, spent considerable time working from 'Temple Trees' towards achieving this goal.
The MCC compact is twofold. It seeks to assist the Sri Lanka government to improve inadequate transport logistics infrastructure and planning. The other is a land project for agriculture, the services sector, and industrial investors. In its final report, an experts committee headed by Prof. Lalithasiri Gunaruwan noted that the previous government chose to sign the compact "without conducting a thorough assessment of such conditions, mechanisms and their impact."
If the Government of Sri Lanka wants to sign the agreement, the experts committee noted, that all clauses in the MCC Compact and all associated agreements and project proposals that harm the country's sovereignty. its economic, political and social future as well as its independence must first be removed and the agreements and project proposals amended accordingly. The US Embassy, however, has declared that the compact was a "transparent arrangement" which is beneficial to Sri Lanka. The Cabinet of Ministers has been given two more weeks to study the report before a decision is made. There is still a likelihood of it coming before the parliamentary polls. The government mood appears to be one of not rejecting the compact in toto, but for a call to re-negotiate.
Addressing the UNP Maharagama Balamandalaya (a body that carries out political work for the party in an electorate), from the residence of a candidate, Wickremesinghe said, "The Government should not be afraid to letting the people know its plans for the MCC Compact within the next two weeks. That can bring about a public dialogue. If people want money in their hands, he declared, they should vote for the UNP." Despite a few other UNP candidates speaking in favour of the MCC compact, the issue has not gained any traction in their political campaign. The reason is simply because the issue is so complex, and the people are still unaware of the intricacies or the nuances involved. Also, for the UNP, any deal with a foreign country or entity, is viewed with greater public suspicion.
Other than that, Wickremesinghe re-iterated at several small meetings so far that "there is a huge economic crisis in the country." He told the Maharagama meeting that the crisis occurred in January and was not the result of Covid-19. The SLPP-led alliance changed the taxation system in November 2019, just after the presidential election. Revenue fell and the "first indicator was the stoppage of allowances that the Yahapalana Government promised to pay from January, this year."
"We are here to offer you money. We are going to create a huge plan," he added pointing out that "a week after we are elected, we will discuss how to find the money. We will go to the International Monetary Fund (IMF) and friendly countries," he said.
Yet, according to ex-minister Sagala Ratnayake, the party is already facing a crisis over election funding. "Due to the Covid-19 pandemic, the businessmen are unable to make large donations," he told the Sunday Times.
For Samagi Jana Balavegaya (SJB) leader Sajith Premadasa, it was a string of political promises during meetings. He has promised a Fiscal Stimulus Package if an SJB government is formed.  Whilst strengthening manufacturing industries, he also offered Rs 20,000 each for poverty-stricken families. SJB General Secretary Ranjith Madduma Bandara said the party's pledges would be contained in the manifesto. During a visit to the north last week, Premadasa said he would set up a Development Task Force under his charge to develop that area. As its limited campaign is underway, in-fighting over campaign issues has reached a new high.
It is known that the SJB in particular is also badly in need of money for expenses related to its campaign. Several leading businessmen who funded the SJB during the presidential election campaign have cited financial difficulties caused by the Covid-19 pandemic and expressed their inability to help. The SJB leadership approached a onetime prominent member and urged him to use his good offices the way he did for the UNP. "There is no way I can do anything when donors are now asking the government for loans," he had replied.
To a lesser degree, though, the UNP is also facing a similar situation. Whilst some of the better-off candidates are coping with their campaigns, others have sought to resort to 'pocket' meetings. This is one of the contributory factors to the party leaning on the social media for most of its campaign.  "This has been successful because we were able to reach the people who are reluctant to attend public gatherings," said Sagala Ratnayake, who is involved in the UNP campaign. "We have also planned 60 main political meetings to be addressed by our leader, he said.
A response of sorts to Wickremesinghe's assertions as well as Premadasa's came from Prime Minister Mahinda Rajapaksa when he addressed a meeting in Pannala. He said the state of affairs in the UNP, the country's oldest party, was pathetic. Sajith Premadasa broke the party in such a way that it would never be able to recover the colossal political losses it suffered.
Premier Rajapaksa declared, "They are not contesting to grab power and form a government. Their fight is to establish power at Sirikotha, (the UNP headquarters in Pitakotte). Wickremesinghe wants to keep power for himself and Premadasa is fighting for it. This is their polls contest. After the elections, many members of their party will come to us, he said. During the previous government, he pointed out, the President and the Prime Minister disagreed on many issues. One was unaware of what the other was doing. That caused great harm to the country. They did not think of development. Already, one of their former minister's, Wijeyadasa Rajapakshe, has made revelations in this regard. They only had anger and jealousy to claim he was the owner if they saw a coconut plantation. If there was a new building under construction, they claimed it was President Gotabaya Rajapaksa's.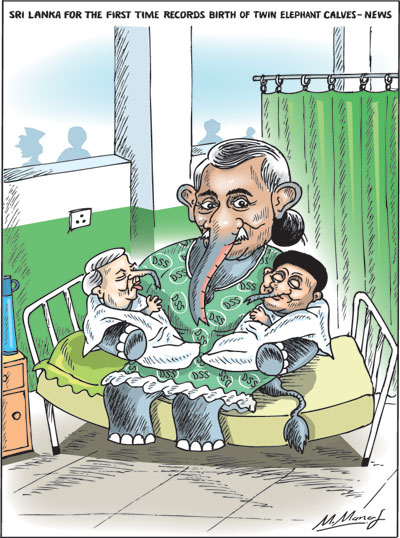 Unlike during the presidential election, this time so far, President Gotabaya Rajapaksa and Premier Mahinda Rajapaksa have been campaigning separately. The former was in the Polonnaruwa district when Premier Rajapaksa was first in Hambantota and later in Kurunegala districts. Noticeably, President Rajapaksa did not make any speeches during his tours. He mingled with the crowd helping them take 'selfies' and talked to candidates before leaving.
The Tamil National Alliance (TNA) dominates the campaign in the Northern Province which encompasses Jaffna and Vanni electoral districts. The two districts will return 13 members. The number of parties and independent groups contesting is unusually high — 35 political parties and independent groups from the Jaffna electoral district. In the Vanni district 46 parties and independent groups are contesting.
The Tamil National Peoples' Front led by Gajendrakumar Ponnambalam and the Tamil Peoples' National Front led by former Northern Province Chief C.V. Wigneswaran are describing themselves as an 'alternative' to the TNA.  As the campaign heats up, there are indications that they would eat into some of the TNA votes. The TNA's theme is "development with (Tamil) rights." The UNP voters are split. The Samagi Jana Balawegaya (SJB) is fielding a separate team. Former state Minister Vijayakala Maheshwaran is leading UNP's campaign while social activist Velautham Ganeswaran is leading the SJB campaign.
Election Commission and its challenges
The biggest challenge for the Election Commission, its Chairman Mahinda Deshapriya said was the conduct of parliamentary elections under the health guidelines. During a lengthy conversation with the Sunday Times, he explained how polls arrangements have been made, bearing in mind the pandemic. "Our polling booths are safer than any other public place. No one has to worry that they will be affected," he said. Here is what the voter is required to do and some of the comments made by Chairman Deshapriya.
"Every voter, turning up at a polling station, will be required to wear face masks and maintain a one metre distance from each other in the queue. They will be put through a sanitisation process thrice – (1) at time of entry to the polling station. (2) When he or she stands before an election official with a poll card or official identification before the ballot paper is issued, and (3) when he or she departs.  Election officials will wear face masks and where considered vulnerable they will also wear a face shield. In view of the time it would take, the Election Commission has extended voting hours by one hour, to end at 5 p.m. instead of 4 p.m.
"A health sector worker will be assigned to every polling station. Some may have even two. Yet others may oversee two booths. It will most probably be a Family Health officer or a trainee Public Health Inspector (PHI). Observations, if any, will be made by PHIs and MoHs (Medical Officer of Health).
"The ballot paper for the Colombo district, for the first time, will be in two columns. In the Colombo district, there are 24 political parties and 24 independent groups. In Ampara, the total number is 54, again with the names in two columns. In Batticaloa and Vanni the ballot papers will also be two columns each.
"There is a serious anomaly in this situation. An independent candidate wishing to contest parliamentary elections is required to pay a deposit of only Rs 2,000.  This is in terms of the Elections Act of 1981. This requires immediate change. When the law came into effect, an SLAS (Sri Lanka Administrative Service) officer was paid a salary of around Rs 950. Since then, the basic salary of a cadet SLAS officer has increased to Rs 47,750. However, the disparity is clear. There is no proportionate increase now. Even for political parties, it should be around Rs 50,000 for every candidate.
COMPLAINTS
"Most complaints relate to the media. Earlier, it was only the Lake House, ITN, SLRC and SLBC which were under government purview. We have to be careful to ensure that national print media reports accurately and in a balanced way. People tend to believe what they read, hear, and listen. These publications are also read out every morning on television. Television and radio frequencies belong to the people. Some tend to read only headlines and gossip and not proper political columns.
"The social media does not belong to the public. But the frequencies (of TVs and radios) belong to the public. (Note: They also cater to the public despite the assertion and are playing an extended role in the election campaign. This appears to be the reason why the Election Commission has left out the social media when issuing guidelines to the others). The environment, air and the jungles that belong to us. So, we have to control them. In the 1960s, in order to win the elections, some persons used poles, iron rods, bottles filled with sand etc. In our period it was burning houses, taking revenge, transferring opponents, use of T56 assault rifles. Now there is nothing of that nature. It is violence in the form of printed letters and opinions aired. There was an allegation that the Mahaweli Authority was using an official vehicle and staff for propaganda purposes. There is one on a Samurdhi officer engaging in politics besides an official of the Road Development Authority.
"So far, complaints have been fewer. This may be because election activities just started last week. Therefore, the next three weeks will be vulnerable.  For the presidential election, we only had political parties. That too there were less than 10 serious candidates. But in this case, there are five parties which are contesting island wide.  There are seven parties which have fielded over 200 candidates each island wide.  For instance, in the Colombo district, there are 22 candidates on the list of each party or independent group. There is a competition among them. Therefore, we expect a heated environment in the next few weeks. The politicians and the general public can reduce this. The people must complain to us as soon as they see a violation.
"They can use our WhatsApp (071 9160000) to complain. The Police operation room is also operative. The police are continually active, except for a very few like those in the notorious narcotic team. If they are useless and harmless it is not a problem.  But if they are useless and harmful it is not good. If they are not going to implement the law, it is harmful to the others.
VOTER TURNOUT
"There is a tendency that people will be reluctant to come to vote. We have noted that the elderly people, particularly Tamil speaking in the North, have less interest.
"So, the Election Commission will tell the people that the vote is your right, the vote is your power, the vote is your voice and the vote is your future.  If you do not vote, the people have their own people and they will elect them.  From birth to death we must have a good government. For a good state we need a good government. The government can be elected by our vote. Come to the polling station and vote wisely.
"We will try to bring the people. Usually we have a turnout of over 80 percent. If we are below 75 percent this time, it will be a failure for us. The Elections Commission must encourage the people to come and vote.  We cannot advice people to come and cancel the vote.  Some youth hold the view they would write none of the above candidates is fit. This system to reject all candidates is available in India.
COUNTING OF VOTES
"Counting Centres will receive the ballot boxes after the voting ends at 5 p.m. on August 5. Usually the ballot boxes will come with seals and stickers.  This time we will call two agents each from every political party or independent group to the issuing centre. We will issue passes and the counting will begin on August 6 morning. Agents present will observe the 'ballot box receiving process.  After receiving the boxes, we will pack everything and tell them to place their seals.
"They will close the doors and windows of the room and again they can place their stickers and seals.  One officer will be placed outside the room. We will allow a maximum of ten persons from one political party or independent group for one counting station. They can stay on and observe. We will also deploy the police and STF.  The parameters will be guarded by the STF while the police will remain inside.  Police will also be deployed in civvies.  Intelligence officers also will be placed.
"On the August 6 morning we will instruct officers in charge to report at 6.30 a.m., normal officers at 7 a.m. and the agents at 7.30 a.m. The counting will start at 8 a.m.  We hope we can complete by 4.00 p.m. The national results will be issued before midnight of August 6. The results of the preference vote will be issued before noon on August 7.
RESULTS
"The Chief Counting officer will inform the District Secretary.  For instance, in Homagama there will be 35 counting centres.  All 35 need to be added to give the Homagama results.  They will fax it to the Election Commission. They will be tabulated manually and by computer as well. To the results centre, it will be sent manually through fax and via internet.  Both will be calculated separately.  The results will be tallied to ensure they are accurate. Checked by senior officials and thereafter signed by one of the Commission members, it will be formally released.
"Thereafter, the gazette notification of the elected members will be issued. A presidential proclamation giving the date and time when Parliament would meet for the first time will be gazetted. After these gazettes are issued with the names of the winners, the President can summon Parliament. He has not fixed the date. We hope it will be announced after August 5. We hope there will be no re-poll. The Director General of Health Services has changed the number of participants at political rallies. It will be 300 persons for a rally at every polling division. If the party leader is coming they can have 500.
CHANGES TO POLLS LAWS
"We met the Attorney General on Thursday.  We hope he will do the needful to issue the gazette on health guidelines.
"The Elections Commission is of the view that there should be a permanent Select Committee in Parliament to amend certain laws such as on overseas voting, advance voting. This time we permitted the medical staff to vote early because they are fighting the COVID–19. There are other groups such as harbour, health sector, security persons, media, and even drivers and staff of hotels, who cannot obtain leave and also natameys (those who carry or load goods to vehicles). For elderly persons, those in remand prisons, those in hospital can be given advance voting rights. The other is the introduction of the Electronic Voting system. We also need changes in the law regarding cut-outs and display of numbers. We have added another aspect to the code of conduct for politicians. We have told them not to endorse violence and crime."
The parliamentary elections have also given an opportunity for international non-governmental organisations (INGOs) and their local counterparts to play a role. Western governments and organisations which are not too well disposed to the ruling SLPP alliance have funded these groups for a plethora of tasks. Some will monitor polling to ensure there is no rigging, others will ensure there is no misinformation and yet others will monitor the enforcement of laws without bias. They have won even before the voters elect their MPs. There is a profitable role for them whilst all candidates have to spend for their campaigns.