Players must not be tagged to one format – Avishka Gunawardane
By Ishan Samaraweera
cricket
View(s):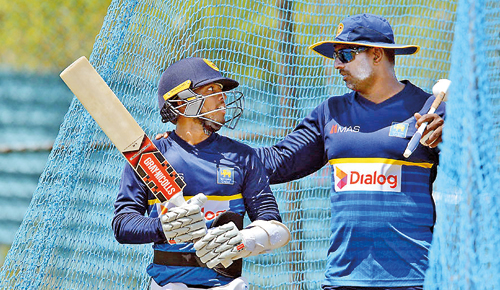 From the day Sri Lanka got Test status in 1982 cricket has been the most popular sport in the country. Those were the days that many of the youngsters began to fall in love with the sport. Avishka Gunawardane is a prime example of a versatile player who had to adjust his game plan according to the team requirements.
Avishka had the passion for the game from an early age in his life. He had the desire to represent the national team. His life changing decision was taken by his father to enroll him to the school cricket team after seeing his enthusiasm. He comes from a sporting background with his father Chandra Gunawardane being a national athlete. He is grateful for the sacrifices his family had done to fulfill his dream of representing the national team.
A proud product of Ananda College, Avishka grew under the shade of Lionel Mendis, who is known as one of the renowned cricket coaches in the country. He also enhanced his skills with the guidance of coaches such as P.W. Perera and Anuruddha Polonnowita.
He was picked to play for the first XI at the age of 13. He went on to captain the team when he was 15 years. In 1993 he was selected to play for the U-19 National team. Avishka went on to become the youngest captain to lead the Sri Lanka U-19 National team, leading the team for three years.
In 1994 he became the best captain and the most popular schoolboy cricketer. It was a reward for his consistent performances in the school cricket arena. His most memorable performance in school cricket came in 1996. That was the day that all cricket fans will remember with pride, as it was the day that Sri Lanka won the World Cup.
It was their annual big match encounter against Nalanda where he scored a memorable century. That was the first time, an Anandian had scored a century in 18 years after Thilan Wijesinghe's feat in a big match. He voiced his opinion about the quality of school cricket that had been played during his time and how it has declined over the past two decades.
"It's difficult to compare eras because I played school cricket 25 years ago. All what I see is, there are about 400 to 500 schools playing cricket and 35 schools play Division 1. The quantity of players has grown but the quality has decreased. We need to get the quality back by bringing down the number of schools playing Division 1 and 2. Because quality is important, not only in school cricket but also in domestic cricket."
Due to his consistent performances in the school cricket arena, he was picked by the Nondescript Cricket Club in 1996. He recalled the challenges that he had to go through to get a chance to play for the NCC.
"When I was playing a school match at NCC, Ranjith Fernando and Rumesh Rathnayake were watching. They came up to me and asked about my future plans and selected me for the club. That's how I came to NCC and played there for seasons."
After two seasons he decided to join SSC, where there was a vacancy for an opener and from there onward he played as an opener for them in an era where only 10 or 12 clubs played first class cricket. In 1998 Avishka made his International debut (ODI) against Zimbabwe.
"I was waiting for the opportunity. I knew that it was just a matter of time, considering the performances that I had leading up to the series. When I made my debut there were experienced players such as Sanath, Marvan, Kaluwitharana and Aravinda. I knew that it wasn't going to be easy," he recalled with a sense of satisfaction.
In 1999, he made his Test debut. However, he wasn't able to secure a permanent position in Test cricket and was only able to play six games. It was the time that Sri Lanka was considered one of the formidable teams in international cricket. It was difficult for Avishka to find a place in the XI.
Throughout his international career, he was left out on several occasions. However, the gutsy left-hander wasn't worried as he knew he was highly unlikely to get a place because of the formidable opening combination of Sanath Jayasuriya and Marvan Atapattu.
"We had a strong team. I competed with Sanath, Marvan and Romesh. I was always considered to be the back-up opener for them. So what I did was, I went back to the 'A' team. I was appointed the captain and I was able to perform well," he said.
As a result of the consistent performances he was selected for the World Cup squad in 2003 in South Africa. He didn't get a game until the semi-final. Soon after the World Cup he was dropped again and he fought his way back in to the national set-up in 2004. But he wasn't able to secure a permanent position in the team. In 2006 he finally decided to retire from international cricket.
After retiring from international cricket, he continued to play for SSC for three more years. That was the time he got in to coaching as well, and from there he went on to become the head coach cum captain of SSC.
"During my last years at the SSC, we didn't have a permanent head coach and I had to play that role as well besides being the captain of the team. As time went by, I noticed there was a change in my attitude towards the game. From then, I enjoyed coaching than playing the game."
During the time of his captaincy, SSC won all three championships across formats. That was the turning point of his career as a coach. In the next few years he went on to coach the Sri Lanka U-19 National team, Sri Lanka 'A' team as head coach and in 2017 he was involved in a brief stint with the national team as the batting coach.
He has had a successful career as a coach up to now. He explained the challenges a coach has to encounter as they get in to the professional career.
"Coaching is an entirely different job from playing. Being a successful cricketer does not mean that he will be successful coach. The mind-set of a coach is different to a player. When you are coaching at different levels, you should be able to switch yourself to each level."
He also said that the coaches must encourage players to be versatile.
"Players must not be tagged to one format. The best example is Dimuth Karunaratne," he stated.
Before concluding he expressed his views on how the coaching management of the national team should work to get the best possible results.
"We have plenty of talented cricketers. The coach can only motivate and manage them. Then the players will have the responsibility to improve and eventually it will take Sri Lanka cricket forward," he said.