Phantom 'Uva T20 Premier League' played in India
By Naushad Amit
Claimed to have played in Badulla, the tournament was played in a small town near Mohali with local Indian players with face masks on impersonating Sri Lankan cricketers
View(s):
After an epic plot of events which finally materialised in the 'Uva Twenty20 Premier League 2020′ on June 29 at the Badulla Cricket ground, the fantasy tournament was wrapped up a day after by a team of Mohali Police officers in India.
This may sound like a fiction but it is true. Mohali Police barged in to stop a tournament that was being played at the Badulla Cricket ground, according to the live commentaries. Even each of the four teams had 15 Sri Lankan players each, and surprisingly none of them knew they are in it.
The run-up to the event took a major stride in the social media with many involved – Sri Lanka Cricket, the Uva Province Cricket Association, a host of Sri Lankan cricketers including four top international players, the national cricket team sponsor Dialog and a local cricket website batsman.com.
But none of these entities or individuals were aware nor had the slightest pinch of sense that they were a part of it, until the so-called 'Uva T20 Premier League' became a sensation in the social media, significantly after the long drought of sports events due to the COVID-19 pandemic.
The entire plot is a sequence of events similar to the 1987 Opera House Heist that took place in Bombay, which inspired the making of two Hindi movies 'Khel' and 'Special 26′. Unlike in the movies, where the case remains unsolved todate, the 'Uva T20 Premier League' had two suspects arrested, who have been charged under cheating and gambling laws according to the Indian Penal Code 420.
The tournament even had partnerships with Indian stakeholders such as Dream Sports, and was pitted to be streamed live through YouTube, Facebook and Zee 5 and live score updates through cricheroes and local website batsman.com, who officially denied any involvement to the Sunday Times.
"Whoever organised that event, had used our logo, stating that batsman.com would provide live scores. But no one approached us or notified us officially of any such tournament. Even the named players were clueless of what was taking place," said Kumara Gamhewa, CEO of batsman.com.
The build-up to the tournament had been made in style by the organisers, who are yet unknown, similar to any high profile cricket tournament. It said that four teams will be in contention – Wellawaya Vipers, Monaragala Hornets, Badulla Sea Eagles and Mahiyangana Uni Lions, captained respectively by former Sri Lanka caps Ajantha Mendis, T.M. Dilshan, Farveez Maharoof and Thilan Thushara.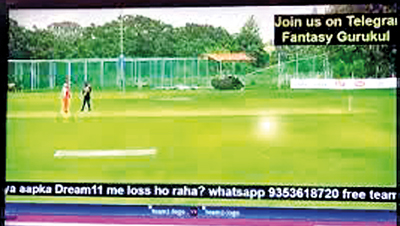 The 'fantasy tournament' was to take place through seven days, from June 29 to July 5 and include 14 matches, with the third place playoff and the final. With all teams having only Sri Lankan players, including the four icon players and known names such as Dasun Shanaka, Binura Fernando, Chethan de Silva, Chathuranga Kumara, Umesh Karunaratne, Sachithra Serasinghe and perhaps Mahela Udawatte, the tournament gathered momentum amongst cricket lovers mainly from the Punjabi state, strangely not Sri Lanka.
But the tournament lasted only one day or two games. On July 30 officers from the Mohali Police stormed into the Strokers Cricket Association in Sawara village, a location 16 kilometres from Chandigarh off Punjab State Highway, stopped the tournament and arrested two individuals.
To further simplify, none of the 60 players were Sri Lankans. All were local cricketers from the Punjabi state, wearing masks, and colourful playing kits with names of Sri Lankan players printed on the back of the jersey.
According to reports and videos available on social media, the matches were streamed live on internet, with perhaps three or more basic cameras with low focusing facility, in operation. Even when the frame was zoomed in, faces of players were unclear as they were wearing masks. The only identity they had were the names on the back of the jersey.
To make it look 'Sri Lankan' and more 'Badulla', the ground had more grass and even flags of national team sponsor 'Dialog' around the ground. But live commentaries, match previews and highlights were done in a local Indian language. Even the word 'Uva' was pronounced as separate letters 'U', 'V', 'A' and T20, by the commentators.
Reports from India confirm that players were all 'imposters' and 'posing' to be Sri Lankan players with intentions better known to them and the organisers. According to Indian media, the commentator usually did not bother to identify players, and said things like "someone should catch that, and I can see a guy getting under it".
Though it all went smoothly until after the first day of the tournament, matters went out of hand from the end of the organisers. FanCode, a subsidiary of Dream Sports, stopped streaming matches live on their platform after two games. This was after the legal team of Sri Lanka Cricket (SLC) had informed them the matches were not sanctioned.
"FanCode follows a strict process for shortlisting and screening potential league partnerships for live streaming of matches. Even with this event we were in touch with the organisers who provided us with the Letter of Sanction from Uva Province Cricket Association along with an email from the official email ID of Sri Lanka Cricket that provided confirmation of the tournament. After SLC reached out to us and informed us that the matches are not approved by them and the documents that have been provided to us were probably forged, we immediately stopped streaming these matches on our platform," a spokesperson for Dream Sport was quoted as saying to the Indian media.
Earlier last week, the four purported skippers Dilshan, Maharoof, Mendis and Thushara vehemently rejected any involvement with such a tournament when a Sri Lankan TV channel got all four of them live through video calls.
A person named Prasen Moudgal had posted on Twitter last Sunday stating "Live cricket is set to resume in Sri Lanka through the UVA T20 Premier League! Big names as Tillakaratne Dilshan, @farveezmaharoof, Ajantha Mendis will be taking part in the competition. #UVAT20 will commence on June 29."
Maharoof responding the same day had said, "This is fake no one has spoken to me or neither I'm interested to speak or to play the tournament. Please don't give any publicity."
At the same time, though a substantial following had been created among websites and social media in India,  Sportskeeda.com, an official website that was initially slotted to provide live updates, on Wednesday updated their portal, stating "UVA Premier League T20 seems to be a fake tournament."
"Several popular media websites and broadcasters were duped into covering the event. We don't have any association or contact with the event organiser/promoters of the cricket league named 'UVA T20 Premier League'. We did carry scores like everybody else, as the scores were generally available and marketed on famous fantasy OTT players and several other websites," it said.
It went on to further clarify that more details of the issue can be found on a brilliant piece of journalism by Indian Express of India, and added "unfortunately, they were the first to announce this T20 league in an article," referring to a news item published on June 28.
On Tuesday, SLC issued an official statement explaining that a fantasy tournament staged by an undisclosed party under the name and title of 'Uva Premier League T20', was never identified by them.
"We wish to announce that neither SLC nor its affiliates have any knowledge or any involvement with a fantasy tournament staged by an undisclosed party under the name and title of 'Uva Premier League T20', despite some media reports published by Indian websites claiming that such a tournament is being played in Sri Lanka from 29th June 2020 onwards."
"It was noted that several Indian websites have even advertised a scoreboard on June 29 stating that the Uva Premier League T20 is being played at the Badulla Stadium, but SLC wishes to confirm that no such tournament was taking place and or will be held in Sri Lanka."
The Chief Executive Officer, Ashley de Silva had then directed the Anti-Corruption officer of SLC to look into the matter and it was reported by the officer that no such tournament is being played in Sri Lanka.
"SLC wishes to clarify that the said tournament is neither sanctioned by SLC nor organised by any of its affiliates and therefore, SLC assumes no responsibility with regard to the said tournament. Moreover, SLC wishes to state that SLC is constantly on the lookout for intellectual property infringements by unauthorised parties and has resorted to taking appropriate legal actions to prevent such incidents," the statement went on to say.
According to Indian media reports the Board of Control for Cricket in India (BCCI) suspects that the tournament could have involvement with betting and book makers, while confirming none of its registered players were part of it. The BCCI had urged the police to investigate and find out how and where it all took place and the motive of the people who organised it.
Further according to the reports, even the owners and administration of the ground based in Sawara village, were unaware what was going on. The ground booking has been made through a friend of an official of Strokers CA individually, and were kept in the dark until Mohali police came and stopped the matches.
A top police official was quoted as saying "we came to know that they were holding matches using Sri Lanka's name, we shall take necessary action after the inquiry".
According to residents around the ground, around 20 to 30 players had come to the ground on Monday and played cricket, and then continued until late with a big party, before police turned up the following day.
While the two persons arrested will be possibly charged under IPC Section 420 for cheating and relevant sections of the Gambling Act, Sri Lankan authorities are considering instigating the case in a different legal angle according to the local law. If the Indian authorities dig up the case and explore the facts behind the whole plot, Sri Lanka may look at taking legal action for 'impersonation', 'fraud' and 'bringing disrepute to local cricketers and organisations'.
On Friday, a similar competition named 'PDC T10 League', claiming to be played in Anuradhapura, was cancelled, after several Sri Lankan international players denied any involvement.
The four teams and names of players as appeared in Indian social media are:

  Wellawaya Vipers: Ajantha Mendis (C), Rashmina Kesara, Lahiru Maduwantha, Chathura Manaranga, Sandun Dushmantha, Chandana Lakmal, Achintha Eranda, Adithya Siriwardhana (wk), Anith Bandasa, Akila Dushyentha, Amila Senadeera, Amila Thusara, Anjana Lakshan, Pavan Edirisinghe (vc), Gayan Chathurange
  Monaragala Hornets: T.M. Dilshan (C), Ajith Ekanayake (wk), Kasun Senanayake (VC), Binura Fernando, Sriyaan Wijeratne, Chethan de Silva, Dhyan Ranatunga, Chamind Silva, Imesh Udayanga, Chathuranga Kumara, Pradeep Witharana, Nishan Mendis, Umesh Karunaratne, Mark Nawanjaya, Sachithra Serasinghe
  Badulla Sea Eagles: Farveez Maharoof (C), Shehan Ranathunga (vc), Nilanka Jayawardhana, Pardeep Samaraweera, Chaturanga Dissanayaka, Lahiru Udhesh, Gayan Lakshan, Navinda Imalka, Sameera Tharanga (wk), Chanaka Mendis, Rohan Pathirana, Niroshan Chathuranga, Yashtha Madhusanka, Vishwa Karunaratne, Dasun Shanaka
 Mahiyangana Uni Lions: Thilan Tushara (C), Hareen Silva, Manela Udrwatte, Anurudda Rayapaksa, Malinda Lokundttige, Kavidu Gunarathne (wk), Sdnal Elwalage, Sriyaan Chandimal (vc), Hasanjith Munaveera, Amal Anapanu, Bathya Jayasuriya, Nisal Perera, Ganuka Herath, Nuwan Pushpakumara, Suranga Wikramasinghe