Appreciations
View(s):

My Father, my constant inspiration

A.Wilton de Zoysa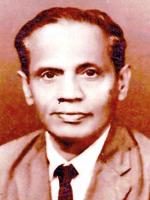 Though it was 19 years on July 3, since you left us, I must confess that I am at a loss of words when it comes to pen my appreciation of  you. Thaththa, even after 19 years of absence of physical presence, I miss you more than words can say. It is with a deep sense of gratitude and grief that I pen these few words of what he meant to me since he was my best friend, my guru and precious father.
As I try to bring myself to write this to pay tribute to him, we are now without  both parents (we lost Amma 19 months ago) who had given so much to us. Over the past, I have not felt his absence because I realized that every day I continue life as his daughter being true to all that he taught me in life, he continues to live.
We, your children have great memories of your relationship with Amma. Your family life was based on mutual understanding, trust, companionship, absolute transparency and caring for each other. You appreciated Amma for her contributions to bringing up the family, cooperated with her in her initiatives, and placed your confidence in her as your wife and the mother of your children.
You appreciated us for what we were and trusted us to the extent that unknowingly you built moral binding in us to be always uncompromisingly truthful to ourselves and never to break the trust of others. You taught us many lessons in life and these are written in our hearts. Your love, appreciation, trust among many things moulded us to be the children we are.
Thaththa, you said learning was the foundation which no one can take away. We are what we are because of you and Amma. You always told me to do my duty with dedication, commitment and integrity. This was but just one lesson that we repeatedly say. We grew up with your values and we are glad we did. We note with gratitude to you, the positive comments of others of our ability to go through life with zest, responsibility and honesty.
Thaththa, I know you would have been so proud to see what a contented person I am today all because of your guidance and advice. I miss your voice but most of all I miss you just being there. I will always hold on to the last conversation we had and how you never failed to let me know how much you loved me. Your spirit and what you have given us will always remain and make us better people for having had you as a great father.
The bond we had was unique. We enjoyed being together and I took an interest in whatever you did. You were my hero and I am deeply indebted to you for all the good things in life that you gave us. You gave us confidence to see through things. You taught us right from wrong. We thank you for many things you have done for us.Thaththa, I need you to guide me, to protect me and to love me the way you always have. Although, your demise has created a big void in our lives, you left us with sweet memories that we will cherish right through until we meet. No one can fill the emptiness I feel in my heart without your physical presence but I know your spirit is with me and pray that you will always be with me.With much love and gratitude, we honour your memory.
As practising Buddhists, we are well aware of the impermanence of life but to this day I cannot believe that my father is not alive as his voice, firm advice and imposing figure still haunt me. He did his duty to the utmost and made us comfortable in every way. Though not in extremes, he lived, according to Lord Buddha's preaching with the least of wants and attachments. It is my sincere hope that his sansaric journey be shortened and he attains the Supreme Bliss of Nirvana with Amma right by his side.
Loving daughter   Damitha de Zoysa
---
 A long innings that was a beacon of light to many
Lalani Wickramaratne (nee Abeyewardene)
The death occurred recently of Lalani Wickramaratne (nee Abeyewardene) at the ripe old age of 96.  She celebrated her birthday only a few days prior to her passing away. Due the prevailing COVID-19 crisis her children decided to lend a religious touch to her birthday and celebrate on a low key. Six years ago her sons and daughters had surprised her with a grand party at a renowned hotel, attended by a vast gathering of relatives and friends to celebrate her attaining nonagenarian status.
Lalani was the eldest daughter of Noel and Kamala Abeyewardene and the granddaughter of Mudaliyar Christopher Abeyewardene, the first Ceylonese Superintendent of Mails. She married Dudley Wickramaratne. The loss of eldest son Chandrakumar at a comparatively young age left her heart-broken.  With the passage of time however, she came to grips with her sorrow, by passing her time in devotion to religious activities, listening to Bana, in meditation and giving alms to the monks and the less affluent.
Lalani was the eldest of seven siblings to whom she voluntarily played the mother's role attending to their various needs.  She had her early education at Girls' High School, Mount Lavinia and later her secondary education at St. Joseph's Convent, Kegalle.  She was a beacon of light to her children, guiding them on ethical behaviour, and also a tower of strength to her husband.
Lalani was widowed at a relatively young age with four sons and two daughters to care for.  However, this "captain" with indomitable courage and determination steered the family ship of life to safe waters.  She was blessed with 13 grandchildren and five great grandchildren.  Their loving cries of "Achchi" from as far as London, Oman, the Maldives and Sri Lanka have been silenced now.
A dutiful wife and an adored mother, Lalani enjoyed a long innings.  My sole surviving brother Upali joins me in wishing our dear sister a short journey in Samsara before she attains the supreme bliss of Nibbana.
Bandula M. Abeyewardene
---
Always with a smile, she personified joy for life
Dr. Usha Perera
A smile that lit up her entire face. Eyes shining with love and empathy. A wonderful sense of humour.  Infectious laughter that never mocked but was often turned on herself. Innocent jokes that lifted the gloomiest spirit.  A passion for everything she did.  A hundred percent commitment to any task she undertook.  As a counsellor she was always willing to listen patiently, and learn from what her clients told her of their pain and inner suffering and go beyond her duty to help them.
These are some of the enduring and endearing qualities that linger in my memory of Usha Perera, a remarkable human being whose premature death six months ago has left a void that can never be filled for those who loved her.
Having known her as a child when she accompanied her parents to the Kollupitiya Methodist Church which I too attended, I later got to know her more personally when we began sharing views on subjects which interested us mutually: health issues, women's equality, child abuse, rape of young women and the trauma that followed, infertility,  the environment, education, and nutrition.
When she used to walk into the office of the Nation paper where I worked briefly to hand in some copy on one of her pet subjects to our Features Editor, her cheerful morning greeting of, "Isn't it a lovely day ?" even when it was pelting rain outside, would ring across the room.
It was that spirit of optimism that she held on to during the many crises she encountered in life, and which also rubbed off on those who moved with her.
I remember how when attending a Journalism conference on Trauma Counselling in Bangkok with her, I forgot to take my handbag containing my passport , suitcase keys etc, discovering it only when my son who drove me to the airport asked me for the documents. As it was too late to turn back, we turned to Usha for help as she was waiting for us at the entrance.  With a calmness that amazed me, she simply dug into her bag and produced copies she had earlier made and got us through, telling me "Don't worry Carol about the suitcase keys, we'll manage when we get to Bangkok."
On the first day of our arrival she decided to go shopping before the conference started and as we walked talking nineteen to the dozen, I suddenly slipped on a broken tile and fell face down on the pavement. With her help I managed to sit on the pavement and as the market was nearby we went inside to do our purchasing. I recall how carefully Usha chose dresses and shoes to match for her two little daughters who she would fervently pray for every day.
When we returned home after the hospital where I was taken after my fall diagnosed me with three cracked ribs, I was so grateful to Usha for helping me to pack and carry my suitcase downstairs and make sure we had comfortable seats on the flight home.
Though you left for a while to Canada and returned with more qualifications, you always kept in touch with your friends and I recall how nostalgic you were about Sri Lanka.  You never complained about any illness except the occasional migraine headaches for which you just treated yourself with a paracetamol.  So you can imagine what a terrible shock it was for all of us to hear of your sudden passing away leaving a void that can never be filled especially for your lovely twin daughters you doted on, and your loving husband.
May God bless your soul and may you have eternal rest with your Maker in whom your faith never wavered no matter what crisis you faced.
Your friend always,   Carol Aloysius
---
 His devotion to family, employees and community will be remembered
Rajah Salgado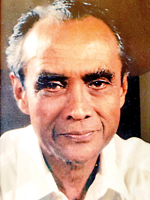 As the first anniversary of  Rajah Salgado's passing away approaches, the thoughts of many of his family, friends and associates are turning to their memories of him. In my own case, as I was living in England from childhood, my early memories were mainly my parents discussing how he helped them with their affairs in Sri Lanka. The respect they had for him was apparent. It was when I started to visit Sri Lanka regularly that I saw he was a tower of strength to so many others as well.
He was a devoted husband, father and grandfather. His devotion extended to his employees, his domestic staff and the community. He was a man of utmost probity. He and his wife, Swarnamali, were unstinting in the help and advice they gave their extended family, including me, but they also set an example of the type of life we should all lead. When facing a difficulty, for many of his family, the first option was generally to ask Rajah Mama (or Aiya) what should be done.
He made an immense contribution to the running of local charities and groups such as the Panadura Home for the Aged and the Panadura/Horana Scouts Association. Furthermore he remained as Patron of the OBA Sri Sumangala Boys' School Panadura for over three and a half decades from 1982 to 2018 and the large number of representatives from these organisations who attended his funeral bear testament to their appreciation of his efforts.
He led a type of traditional Sri Lankan life which is now increasingly rare. He lived in a century-old villa which was beautifully maintained and furnished. He and his wife were blessed that all their children and several grandchildren lived nearby in Panadura. Their family was not scattered overseas as is common these days. His life centred on family, community and religion.  He and his wife built a lovely shrine room in their home to perform their daily devotions. He regularly held danas and attended religious events at the Walapola temple and Rankoth vihara. Until his demise he was the Trustee of the Walapola temple. He was also in charge of the Pinwala Temple during his lifetime.
A feature of his long life was that he could remember an era when Sri Lankan politicians were statesmen. He was related to Dr W.A. de Silva and Sir Susantha de Fonseka. He could recall life at Sravasti as a child and shared anecdotes about Dr and Mrs W. A. de Silva with me. He remembered Rabindranath Tagore coming to Sravasti and patting his head and Baden Powell's visit. He may have been the last living person in Sri Lanka to have direct memories of  W.A. de Silva and Rabindranath Tagore.
In spite of his prominent role in the family and community, he was an approachable and modest man. He dressed simply and always had an aura of gentleness and kindness about him. He exemplified the qualities mentioned in the first verse of the Karaniyametta Sutta: 'he should be able, upright, perfectly upright, of noble speech, gentle and humble'.
May he attain Nibbana.
Dr.Rohantha Fernando
---
Success never eroded his simplicity
 M.M.C. Wickramanayake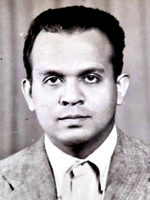 M.M.C. Wickramanayake, a legend who worked tirelessly to put Sri Lanka on the world industry map passed away peacefully in Kandy on July 6, 2001 on his 89th birthday.Tomorrow, July 6, will be his 108th birthday and 19th death anniversary.
The father figure of Sri Lanka's industry and commerce, Mr. Wickramanayake was among the first to recognise the potential of the garment industry, its ability to contribute to Sri Lanka's economic growth and generate direct and indirect employment. He was a pioneer in the knitwear industry establishing Sterling Jersey Company in 1953 under the brand name 'Kosala'.
Born in Unanwitiya, he started his career in Kandy as a manager at his uncle's tobacco leaf business. His life exemplified an inspirational success story of a self-made man. As Chairman of Kosala Agencies Ltd. M.M.C pioneered importing re -conditioned cars to Sri Lanka in 1976. In 1978, his company became the first private permit holder to operate a private omnibus service. They operated a Kandy-Colombo luxury bus. Under his stewardship and visionary leadership the Kosala enterprise diversified into varied sectors.
He was founder director of City Stores Ltd., Silverdale Hotel Ltd., Sinhaputra Finance Ltd., Kandy Trading Company Ltd., Service Kandy Ltd., Island Tours Ltd., and Beehive Food Canning Ltd.
He was founder director and managing director of Kandy Ayurveda Pharmacy Ltd. from 1943 to 1987. He was the founder member of the Sri Lanka Chamber of Small Industry and its Vice President from 1963 to 1965 as well as Vice President of the Kandy Merchant Chamber from 1963 to 1973.
M.M.C. Wickramanayake's achievements and success never eroded his simplicity and old fashioned charm. His death left a void which the country will find difficult to fill.
May he attain Nibbana!
S. Wickramasinghe
---