The fluctuating cricketing journey of Thilina Kandamby
By Ishan Samaraweera
cricket
View(s):
Sri Lanka is a country that has produced quality players who went on to be greats in the game of cricket but there are also some who failed to prosper and had to hang up their boots premature.
Similarly, Thilina Kandamby's 12-year international cricketing journey has been a career filled with fluctuations.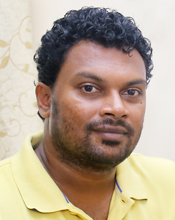 He fell in love with the game at an early age of his life. His father, Sunil Kandamby, was his inspiration to become a professional cricketer. His extended family also supported him throughout his career and Kandamby is thankful to all.
"The support that I got from my family was incredible. My father who was a police officer, did all the hard work along with my mother. Throughout my career they were unbelievable; they came and watched my games whenever time permitted. They are the ones who pushed me right throughout my career," said Kandamby.
A proud product of Ananda College, Kandamby's career blossomed under the watchful eyes of P.W. Perera, who was his first coach. He was not only fortunate to learn the basics from one of the most experienced coaches in the country, he was also nurtured by renowned coaches such as Nelson Mendis, Lionel Mendis and Anuruddha Polonnowita.
Holder of the record for the highest individual score of 144 for Ananda College in the 'big match' against Nalanda, Kandamby's consistent performances saw him being picked for the Under-19 national team, representing the country from 1998 to 2001.
After his success at Under-19 level, he made his first class debut for Bloomfield in 2001 before making a life-changing decision by joining the Singhalese Sports Club (SSC).
"Those 15 years were a bit of a rollercoaster ride. I think when I started playing for Bloomfield it was not that competitive for the first couple of years. Then they changed the structure and started provincial cricket as well. Provincial was more competitive than club cricket and there were only four or five teams where all the national players play. I was fortunate to play about three years of provincial cricket. Then I realised international cricket was totally different from all these levels because there is a huge gap between our club and international structures. A switch to SSC was a good decision I took in life. I had a different mindset at that level playing for SSC and won several championships," he said.
Kandamby continued to prosper at the domestic level, being picked for the national team's tour of Zimbabwe in 2004. It was his dream to represent the national team alongside greats such as Sanath Jayasuriya, Marvan Attapatu and Mahela Jayawardene.
"I was fortunate to get a call up at 22 years of age. I played some good cricket and I got rewarded for my consistent performances at the domestic level," he said.
Unfortunately, he was not able to replicate his first class performances at the international level. He lacked consistency throughout his career and as a result was left out of the national team on several occasions. He kept on competing for a position in the middle order until he retired in 2014. Although he had an enviable record in First Class cricket, he was unfortunate not to get an opportunity to play Test cricket.
"My career as an international cricketer has been a rollercoaster ride. When I was dropped for the first time, it did not affect me mentally because I knew that I did not score runs, but there were times when I got dropped even if I had scored runs. The selectors wanted to try out new players. But overall, the scenarios I was dropped were fair calls," he added.
He conceded that the selectors gave him chances to perform but he didn't grab the opportunities at the right time. For an international cricketer representing their country in the World Cup is the ultimate dream. Kandamby could have had a rare opportunity to play the World Cup on his home soil in 2011, but he was overlooked by the selectors. The left-handed batsmen expressed his disappointment regarding his exclusion from the World Cup squad.
"I felt really disappointed when I was not considered for the squad. That was the time I was consistently scoring runs. I always thought that I deserved a place in the squad considering the form that I was in. I don't understand why I was not selected and that was really disappointing," he lamented.
Soon after the World Cup, Kandamby was appointed as the vice captain of the national team and when Tillakaratne Dilshan was injured during the England tour, he became the fourth captain to lead Sri Lanka in T20 Internationals.
Having captained his school in all age groups, he believed that he had the qualifications to be a leader and leading the national team was a dream come true.
"I honestly thought that I was ready to captain the national team at some point as I had captained in all age groups and at domestic level. I was eagerly waiting for the opportunity to lead the national team. I was appointed as vice captain after the World Cup and during the England tour when Dilshan had a thumb injury, I was called upon to deputise for him. It was a dream come true for me to lead my country in a T20 international," he recalled.
Ironically it also turned out be his last T20 international for Sri Lanka. After being on the sidelines for three years he made a comeback into the national team in 2014 but was unable to retain his place in the team. Ultimately he decided to hang out his boots from all formats in 2016.
At present he devotes his time nurturing youngsters as the Head Coach of SSC.
"My story shows you the competition that we had for the positions in the team during our time. Along with me there were players such as Ian Daniel, Waruna Waragoda, Jeevantha Kulatunga and Sajith Fernando. It's not that we didn't have the talent but we did not have that slice of luck  we should have had. My advice to youngsters is your sacrifices will be rewarding for your future," were his words for the young and aspiring cricketers of Sri Lanka.