Allegations can have boomerang effect on minister Aluthgamage
By Champika Fernando
ICC will talk to Aluthgamage on fixing allegations
View(s):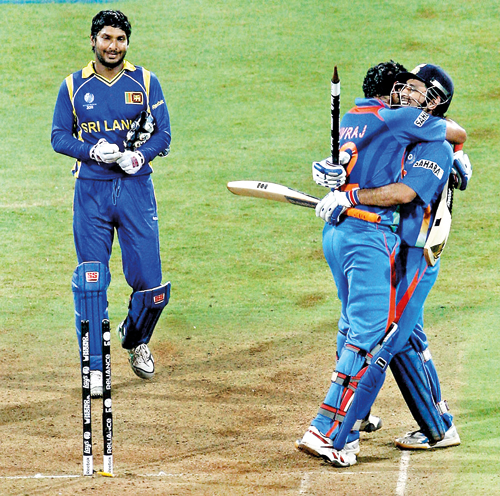 Minister Mahindananda Aluthgamage's unsubstantiated claim that the 2011 World Cup final was fixed could land him in a soup. He can be charged for levelling false allegations under the recently passed Prevention of Offences Relating to Sports Act.
The ruling party politician made the wild charge with apparent conviction regarding the match played in Mumbai between Sri Lanka and India. That too after nine years of silence. And he offered no evidence to back what has now become a global talking point.
Aluthgamage, who was also Sports Minister during that period, cannot be charged for failure to disclose information under the match-fixing laws enacted last year because they don't have retrospective effect. But legal experts believe there is a strong ground to challenge him on making false allegations if he fails to back his claim. Section 13 of the Prevention of Offences Relating to Sports Act carries a fine and a jail term for the offence.
It states: "Any person who makes any false allegation in any information disclosed by such person under section 16 of this Act knowing the content of such allegation to be false or having reasons to believe that such allegation is not true, commits an offence under this Act and shall, on conviction by a Magistrate, be liable to a fine not exceeding rupees one hundred thousand or to imprisonment for a period not exceeding three years or to both fine and imprisonment."
The Sports Ministry has now asked the Special Investigation Unit on Sports-Related Offences to start an immediate inquiry and the International Cricket Council says they "are looking forward to talking to him to see if there are any matters worthy of investigation".
The ICC has been probing since 2017 what they call "widespread corruption" in Sri Lankan cricket. But their focus was not on the match now in question. Instead, the ICC slapped the legendary Sanath Jayasuriya with a two-year ban for failing to cooperate with investigators while at least three former cricketers are faced with charges of alleged match-fixing.
Of particular concern is the timing of Aluthgamage's accusations. He may be seeking to gain political mileage ahead of a crucial parliamentary election. But what of his own legal responsibility as Minister to flag any suspicious activity to ICC investigators?
Aluthgamage now insists he notified the ICC about the alleged plot back in 2012. The Sunday Times can confirm no official complaint was ever made. "We are looking into it," an ICC spokesman said, when asked whether they got an official complaint regarding the alleged fix.
Sri Lanka were beaten by India in the World Cup final in Mumbai on April 2. Lasith Malinga reduced India to 31 for 2 in their chase of 275 before they took the title by romping to a comfortable six-wicket victory. Many believe it was a match Sri Lanka should have won but India, who had defeated Australia and Pakistan on the way to the finals proved too strong.
The loss saw Kumar Sangakkara and Mahela Jayawardena resigning as captain and vice captain followed by the selectors led by Aravinda de Silva. This led to some suspicions but there had never been any evidence to show foul play.
Asked whether the ICC has ever indicated they were investigating the 2011 World Cup final, Nishantha Ranatunga, who was Sri Lanka Cricket Secretary at the time, said: "No. I can with responsibility say that. There were rumours spreading after the loss but we never felt there was anything fishy. The selectors had their reasons to make changes to the final XI. Of course, it was disappointing to lose that game, but that's cricket. It's up to the ICC to investigate it if they have any doubt."
Before Aluthgamage, at least two former captains have raised concerns about team selection for the finals. But nobody made such an explosive claim as he did. His allegations now demand a thorough investigation.
Just a few days after the 2011 tournament ended, Hashan Tillakaratne asked why Sri Lanka had made so many changes to their line-up for the final. Arjuna Rantaunga also urged the Government to investigate. But nobody provided evidence. And players like Sangakkara and Jayawardena have repeatedly denied any allegations and had asked for substantiation.
The latest claims have caused trouble for many, including acclaimed, respected players. While Aluthgamage left the players out of the equation, it has left anyone involved with the game deeply uncomfortable. Given India's significant influence on world cricket, analysts argue this could have far-reaching consequences unless properly investigated.
"If he had any evidence, he should have alerted ICC investigators then," a senior lawyer said, on condition of anonymity. "He has damaged the reputation of all those involved with that game – the players, the selectors, the Board members and their Indian counterparts. This needs to be investigated. And if there is any evidence of wrongdoing, the culprits should be punished. But if he is lying, he needs to be charged."
Sri Lanka Cricket was also baffled. Secretary Mohan de Silva termed the allegation "an irresponsible statement without any substance by a Parliamentarian".
"This is really irresponsible," he reiterated. "If he had any doubt, he should have complained to the ICC rather than ridiculing his own country nine years later."
Now that it has resurfaced and given the seriousness of the charges, it needs a thorough investigation to uncover the truth.
What happened in the final

 Injury concerns over Muttiah Muralitharan and Angelo Mathews forced the Sri Lanka team to call up Chaminda Vaas and Suraj Randiv as standbys.
 Sri Lanka made four changes and went with

a six-five combination: six batters and five bowlers

 Chamara Kapugedara came in place of Chamara Silva, Suraj Randiv for Ajantha Mendis, Nuwan Kulasekara for Rangana Herath and Thisara Perera for Angelo Mathews.
 Muttiah Muralitharan was only half-fit as he was carrying an injury but the selectors decided to play him considering his experience.
 A controversy developed when Kumar Sangakkara called the toss. The toss came up heads, but the match referee Jeff Crowe did not hear the call. The toss that had been carried out was null and void. When MS Dhoni threw up the coin again, Sangakkara called 'heads' and the coin fell Sri Lanka's way. Replays of the toss indicated that Sangakkara called heads the first time as well, and the call is audible to producers of the host broadcasters ESPN-Star Sports.
 Sri Lanka scored 274 for the loss of six wickets with Mahela Jayawardena making an unbeaten 103.
 India lost two early wickets but, on the back of two fine innings from Gautam Gambir (97) and MS Dhoni (91 not out), raced to victory with 10 balls to spare.