Welcome to Coping Club
By Purnima Pilapitiya
Four childhood friends, all aspiring medics from different parts of the world launch a social media platform to reach out to people in these days of COVID-19
View(s):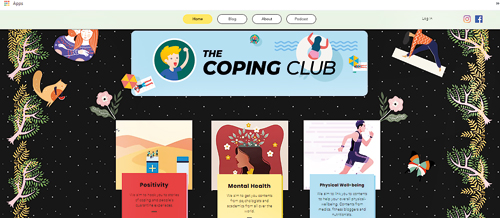 Over the last six months, the raging pandemic has taken residence everywhere from the front page of the news, crumbling economies to socially distanced grocery trips and the masked faces in public spaces. There is no escaping the current predicament that has the world in flux.
Organisations including the World Health Organization (WHO) have emphasised the need to pay attention to  mental health in addition to physical wellbeing during this period. A group of four young professionals and aspiring medics are committing to do their part. Dubbing themselves the 'Coping Club', they have created a social media platform that shares practical tips and information, blog entries and personal stories to create a supportive space for people to share their thoughts.

The idea stemmed from their own experiences.  As Italy diagnosed its first patient in February, Apoorva Selvam, an Indian living in Italy found herself alone, her roommate having left three weeks before. She was isolated during that period. "I was always used to being busy, always at the hospital, working or studying," she explains. The sudden change, panic buying and spiralling infection rate overwhelmed the 4th year medical student. "Despite being in the medical field, we ourselves were not completely aware of the situation," she explains. "I was panicking, and I'm sure others were feeling the same too."
It was a simple phone call from an old schoolmate Damini Lalchand; a PhD student (psychology) that helped Apoorva and sparked an idea to reach out to others who was feeling the same.
From the United Kingdom, to the USA, India and Sri Lanka, Damini and Apoorva together with Heeral Shivnani and Minoli Ekanayake are in some way childhood friends who each followed their passion into the fields of medicine and healthcare.
Their site, the Coping Club and corresponding Instagram and Facebook pages have been active since March. "Given enough time, people will go back to normal," explains Minoli, a 4th year medical student from Sri Lanka, but until that 'normal' takes shape they hope that their initiative will provide people with a mutual support and a space to confide and share.
Studying in the UK, Damini fortunately made it back home to India before the virus escalated. But her house in the UK, locked up for the past four months and other logistical problems are constantly on her mind. Her own experience travelling during the pandemic was detailed in her entry to the blog titled- COVID and Stigma- "You Can't Sit with Us".
"We knew we wanted to do something but we didn't know how," adds Apoorva. Rather than adding to the constantly growing sea of information and statistics they decided on a philosophical approach.  You won't find hard facts or bulleted lists of health and safety measures. "We didn't want to distress people, rather de-stress people."  The articles and podcasts are informative. Without overwhelming, they offer a substantial yet easy read, welcoming others to respond in kind.
Minoli's three-minute read on the history of hand washing is one such example. Rather than regurgitate the same information about washing and sanitizing hands she went back to Dr. Ignaz Philipp Semmelweis  who documented the medical benefits of washing hands, during a time where it was deemed beneath the upper middle class doctors (a fact we learnt through reading her article).
Heeral, a Dietetic Intern from the USA contributes in the form of practical knowledge on food, nutrition and building immunity during these uncertain times. "Budgeting is important" and for Heeral, building immunity begins with basic day to day meal plans. During this time "you need to downsize and focus on what you really need".
Since their first post back in March, the reaction has been heartening. Contributions range from artwork on blood donation from an eight-year-old in India, contributions from an assistant psychologist in the UK to a reflection on spirituality through the eyes of a mechanical engineer. One of their pieces has been translated into four languages. For those who prefer visuals and audios, they together with graphic designer Hatim Raja and web developer Sachin Raaghav have included podcasts and cheerful visuals which you can find on their instagram page.
For the team, the simple thank you's and new contributors sharing their own stories are the best reactions they could hope for.
Reach out to the Coping Club on their site https://www.thecopingclub.com/ or their Instagram and Facebook pages.