How true tales do become truth tales
By Adilah Ismail
View(s):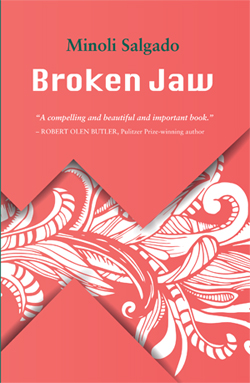 On May 25, 2020 in Minneapolis, USA, as a police officer knelt on George Floyd's neck for eight minutes and 46 seconds, Floyd repeatedly cried out that he couldn't breathe. In footage shot by witnesses at the scene, we hear him calling out for his mother while struggling for his life. As protests triggered by Floyd's death ripple across the US and the world, we learn that George Floyd's mother died two years ago.
"For the dying always cried mother when about to be released, as if in sudden anticipation of the life yet to come. They never cried out for god, for water or help, for things that might offer a return to the world, but for mother, the first refuge and the last," writes Minoli Salgado in a short story in her latest book Broken Jaw. The story, The Breach, is set in the backdrop of Sri Lanka's civil war but these lines –especially now –are a heavy reminder that some things are universal.
Published in 2019, Broken Jaw features a collection of 18 short stories set largely in Sri Lanka. The book is divided into two parts. In 'Rumours', we are introduced to a constellation of characters and a few stories drawing from real events – some immediately recognizable. There is an artist who is punished for a cartoon of a political leader. His captors "redesigned him so he would never walk again or stand upright, sit, blink or defecate without carrying the knowledge of their power inside him". They force him to draw a magnificent penance portrait of the leader he had caricatured. In another, maps, memory and trauma violently coalesce in a brief scene where an injured solider is pressed to pinpoint the details of an attack. The second part, 'Ventriloquy and other acts', takes us through the memoried landscapes of the three countries that shaped the author.
The worlds built in Broken Jaw are tantalizingly brief as we tumble into lit festivals, renegade writers, UN officials, schoolgirls and more. The writing is vivid and the reader isn't fully allowed to get comfortable with each story for too long, making it a slightly peripatetic reading experience which mirrors the very dislocation and fissures the stories deal with.Salgado's prose is elegant and controlled. What marks the book is its quietude and capacity to compress large truths into taut sentences which make you pause.Sometimes less is more.
Born in Kuala Lumpur and growing up in Sri Lanka, South East Asia and England, Salgado has previously taught postcolonial literature at the University of Sussex and is a Professor of International Writing at Manchester Metropolitan University. She has published in the field of postcolonial studies and her fiction and poetry have been published internationally. Salgado is the Chair of the judging panel for the 2019 Gratiaen Prize.
In this email interview, she spoke to the Sunday Times about Broken Jaw and her writing.
 It seems strange to launch into a conversation on books and writing without acknowledging the moment we are suspended in. How are you, where are you, and what have you been thinking about lately?
Well, I'm now in lockdown in Sussex though I was due back in Sri Lanka this month. I'm writing an academic book on global testimony and planning my teaching for next year.
As for what I have been thinking about – well, like everyone else the response to this pandemic gives pause for thought. I've been mulling over the state of emergency that all countries are in and am struck by the fact that, though this particular emergency is caused by a health crisis, we have been launched into a state of exception similar to a war.
It may sound a bit melodramatic but the correspondences are clear. As with a war, this is a time when normal laws are suspended in the name of security, when structural changes are made without the normal checks, balances and oversight, a time when it's important to stay alert to what is happening as so much is being brought in – new modes of surveillance, vast shifts in capital and so on – under the guise of protecting the public and securing the future.
And I'm thinking of the global protests that have been taking place – Black Lives Matter, climate change, the democracy movement in Hong Kong – and how amazing it is to be living at a time when there's this cataclysmic clash between the forces of securitization and liberty.
 There are certain ideas which intersect your work as an academic and work as a writer (eg: nationalism). How do you take themes you engage with and research academically, and render them for a reader of fiction or poetry?
Yes, there's definitely an overlap. Both my academic and literary writing engages with issues of civil liberty and see literature as a way of making cultural interventions of different kinds.
As for the process of transference, my academic research, even at its most theoretical, has always looked to explore the human dimension of a subject. My current academic research is in trauma and testimony studies and I've been working on various trauma stories, including those from Cambodia and Sri Lanka.
Research like this of course has an emotional impact and I'm haunted by what I read and hear. The shift from research to literary writing comes when the experience embeds itself in some way so it becomes part of you and gains expression in fictionalised form.
I've found writing fiction is a completely different experience from doing academic writing. You find yourself not only connecting emotionally with things but also rationalising them emotionally. No amount of academic knowledge or critical reasoning will take you into that kind of understanding.
 Is there a process of detachment that is required between being an academic and a writer of fiction and poetry? I was wondering how you toggle between both these roles.
The two kinds of writing use different parts of the brain. I find that when the critical, academic side is in gear I cannot write creatively, and vice versa. As a result, I focus on one piece of writing at a time. I'm also quite strict about how I divide my time and, whatever I'm working on, I always read some fiction or poetry in the evenings and avoid social media and all the hubbub that comes with digital technology.
 The book's foreword mentions that the stories were written between the early 1990s and 2011. You write that you were "trying to find a form to give language to loss, to find a home in a story while trying to find my voice as a writer as well" and that some of the stories are in a voice you no longer have. How did this 20-year gestation affect your writing, voice, and the themes you explore?
Broken Jaw had many incarnations and the collection really charts my development as a writer. It was not a steady evolution – and it is far from complete! – but the broad shift is towards an increasingly political voice as the war carried on.
The first version of the book was completed in the early 2000s and I just kept writing more stories, adding them to the collection and dropping some of the earlier ones. In the final phase, I dropped several stories that duplicated themes or shared the tone of A Little Dust on the Eyes, to ensure Broken Jaw had its own distinct identity. The book contains some ironic and satiric stories and a focus on the male perspective that you will not find in A Little Dust. So the shape of Broken Jaw changed over the years, though the overarching theme stayed the same, as did the title.
 The book is a work of fiction but is tinged with elements of autobiography. Kethumathie, for instance, is set in your ancestral home which is now a maternity hospital in Panadura. The three stories in 'Ventriloquy and Other Acts' take us through memories of the three countries that you've lived in and also reference you by name. I was curious about the insertion of the self in some of the stories and what the process of blurring fact and fiction was like.
One of the things that really interests me is how true tales become truth tales, how real events turn into stories that generate moral meaning. I am also interested in the relationship between non-fiction and fiction, the techniques used and the ethics of writing about true events.
Many of the stories in Broken Jaw are works of fiction that spin off real events so the boundary between fact and fiction is constantly tested throughout the book. In writing these stories I was acutely conscious of writing others' trauma and of imposing my own frame of thinking on to this world. This tussle is evident in the The Waves, which draws on the voices of tsunami survivors and ends with the image on a video camera, bringing into visibility the whole process of mediation and bearing witness.
By 'coming out', as it were, in the final stories based on my childhood, I went further and brought the author into the light. This felt necessary in the context of making clear that there is no such thing as an objective take on historical events. It's also the first time I've published anything that was really personal and it was a relief to find expression to some difficult events. Those final stories use fictionalising modes to explore memoir as a truth tale – another instance of true tales becoming truth tales.
 You are currently the Chair of the judging panel for the Gratiaen Prize 2019. What advice do you have for Sri Lankan writers writing in English?
Read widely and closely from the very best literature in the genre you are writing in.
Learn from this.
Get feedback on your work from literary friends.
Join or form a writers' group – I never have but I know many writers who recommend it.
Edit, edit, edit.
Research publishers – The Writers' and Artists' Yearbook is comprehensive – and test the international market.
Journals like Wasafiri, Postcolonial Text and Asia Literary Review are looking to publish good work by South Asian writers.
 What's next on the cards?
I am working on several projects, academic and literary. These overlap and I'm thinking transnationally, connecting histories and cultures. Sri Lanka is central to them all and I can't wait to get back!
Special offer for ST readers
Order Broken Jaw direct from the publisher's website and avail yourself of a 40% discount offered especially for the Sunday Times readers;

Voucher code: SalgadoTimes2020

Website: https://www.the87press.com/product-page/minoli-salgado-broken-jaw