Appreciations
View(s):

Respected corporate leader and outstanding High Commissioner

S. K. Wickremasinghe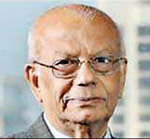 S. K. Wickremasinghe, affectionately known as 'SK' passed away last week at the age of 92 after an illustrious career in the business world and a short distinguished period as High Commissioner in London, in the late 1990s. His wife, Damayantha, whom he met in the mid-1940s at the then Ceylon University, predeceased him in 2011.
Many of his contemporaries and staff privileged to work with him in the numerous companies and banks which he ably led, will be able to write about his colourful and impressive career in the corporate world. My comments here are mainly about his successful period as our High Commissioner in London, during the international struggle Sri Lanka was waging then with the LTTE and its affiliated organisations. I as a former public servant and UN retiree then living in London, was roped in by him  to organise a group of Sri Lankan expatriates to work closely with him on a range of successful strategies to counter the LTTE sponsored international movement then centered in London.
Though I and my wife had brief acquaintances with him and Damayantha in our days in Sri Lanka, it was during their stay in London that we became close friends. We were able to see the dynamism and commitment with which they served the country and their unique personal qualities that contributed to the unstinted cooperation and support they got from the entire Sri Lankan community in UK. SK's innumerable contacts with the business and financial community in UK enabled him to move with ease in British circles, an essential ingredient for any High Commissioner to have an impact with the British establishment and the Foreign Office.
When Lakshman Kadirgamar took over the Foreign Ministry in 1994, Sri Lanka was battling a well-orchestrated international campaign by the LTTE for separation. His priority was to set up a formidable team in the world capitals to counter this campaign. He turned to his close friend SK, for the 'hot spot' of London, and it needed some persuasion for him to take this up. The other outstanding figures in Kadirgamar's team, included Mangala Moonesinghe in New Delhi, Jayantha Dhanapala in Washington, H.L. De Silva in New York, Upatissa Pethiyagoda in Rome and Prasad Kariyawasam in Geneva.
At the time Kadirgamar made this request, SK was at the peak of his corporate sector career. He told me he accepted it: firstly, he could not let down an erstwhile friend with a mission, which the country was waiting for after innumerable bungles by previous governments. Secondly, throughout his life he reveled in challenges and this was one he had to take for the sake of the country. In addition, he was influenced by the fact that UK was like second home for him, due to his frequent travel during his career with the British company ICI (which he later headed when it was converted to CIC).
SK with his wide experience in international affairs realized that for a campaign against the well entrenched LTTE apparatus to be successful, it should not be directly run by government. Very often British media and the public deride statements by embassy spokesmen. His strategy was to set up a non-government organisation to be subtly supported by the mission. Thus, the International Foundation of Sri Lankans (IFSL) was formed by a group of professionals, who were more than willing to support the effort with generous contributions. I was tasked to steer this group and our primary objective was to come out with a quarterly colourful magazine, titled the Lanka Outlook, for circulation to the UK media. It was to be a commentary on Sri Lankan affairs with a core focus on the political developments slanted against the separatist campaign and LTTE terrorism. The magazine had regular contributions by leading political commentators in Colombo and of course by the then effective media division of the Foreign Ministry, headed by Ravinatha Ariyasinghe, the present Foreign Secretary. SK ensured that the magazine reached all other SL missions in other countries and their media too
SK also promoted the IFSL to have direct contact with the all powerful UK media. It was to his credit that the IFSL had greater exposure with the BBC during those horrific days when the separatist war was raging in Sri Lanka. The last issue of the magazine was a 'Lakshman Kadirgamar Commemoration issue' published in the winter 2005, in which SK had a big hand from Colombo sending very valuable photos and material on Kadirgamar's brilliant career.
This is one facet of SK's resourcefulness and unique organizing ability – being able to get together a group and motivate them to achieve a desired goal. I am certain there may be many such instances during his long and illustrious career.
The wide circle of his friends and colleagues and those fortunate to have been associated with him will sorely miss him.
 Ranjith Withana
---
He was a man  in the fullest sense of the word
Marshall  Perera
Marshall Perera, President's Counsel, trade  union  leader  and  former  Governor  of  Sabaragamuwa, Southern  and  Uva  Province is  no   more. He completed 88 years of  his  life, just the  day  before  his  death. Marshall and I both had moved to Badulla – he from Kalutara and I from Wattala, to establish our home here.
Since 1973, Marshall had been my closest friend, associate and confidante.
He shared in our family's happiness and times of  grief.  When we faced any   problem or  issue, he was  always the  first  person  to  call  over  personally  and  offer  his advice  and  ready assistance in whatever manner.
Though our ideologies and political affiliations differed we used to have very long and fruitful discussions on wide and varied subjects of common interest which proved to be very educative.
He was a MAN in the fullest sense of the word.  Lawyer,  leader, friend, confidante – a  senior professional    to  guide  us  and  assist  us  in  our  challenging  professional  lives. On many  occasions  he appeared as  our  own lawyer  in  personal  actions.
Attired in red, he looked peaceful and content in death. Red, the  colour  of  blood  signified  the purpose of his  whole  life.  He  lived  among  the  working  class and underprivileged people and   led  them  from  the  front  and  fought  for  them  in  and  out  of  court, so  much  so, it  was  inevitable  that  he  had  to  be  confined   to  remand  prison  for  some time  for  having  appeared  for  and  supported  JVP leader- Rohana Wijeweera.
He was always frank  and  forthright  in expressing his views. Even  on  those  issues  where our opinions  clashed, he  fought  cleanly  and  openly.
I  am  not  alone  in  the  high  admiration  of  these  unique  qualities  of  Marshall, which are very rarely seen in today's society.
He never wavered from his leftist policies and maintained it steadfastly throughout his life in whatever capacity he held.
On behalf of family and the lawyer fraternity of Uva, I extend  this farewell  wish  to  Marshall:
May  the  rains  be  gentle, and  sun  shine  bright
May   the winds blow softly – and earth rest light
On you, dear Marshall – every morn and night –
Your courage, grit – and the will to fight,
Meeting life's challenges – however tight –
Attempting anything – and doing it right –
Your life Marshall, was a sweet delight.
Till we meet again.
Vijaya Niranan Perera
---
Time flies, but her memory will never fade
 Joan de Zilva Moonesinghe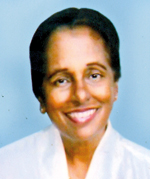 Already a year has passed since Joan was taken from our midst so suddenly and unexpectedly. Yes time flies, but her memory will never fade, lingering in the hearts of those who knew her so well.
She has left her footprints in many of our lives. We were enriched by her love, care and concern and are ever so grateful that our paths crossed on this earth.
She had a penchant for making friends and keeping them, be they far or near. She would go out of her way to do things for her friends, of whom there were many and from all walks of life.
I remember the first day I met her. It was in the ladies' room of the Central Bank of Sri Lanka. She was a smart young woman and many stood in awe of her, admiring her from afar. She dressed well, she spoke well, she carried herself well and brooked no nonsense. She was always very practical for life had taught her some hard lessons. Our friendship blossomed from there on.
She rose to great heights in the Central Bank but never forgot her humble beginnings and the people she had met along the way. She sought them out and kept in touch with each and every one, big or small. She had this enormous sense of equality and humaneness to embrace them all. She had her faults, who doesn't; but fought to enforce what she believed in.
She was a sincere friend, loving mother, devoted nana, caring sister, conscientious worker. Indeed she was one in a million.
Her spirit lives on flourishing in the hearts of her beloved children and grandchildren. Their magnanimity and hospitality speak volumes of Joan who lives in them and through them. May your soul rest in peace Joan and may your spirit stay with us forever.
Rebecca
---
Losing a friend with a larger than life personality is not easy
Peter Amerasinghe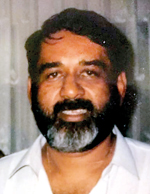 Peter Amerasinghe was my friend. He later became my brother-in-law too. From our initial meeting at the Radella grounds, the home club of the Dimbula Athletic & Cricket Club in 1964, our friendship developed for the next 56 years. It was a friendship which grew stronger with the passing years. In those 56 years I could not find a single blemish or anything negative about Peter. He was a gentleman through and through.
When I married his sister Christine, he welcomed me into their family unhesitatingly and unconditionally. His only brother Ralph, was also a planter, who went to Australia some time before and settled down.
He attended St Thomas' College Gurutalawa, where his father was on the tutorial staff.  He joined the planting fraternity at the tender age of 17. He learnt the basics of tea planting under veteran tea planter T.B. Pethiyagoda. Peter must have shown the potential to be a good planter even then, because Pethiyagoda kept him on as his Assistant Superintendent on Langdale Division, Nanuoya. Peter's planting career moved upwards quite fast. He was next on Mousa Ella Estate, Lindula as Senior Assistant Superintendent.
He became a fully-fledged superintendent on Bearwell Estate, Lindula. He was there for most of the balance part of his planting career except, for a stint on Lipakelle Estate, Lindula just before he moved to Colombo to take over as General Manager, Lanka Wall Tiles. On the demise of his father-in-law he moved over to run the family company Aristons. He ran the company efficiently and developed it very successfully. He also went into partnership with Japanese interests and formed  a company CeyQuartsz. He had a long business association with Japanese companies. The Japanese called him Peter San and they had a lot of respect for him.
He took to playing rugby football only after he ventured out as a tea planter. His colleagues on the tea estates he worked at were Leslie de Soysa, Ana de Alwis, Phani Dias and Ajith Abeyratne. In spite of not having played rugby whilst at school, Peter joined the Dimbula Club. He learnt the game from his team mates and from legendary coach Miles Christoffelsz. One of his friends was Owen Mottau, who not only taught him to play rugby but also introduced him to his future wife Cleone Paternott.
Peter not only learnt to play rugby but quickly became good at it. He was a rock solid prop forward. He was extremely strong and became Dimbula's ideal foil for the big-made European bullies whom we used to come across occasionally on the rugby fields. At school he was an excellent tennis player. He continued to play tennis throughout the latter years, playing regularly at the Queens Club with his good buddy Graham Hamer.
Peter was in the Dimbula rugby team which won the Clifford Cup Rugby League championship in 1971. However, the high point of Peter's rugby career was when he was chosen to play for Upcountry in the All-India Rugby Tournament, held in Colombo in 1968. That year he was also chosen to play for Upcountry versus the Colombo Clubs in the 1968 Capper Cup.
Peter loved to spend as much time as he could in the wilds and wilderness areas of this country. Not for him though the popular visits to Yala and Wilpattu but places off the beaten track. He took a few friends with him on these trips. I remember walking with him into the Horton Plains going along the Agra Oya to its source through Elgin Estate in Lindula. His camera was his constant companion on all these trips.
Losing a husband or father is not at all easy but losing a larger than life personality like Peter, is very difficult to bear. My heartfelt and sincere condolences go out to his wife Cleone, daughters Manju, Sarika and son-in-law Asanga, and his two granddaughters Anika and Elana.
May Peter attain a well-deserved restful peace with the Lord.
Jayantha Jayewardene
---
The loneliness is hard to bear
 Savitri Wickramasinghe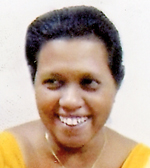 1918- November 23.  This was the date Savitri, my beloved wife departed this world.
She had worked in the Urban Development Authority for 33 years and left lasting memories among her friends there for she had beautiful ways which made her a favourite among her friends and relatives too. She was fortunate to have a lovely daughter in Dinusha and son-in-law like Dilushan. It is with an aching heart that I pen these few words to recall the beautiful memories we shared in our life together over 34 years. The day I lost her, I lost my life too. She had battled illness bravely for 11 months and did not give up until her very last breath, despite the many complications that she faced.
Savitri was a devout Buddhist who led an exemplary life. I try to assuage my unbearable loneliness with the teachings of Lord Buddha. May all the merits she acquired during her lifetime help her to attain the supreme bliss of Nibbana in the shortest possible time.
Nimal Wickramasinghe
---
 Helping the less fortunate was his guiding principle
Ivan Anandanayagam Pedropillai
Ivan Anandanayagam Pedropillai, a devout Catholic and philanthropist passed away peacefully after a brief illness on March 28 in London within three months of his wife's demise.
Born on October 2, 1937 in Jaffna to his father Pedropillai and mother Emily, he was the eldest son with four sisters of whom two predeceased him.
Ivan joined St Patrick's College, Jaffna for studies in the primary section and thereafter moved to St Joseph's College Colombo. He entered University to pursue higher studies and found his sweetheart Indra there. They married and were blessed with son Ajith and daughter Corinne. Ivan and Indra were an inseparable, affectionate couple.
Ivan lived an exemplary life as a devoted husband, affectionate father, loving grandfather and supportive father-in-law. He carried out all his responsibilities with much love and commitment. He brought up his children to revere God and instilled noble qualities in them. Helping the poor was his guiding principle.
He was a faithful friend in times of need. Ivan helped many Sri Lankans who migrated to London due to ethnic violence in 1983, and also gave financial support to many displaced orphans in Sri Lanka.
He was an ardent Catholic with deep devotion to Blessed Mother Mary.
Having obtained many academic and professional qualifications, he held several executive positions in Sri Lanka, Zambia and U.K.
In his retirement he was an author and editor of the Tamil Writers Guild and an advocate for Lankan Tamils in London.
S.B.David
---