Central Bank printing new money
By Dr. Kavan Ratnatunga
View point
View(s):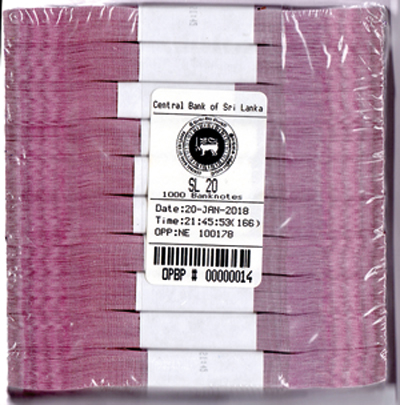 Money is printed to keep the economy running and it is a necessary step to revive it, if properly managed. Cabinet Spokesperson Minister Bandula Gunawardena, in denying media reports that the Central Bank (CB) has recently printed new money, challenged anyone to bring a banknote with the signatures of Mahinda Rajapaksa as the finance minister and the Governor of the Central Bank W. D. Lakshman.
This clearly shows his misunderstanding of the media statements that the CB has "printed new money"; which simply means that the CB has issued more money into circulation from the previously printed stockpile in its vaults.
Collectors keep a close eye for issues of banknotes with new dates and signatures. For unknown reasons, the CB makes no announcement when they do so. The CB Currency Museum which has seen little change since it opened in November 2013, displays no information on new signatures or dates on CB banknotes. The CB website with statistics of currency issue has not been updated for over three years.
In a reply by the CB to my Right to Information RTI 0001/2020 about related issues, I was informed on 2020 May 13th that:
"The CB has ordered banknotes with signatures of Hon. Mahinda Rajapaksa, Prime Minister/Minister of Finance and Deshamanya Prof. W D Lakshman, Governor of the CBSL with the date of 2019.12.24."
However, the banknote printer DeLaRue's branch in Biyagama was closed for two months because of COVID-19 and just reopened in late May according to their reports online. I doubt the public will see any of these new banknotes this year, since the CB has a large stock of older banknotes they will issue before then. For example, the Rs 50 dated 2017-05-22 is still to be seen in circulation. The Rs 20 of the same date was first issued only in March 2020. See table for lapse from date on banknote to first month of issue:
Previously one could monitor the highest prefix seen in circulation and estimate the rate of the CB currency issue. For a proper audit, the CB needed to issue banknotes in prefix Serial order. Banknotes used to be bundled in neat packs of 1000 with the first and last Serial Numbers printed on a slip on top. About 0.2-0.3 per cent of banknotes manually detected to be damaged were replaced with banknotes, which since 1991 had a Z-prefix to Serial Number. Collectors seek these rare banknotes which are about 400 times more uncommon than a regular prefix.
However, since early 2017, the CB has adopted a computerised cash management system, which also enabled DeLaRue to persuade the CB to do away with requirement for replacement banknotes.
A Single Note Inspection Machine (SNIM) now detects damaged notes and rejects them automatically for destruction, keeping track of Serial Numbers of the accepted banknotes. New bundles from the printers have a barcode reference to a database which knows the Serial Numbers in that bundle of 1000 banknotes and even the individual packs of 100 within the bundle. The CB no longer needs to issue banknotes in prefix serial order. As a result, since the first use of SNIM for the Rs.100 issue dated 2016-07-04, banknotes were observed issued into circulation in a random order. When no replacement banknotes are used, the difference between the Last and First Serial Number will not give the exact number of banknotes printed.
I maintain a website, notes.lakdiva.org and in 2020 January, I requested via RTI, the details of the first, and last Serial Numbers and the number printed, of the banknotes with signatures of Mangala Samaraweera and former CB governor Indrajit Coomaraswamy. The CB replied in March, and I expected the difference to be 0.2-0.3 per cent like the quantity of replacements, but  was surprised when I found the difference to be about 10 per cent. How could DeLaRue tolerate such an increase in rejection rate?
This prompted my perilous journey for the truth! Queries were made both to the CB and DeLaRue to as to why the rejection rate had jumped from 0.3 per cent to 10 per cent. Both refused to give clear explanations. In early June after the lockdown, I was able to get a brand-new bundle of 1,000 Rs.20 notes which had been issued with SNIM. It had 8.3 per cent missing Serial Numbers; which was statistically consistent with the CB RTI reply saying 10 per cent.
A number of possible scenarios to the missing Serial Numbers were considered; including the possibility that the excess totaling over Rs.47 billion had gone fraudulently into circulation. I obtained a simple explanation only after making contacts with two members of the International Banknote Society (IBNS) who had expert inside knowledge of banknote printing. The increase of rejection rate from 0.3 per cent replacements to about 10 per cent missing Serial Numbers with the adoption of SNIM by DeLaRue is explained not only due to more stringent quality controls, but mostly because, printed sheets are no longer quality checked before printing Serial Numbers.
The full automation gives cost saving over the manual quality check operations which probably offsets the cost of the increased rejection rate. The SNIM has an option of destroying the rejected notes within the machine or manually. The destruction of such a large quantity of banknotes has to be supervised stringently. If not, could some of these banknotes potentially go fraudulently into circulation? I hope the CB internal audit independently checks to ensure that the missing Serial Numbers don't appear in circulation. That can be now done easily as new machines that check circulated banknotes returning to the CB can read their Serial Number and dynamically check if it is valid. That will improve the security of our currency.
It is a pity that the CB is not more transparent and keep the public informed about changes in the banknotes they are expected to trust.
(The writer maintains an educational website on Lankan banknotes since 1785 athttp: //notes.lakdiva.org).