Virus guidance sets tone for welcoming visitors
By Nadia Fazlulhaq
View(s):
Foreign tourists will not be able to stay in unregistered guest houses as guidelines issued jointly by the Sri Lanka Tourism and Health Ministry will be in place from August 1, a top official at the Sri Lanka Tourism Development Authority (SLTDA) said.
SLTDA Director General Dhammika Wijesinghe said all tourists would go through proper contact tracing as they would be allowed to use only certified transport providers and stay in accommodation certified b the authority.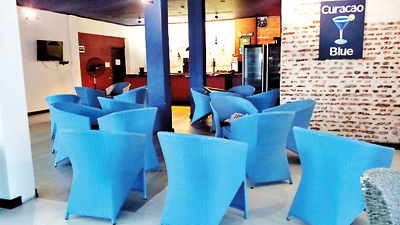 "All hotels, villas, guest houses registered with the SLTDA will go through an initial certification issued by an independent body. These places adopt guidelines issued with the certification. The SLTDA will also carry out random inspections before the opening of airports for tourists," she said.
Booking details of certified accommodation, itinerary, return ticket and proof of medical insurance will be required for visas.
She said screening would limit visitors from countries where the coronavirus threat still remained high.
"We will be monitoring their movements and they will be only allowed to travel with a certified transport provider and stay in pre-booked tourist hotels. Initially tourists will not be able to travel freely using public transport [trains, buses and tuk tuks] or a home stay. This is mainly to protect the people here as well as tourists," she said.
According to SLTDA the country has 24 five star hotels, 25 four star hotels, 24 three star hotels, 39 two star hotels,38 one star hotels, 235 unclassified tourist hotels (not star hotels), 34 boutique hotels, 44 boutique villas, 1,012 guest houses, 443 bungalows and 520 home stays registered.
"We recommend places that are not registered to consider doing so, as only certified hotels, boutique hotels, guest houses, bungalows will be allowed to accommodate foreign tourists. We will provide provisional six months to sort out issues such as land issues," she said.
However, the issue arises with tourist hotels, motels and guest houses that are not registered, said Ella Tourist Hotels Association, president, Malith de Silva.
"There are about 750 hotels and motels in Ella and the majority are not SLTDA approved. If foreign tourists are not allowed to stay in these places, we will continue to suffer losses. There are about 3,000-5,000 people who are directly affected due to zero tourist arrivals. They hope to resume services from August 1," he said.
Mr de Silva said some guest houses and inns that reopened had closed due to high operating costs and few domestic tourists.
This week, the SLTDA published its coronavirus operational guidelines, including maintaining occupancy level at 50 percent or below.
A screening facility must be set up outside the hotel lobby area to do health checks such as body temperature, visible respiratory symptoms, including coughing, and sneezing, and to get a simple self-declaration.
"All luggage of the guests (including hand luggage) must be disinfected using recommended disinfectants before they are taken into the hotel premises. A clear sticker giving the date must be attached to the luggage certifying that the luggage has been disinfected. It is recommended not to offer valet parking services in accordance with health and safety precautions," the guidelines stated.
Floor markings need to be in place to indicate 1.5 meter safe physical distancing at all busy areas (reception counters, buffet area, etc) and the hotel should limit the number of entry points to everyone including, visitors, guests, and staff, to ensure accurate screening.
"The use of food and beverage facilities by non-resident guests must be discouraged. The entry of outsiders to meet guests must be discouraged. If an outsider is to be permitted, he/she must be screened at the established screening facility and personal details (name, address and NIC number) must be recorded in a specific/allocated register along with the time of entry, time of departure and the name of the guest met by the person," the guidelines said.
Hotels and guest houses are asked to place a sticker/tent card in a very visible place in the room confirming that the room has been disinfected specifying the date and time.
All food chafing dishes (buffet counters) should be provided with sneeze guards. During the buffet service, designated staff wearing face masks and disposable gloves (these gloves should be changed every 30 minutes) should stand behind the buffet counters for serving; guests should not be allowed to serve by themselves or to handle spoons/tongs/chafing dishes.
All hotels are requested to maintain the details of diners at the restaurant for every meal (including seating arrangements, if possible); these records must be kept for a minimum 21 to help trace the exact people who were in contact if any coronavirus cases were found or reported later.
"Seating inside the bar must be arranged to maintain the safe physical distance of 1.5 meter between guests. Encourage all in-house guests to make prior bar reservations and limit the number of patrons inside the bar to avoid overcrowding. Drinks should not be served to guests across the counter, but served only at the seats to ensure guests do not congregate at the bar counter," the SLTDA guidelines said.
Bills should be presented to guests in a sanitized bill folder and cash transactions must be discouraged. The pens used by the guest to sign bills should be sanitized immediately after each use.
"The most frequent mode of virus transmission in a room is indirect contact of nose mouth and eyes via contaminated bed linen, blankets, bed runners, pillows, towels, bath robes, tumblers, curtains, remote controllers, etc. Therefore changing these linen hygienically is very important and essential between guests," the guidelines state.
The Hotels Association of Sri Lanka (THASL) president, Sanath Ukwatte, said the tourism industry is looking forward to receiving foreign guests from August 1, amid the challenge of maintaining minimum human interaction.
He said health regulations are an additional cost, but this is a part of the "new normal".
"This week the government's announcement of a wage support scheme exclusively for the tourism industry has further helped us to safeguard livelihoods of the most vulnerable section of our staff and we welcome this timely action and continuous support. Tourism industry has the potential to be the highest foreign exchange earner to the country," he said.