Sri Lanka looks to setting up 'virtual courthouse' in this age of 'new normal'
View(s):

A demonstration of a new online platform for the court system in Sri Lanka to ensure that courts continue functioning in the age of COVID-19 was held on Friday at the Colombo Law Library before members of the judiciary, lawyers and probable sponsors.

The online platform was developed by Sri Lanka Telecom (SLT) in partnership with the Colombo Law Library and supported by the Colombo Law Society.

The online system will function as a "virtual courthouse," Secretary of the Colombo Law Library Shivan Coorey said, speaking at the demonstration.

It would permit cases to be heard remotely with the use of Video Conferencing technology.

The aim of the project's first phase is to minimise the number of people coming to the courthouse for their own safety, Mr Coorey added. The software for this project has been completed by SLT free of charge and is ready to be handed over to the Judicial Service Commission, he said.

The project will first be trialed in higher courts in the Colombo district before being expanded to lower courts and then to courts in other districts. The final objective is to automate the entire judicial system of the country, officials elaborated.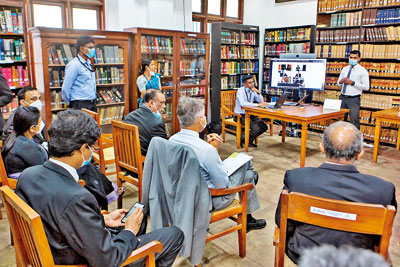 The Virtual Hearing Solution will have separate interfaces for judges and lawyers. It has been developed with simplicity and ease of use in mind ensuring that the practice followed in court houses is aptly digitized as is – giving lawyers an easy transition from the present routine at court.
Upon registration, lawyers will be presented options to enter a Virtual Court Room of Choice which leads to a Video Conference Interface with the Judges of the respective courts which will be visible to all. When a case is called, Counsels related to the case will then be permitted to present themselves on video and audio to the Judge to make their application. A broadcast of the same will also be made available to the public, it was noted at the demonstration.
EU's Ambassador to Sri Lanka Denis Chaibi stated that the country's judiciary was one of the major institutions that ensure stability even in times of trouble. He requested all present to support the project.
Acting Solicitor General Sanjaya Rajaratnam, PC, High Court Judges Sampath Wijeratne, Ahsan Marikar and Frank Gunawardhana, Colombo District Judge Amali Ranaweera, Colombo Magistrate Lanka Jayaratne, Frank Hess (Head of Cooperation, European Union), Dinesha De Silva (Country Representative, The Asia Foundation), Dr. Ramani Jayasundere (Director – Gender and Justice, The Asia Foundation) Tania Perera (Communication/Visibility and Media Officer – European Union), Sonali Wijekoon (Chief Legal Officer, Sri Lanka Telecom), Prabath Ambegoda (Chief Corporate and Digital Projects, Sri Lanka Telecom), Rohan Sahabandu P. C., Chandaka Jayasundere P. C., Avindra Rodrigo P. C., Rajeev Amarasuriya (Secretary, Bar Association of Sri Lanka) and Vijaya Gamage (President, Colombo Law Society) were also present at the demonstration.