Ease up with care
By Kumudini Hettiarachchi, Ruqyyaha Deane & Meleeza Rathnayake
Preventive measures such as social distancing, hand hygiene and having no mass gatherings important to protect Sri Lanka's triumphs, says Dr. Anil Jasinghe
View(s):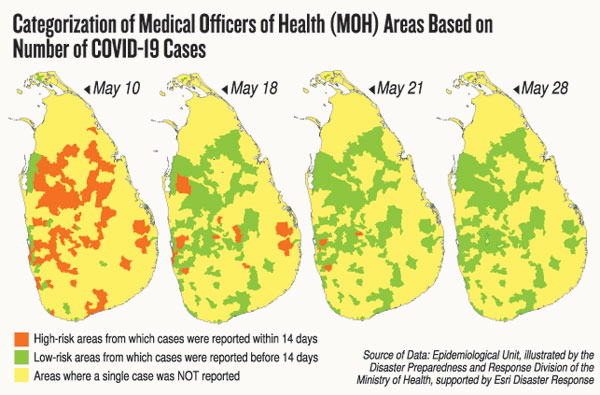 There is no room for complacency or risk-taking, reiterates a top health official, as Sri Lanka gradually opens up its workplaces and is set to allow the doors of places of worship as well as gates of schools to admit people and students respectively.
It is on the eve of June 10 (Wednesday) that the Sunday Times has a nearly two-hour interview with the person who has been in the hot seat since the COVID-19 pandemic caused by the new coronavirus (SARS-CoV-2) began its inexorable march, bringing to their knees rich and poor countries alike in a scale not seen in the past 100 years.
Unfazed is the Director-General (DG) of Health Services, Dr. Anil Jasinghe, even after a tough day of work, as he not only looks forward as to how Sri Lanka should go ahead but also back at how the country managed the crisis in the past few months.
His table is not cluttered. The files are arranged neatly and folders stacked on a book-shelf. It is from there that he pulls out one to highlight facts and figures, while also having close at hand documents with real-time data.
"The battle against the virus was waged on many fronts. We cannot forget the vital preventive steps such as social distancing, hand-hygiene, mask-wearing in public places and not gathering in large numbers, we need to keep to, now and in the future. Otherwise, the price we would have to pay would be very heavy," says Dr. Jasinghe, referring to the severe hardship that people underwent for nearly three months.
The country suffered many losses, so we need to safeguard the gains which we have garnered from these troubles and protect them when moving forward. Ease with care, are his words of wisdom.
So far, the track record of Sri Lanka has been commendable with no community transmission and currently the active cases being from the navy cluster and the returnee cluster.
As at June 10, when looking at the figures from the beginning there were:
The navy cluster – 911
The returnee cluster – 642
Other Sri Lankans – 313
Numerous detailed Operational Guidelines have been drawn up by the Health Ministry ranging from how to conduct the elections; how to prevent COVID-19 in work settings; how to open factories, barber and beauty salons, schools, tuition classes, universities and more.
Looking at some problematic areas, the DG says that he has flagged public transport and Outpatients Departments (OPDs) of state hospitals as places where people are happi-happi inne (jam-packed). There should be strict adherence to having only passengers for the seats available on buses with everyone wearing a face-mask. They are also trying to bring about solutions for overcrowding at OPDs as well as on trains.
"We will deploy our health staff at necessary places including during the elections," he assures.
When asked about the recent demonstrations where social distancing norms were not followed, Dr. Jasinghe said they do not want to stop people from exercising their rights in a democracy, "but we'll have to give guidelines to prevent disease-spread, which can be implemented under the Quarantine & Prevention of Diseases Ordinance".
These precautions are not just for COVID-19 but for all respiratory viruses, he points out, explaining that we can save many hours lost to illness.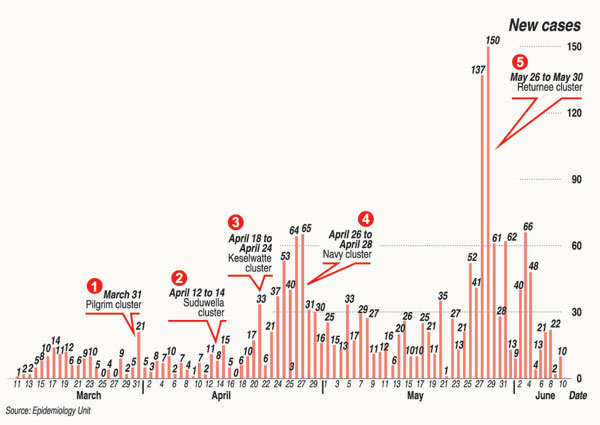 The spotlight is next turned on the strategy in the battle against COVID-19 – at the beginning of the pandemic, Sri Lanka tried its utmost to prevent the importation of the virus, which was successful to a certain degree.
In January-February, as the virus began rampaging across the world, the Sri Lankan authorities home-quarantined Chinese arrivals and sent Public Health Inspectors (PHIs) to check on them regularly; airport screening was begun with the establishment of thermal scanners; followed by the requirement to fill-up health declaration forms, with visits by the PHIs. Later came the suspension of on-line visas, followed by visas on arrival and halting of passengers from disembarking from cruise ships.
The first imported case (the Chinese woman tourist) was detected on January 27.
"Next, we got activated on preventing community transmission. March saw lots of people returning from Italy who were required to be in home quarantine but we realized that was not working and changed tack to send them to quarantine centres with the army chipping in heavily to manage that part of the operation," he explains.
President Gotabaya Rajapaksa set up a dedicated COVID-19 Prevention Centre and with it came "big relief" to the health sector as they did not have the capacity or manpower to handle it alone," says Dr. Jasinghe, adding that the health strategy was based on tested epidemiology factors of T (time), P (place) and P (person), tracing each and every COVID-19 link with the state intelligence services contributing their technical capability.
Local curfews were imposed in high-risk areas, followed hot on their heels by a countrywide lockdown and curfews and closure of entry-points etc.
From January-February they also identified hospitals which would have isolation wards, initiated staff training and setting up of infrastructure and also began 'passive' RT-PCR testing of anyone with fever and cough who sought treatment at hospitals. As the caseload of patients increased, some hospitals were designated to accommodate suspected patients.
The Hotline 1390 was set up, the Sunday Times learns, with the 1990 Ambulance Service (Suwa Seriya) responding to those who suspected they had caught the virus.
"There was also a gear-shift to 'active' surveillance by conducting RT-PCR testing among vulnerable groups such as trishaw drivers and those at marketplaces and bus-stands, while continuing passive surveillance. Our testing number has now gone beyond 80,000," says the DG.
Fielding criticisms why unlike South Korea, Sri Lanka was not conducting large-scale testing on the streets, he says that what most people forget is that in our equation we have a very strong public health system, unlike that country. "South Korea also had a big issue with social transmission, whereas we didn't."  

The active surveillance of vulnerable group testing has given a positive rate of 2% which means that when 100 are tested 98 are negative and only 2 are positive. Community testing has given zero positive results. Sri Lanka had begun RT-PCR testing for COVID-19 way back in January with the only other country doing so being India in a laboratory in Pune. Currently, 20 state and university labs and four private sector labs are performing these tests.
Dealing with allegations about RT-PCR testing, the DG says that all positive patients are discharged from hospital only after two tests become negative. Later, they could sometimes test positive once again, but they are not infective. "We are in touch with the well-known Virologist Prof. Malik Peiris based in Hong Kong and have been told that you can find dead RNA particles in recovered patients which could make a test positive. Our proof lies in the fact that once discharged, none of these patients infected anyone else."
With real-time data at his fingertips, Dr. Jasinghe gives out figures which are reassuring – on average around 1,700 RT-PCR tests are conducted each day, while on June 9, there were more than 400 beds free for COVID-19 patients.
Into the recent past Dr. Jasinghe casts his eye to disclose how they managed to contain the virus invasion of the navy within the navy itself without a spill-over and are also dealing effectively with the returnee cluster. Inbound flights are being spaced out based on the ground situation.
Referring to the 'real caseload' of 313 confirmed cases (including the returnees from Italy, followed by Suduwella, Ja-ela and Bandaranayake Mawatha, Gunesinghepura, which had accumulated since March within the community, he smiles that "damagena weda kara" (worked very hard) to limit it.
The navy cluster spread rapidly and he compares it to "our Italian experience". It was difficult to trace the roots once it started spreading but gradually the authorities brought in effective controls. The returnees, of course, were quarantined, not allowing a leak which could have affected the security forces personnel manning those centres or health workers.
"Our death rate is 11 or 0.59% which is 'very low' compared to other countries. Currently, the active cases (those in hospitals at the moment) are 789, while 1,059 have been discharged with no disease transmission once they were discharged. In Sri Lanka, a characteristic was that we were able to manage our hospital bed-capacity as the discharged numbers exceeded the active cases. Even though with the navy and returnee cluster the situation 'anith paththata giya' (went the other way), the balance has been righted now," he assures.
He shows a document charting bed occupancy and points out that kata-arenna patan ganna kota (when the mouth begins to open) it becomes difficult to manage the resources, but now kata wehenna patan arang thiyenne (it is closing now).
Another document he pulls out has the Sri Lanka map, starting with red patches all over indicating COVID-19 cases being reported within two weeks (the incubation period) and by May 30 turning green which means that cases have not been reported for 14 days in those areas. Yellow, of course, is areas where there have been no cases at all.
So far inbound arrivals since the closure of the airport have been nearly 6,000, with the breakdown including: from India – 20%; Australia – 10%; Russian Federation – 8.1%; Kuwait – 8%; United Kingdom – 7.5%; Bangladesh – 6.3%; Maldives – 5.2%; Qatar – 4.7%; Belarus – 4.5%; Japan – 4.3%; United Arab Emirates (UAE) – 3.6%; Singapore – 3.4%; and Malaysia – 3.2%.
From among the returnees, the percentage of infected according to the country includes: Kuwait – 77%; UAE – 8.4%; Qatar – 7.8%; Russian Federation – 1.8%; Bangladesh – 1.4%; and India – 1.4%.
All this is on the table to add to the strong call by Dr. Jasinghe that Sri Lanka should "ease up with care" to protect the major wins made against the virus.
Complacency, the biggest threat'Several countries are seeing positive signs of the coronavirus infections reducing, but in these countries, the biggest threat now is complacency, has warned the Director-General of the World Health Organization (WHO), Dr. Tedros Adhanom Ghebreyesus this week.

He told a media briefing on June 8 that results from studies on the exposure of populations to the virus show that globally most people are still susceptible to the infection.

"We continue to urge active surveillance to ensure the virus does not rebound, especially as mass gatherings of all kinds are starting to resume in some countries," Dr. Ghebreyesus added.

On June 7, more than 136,000 cases were reported around the world, the most in a single day. Almost 7 million COVID-19 cases have now been reported with 400,000 deaths.

"Although the situation in Europe is improving, globally it is worsening.

Almost 75% of yesterday's cases come from 10 countries, mostly in the Americas and South Asia," the WHO head said, adding that more than six months into this pandemic, this is not the time for any country to take its foot off the pedal.

While New Zealand announced on June 8 that there were no more active cases of COVID-19 there, Russia had the third-highest count of cases (493,657 cases and 6,358 deaths) after the United States of America (with a total of 2.02 million cases and 115,130 deaths) and Brazil. Africa recorded 202,782 cases.

---

Minks to the slaughter

Nearly 10,000 minks are to be culled by the Netherlands after COVID-19 transmission was suspected from these creatures to two employees of a farm.Concerns have been raised over infected minks turning into a viral reservoir which could lead to new outbreaks in humans and the Dutch government reportedly began to gas minks bred for fur from June 6.

The two workers have become the only known patients anywhere to have become infected by animals; there have so far been no known cases of transmission from animals back to humans.

The Netherlands is the third largest producer of mink pelts after Denmark and China. In Spain, meanwhile, 11 of 14 employees at a mink farm in La Puebla de Valverde had tested positive for the virus.

---

Samples for RT-PCR collected from all at airport

All passengers and crew arriving at the BIA are being subjected to RT-PCR testing with samples being taken and sent to the MRI or Sri Jayewardenepura University, said the Vice-Chairman of Airport and Aviation Services Limited (AASL), Rajeewasiri Sooriyarachchi.Since testing was initiated last week, samples have been collected from 1,136 passengers and 335 crew members, of whom two passengers from London have tested positive, it is learnt.

Five airlines have begun flying into Sri Lanka now in addition to SriLankan Airlines. They are Cathay Pacific Airways, Turkish Airlines, Qatar Airways, SpiceJet and LOT Polish Airlines, said Mr. Sooriyarachchi.

The samples from crew members are taken by doctors of the AASL Medical Centre and Air Force, while those from passengers are taken by Health Ministry doctors. Thereafter, the SriLankan Airlines crew members are sent into home quarantine and those of other airlines to a hotel close by. The passengers are sent into quarantine centres.

No diplomats have arrived after the two US Embassy officials on June 3, he added.

No answer from US Embassy whether official has submitted RT-PCR test result

In a follow-up to the Sunday Times Page 1 news report of June 7, headlined 'Mandatory tests for diplomats after row over US official's refusal to undergo check', when we asked for information, US Embassy spokesperson Nancy VanHorn said: "The embassy employee entered Sri Lanka in coordination with the relevant Government of Sri Lanka authorities.

"The Ministry of Foreign Relations approved the arrival of the U.S. employee in question. The employee complied with Government of Sri Lanka entrance procedures (which were updated on June 5 after his arrival). The employee is currently in quarantine at his residence. After he concludes the quarantine period, he will assume work as an employee of the U.S. Embassy."

No answer was given by the embassy to the query whether the US official had undergone RT-PCR testing and provided a report.

When contacted, the Epidemiology Unit said that they have not received the RT-PCR test results from the US Embassy official. They would be following up the matter shortly.