Dial C for a crime from prison
By Sandun Jayawardana and Chris Kamalendran
View(s):
 Following a presidential directive, raids yield 87 mobile phones and 50 SIM cards in jails
 Underworld and drug mafia turn prisons into operation headquarters to direct crimes
 Some prison officials in collusion with inmates; new Prisons Chief speaks of challenges
Attempts to prevent criminals from directing drug smuggling and other serious crimes from prison are faced with a multitude of challenges, including severe overcrowding, an under-strength prison intelligence unit, corruption and inmates resorting to all kinds of subterfuges.
The authorities have gone into high gear since President Gotabaya Rajapaksa directed that immediate action be taken to halt crimes perpetrated by "underworld kingpins and drug mafia" from prisons. The President was especially insistent that action be taken to stop the use of mobile phones within prisons, as this is seen as the main method used by imprisoned criminals to direct their operations from behind bars.
There have been allegations for years that certain individuals are able to direct criminal operations even when in prison. Last month, the Police Narcotics Bureau (PNB) seized 226 kilograms of heroin hidden in sacks of rice from a house in Welisara. The PNB claimed that the drugs had been kept there on the instructions of an alleged underworld leader known by the alias "Kosgoda Tharaka," who is currently in prison. Police have also alleged that several other large consignments of drugs seized in the country have been traced back to alleged drug lords who are either in remand custody or serving sentences.
A three-member committee appointed to probe the ambush of two prison buses that left five inmates and two prison guards dead in Kalutara in February, 2017 found that illegal use of mobile phones had become endemic within the country's prisons mainly due to the conduct of corrupt prison officers. It noted that the ambush, in which the notorious underworld leader Aruna Udayanga Pathirana alias "Samayang" was killed, could not have been successfully carried out without information about the movements of him and his associates being fed to the assailants from within the Kalutara prison.
Justice Minister Nimal Siripala de Silva told a news conference this week that the authorities had been unable to halt the use of mobile phones inside prisons for a number of reasons. "We can't instal jammers inside Welikada prison for example, as they would affect nearby houses and offices. Given difficulties such as this, it will take some time for us to resolve this issue."
He also said attention has been drawn to relocating prisoners on death row and those sentenced for serious crimes to an island in Batticaloa that currently houses a leprosy hospital. Only two patients remain at the hospital and discussions are underway with health authorities to remove them elsewhere and the buildings to be handed over to the Prisons Department, he revealed.
The Prisons Department top rung was shuffled recently following the President's directive, with Thushara Upuldeniya appointed as the new Commissioner General of Prisons on June 3. A string of raids at various prisons began along with his appointment. By Thursday, 87 mobile phones along with more than 50 SIM cards were seized in search operations conducted at the Negombo, Magazine, Colombo Remand, Boossa and Kalutara prisons. These included a mobile phone recovered from the Boossa prison cell where suspected drug kingpin "Kanjipani Imran" is being held.
The biggest detection was made at the Negombo Prison: 61 mobile phones, 51 SIM cards, 16 grams of heroin and 2 grams of cannabis were among the items that were seized during a search operation there.
These discoveries suggest the level of connivance among some prison officials, the newly appointed Prisons Commissioner General Upuldeniya acknowledged. However, he stressed that this was not the only reason. Aside from corrupt prison officers, mobile phones are smuggled in by visitors who come to see inmates. Some inmates also smuggle in their person, phones passed onto them when they are brought outside the prison to appear in courts, or to be transferred to another prison or while they are first taken to prison.
It is also noted that in prisons situated in densely populated areas such as Colombo, people simply throw parcels of contraband from outside into the prison ground.
The Prisons Commissioner General said mobile phones seized by them were handed over to the Criminal Investigation Department (CID) for investigation.
To prevent contraband such as mobile phones from entering prisons, a host of measures need to be taken, Mr Upuldeniya remarked. Constant and thorough searches was one measure. However, new technologies should be used in these searches. Security should also be strengthened outside the prison premises, he added.
An incident last week at the Angunukolapelessa prison highlights the difficulties faced by the authorities to stop contraband from being smuggled into prison. Special Task Force (STF) personnel who have been added to strengthen security outside the prison had been alerted when an inmate walked through a security scanner. A search found five small mobile phones hidden in his rectum.
Angunukolapelessa is one of two prison complexes where the STF is currently deployed to strengthen security outside the complex, the other being the Boossa prison. Organisations working for the protection of prisoners' rights have raised concerns regarding their presence, particularly over allegations they are being deployed routinely to search prisoners inside the complex in violation of the Prisons Ordinance.
Mr Upuldeniya denied these allegations, and claimed that STF personnel are being deployed jointly with prison officials to conduct spot checks outside the prison walls on the request of the superintendent of that particular prison. Searches inside the cells are conducted mainly by the Prison Intelligence Unit, he added.
Mr Upuldeniya, who earlier served as the Commissioner in charge of Prisons Intelligence, noted that much needed to be done to improve the Prison Intelligence Unit, which he said was understrength. "We need to increase the number of officers in the unit as a matter of priority. Their training must also be improved. We are holding talks with the Ministry of Defence and state intelligence agencies to look at ways of strengthening our intelligence unit. We are also hoping to establish a joint mechanism whereby we coordinate and share intelligence with other state intelligence services."
Other preventive measures include separating identified high-profile inmates from the rest of the prison population and placing them in new maximum security prisons, otherwise known as a "Supermax Prisons."
Regarding the prison population, severe overcrowding is one of the major issues. This also poses difficulties in preventing crimes from being directed from prison.
According to Mr Upuldeniya, overcrowding in prisons is currently at 173 percent. Some prisons such as the Colombo Remand Prison and Magazine Prison, however, are overcrowded by as much as 300 percent. The authorities are hoping to shift some of these densely populated prisons in urban areas to rural locations. The Prisons Department says the new prisons will be built according to international standards and will have necessary facilities for all prisoners.
While actions are being taken to eradicate mobile phone usage in prisons, the Prisons Commissioner General said they also need to provide facilities for inmates to communicate with their loved ones, albeit with certain restrictions.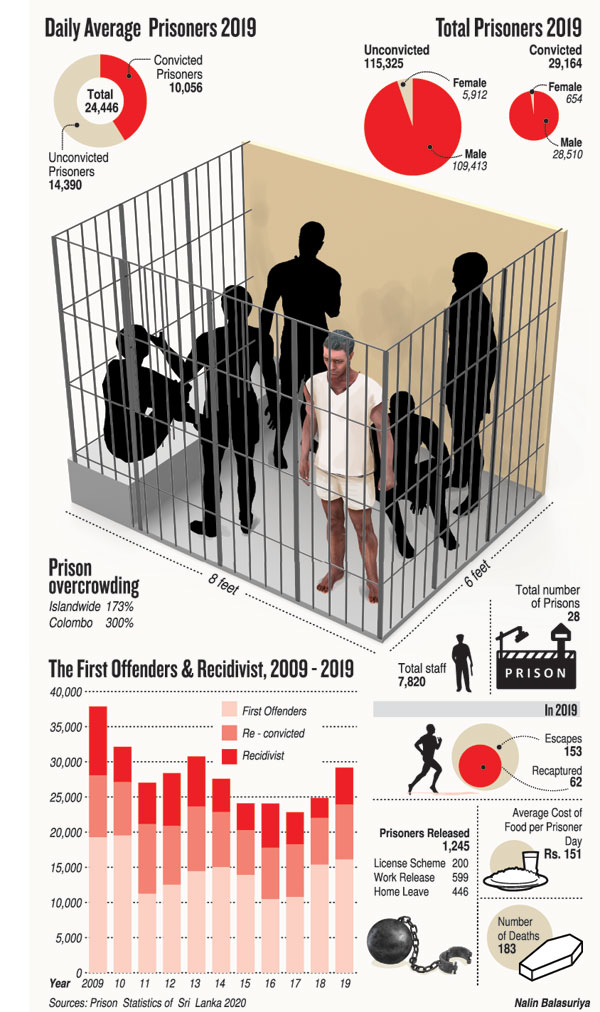 The Welikada prison currently has a group of phone booths for inmates to speak to their families.
The booths are operated through a fingerprint scanner, with each inmate having a specific account, to which their families can reload money for calls. This facility is currently not available in other prisons.
Due to the restrictions on visitors imposed by the ongoing COVID-19 epidemic however, all other prisons in the country have also been provided with a phone each for use by inmates to communicate with their loved ones toll-free, though this facility is only until the pandemic is over and visits are allowed to resume as normal. The plan is to establish similar phone booths to those at Welikada prison in other prisons as well, according to the Prisons Department.
No one is born a criminal, don't demonise all prisoners: Rights group

Instead of addressing systemic injustices within the prison system, the Government is attempting to use the issue of a small percentage of prison inmates directing crimes from within prison to demonise all prisoners, an organisation for the protection of prisoner rights charged.Attorney-at-Law Senaka Perera, Chairman of the Committee for Protecting Rights of Prisoners (CPRP), claimed the Government was trying to victimise all prisoners for the crimes perpetrated by a minority. "I would say only about 10% of inmates are involved in such crimes, but authorities are targeting the other 90% as well."Mr Perera pointed to the recent death of a remand prisoner at the Mahara Prison. Authorities claimed he died after falling off the prison wall in a failed escape attempt. Mr Perera however, said they had information that the inmate was beaten to death by prison guards, before authorities affected a cover-up.

He added that another inmate who witnessed the incident was willing to give a statement. "He was transferred to the Polonnaruwa Prison. We went there to obtain a sworn affidavit from him but prison authorities did not allow us to do so. As such, we intend to file legal action to compel them to let the witness give a statement."

The CPRP head pointed out that there have been many incidents over the years where dozens of inmates were massacred within prisons. "The pattern has been the same at Welikada, Bindunuwewa, Kalutara, Anuradhapura and others. The perpetrators have not been brought to justice."

The reason why victims won't receive justice is because prisoners are voiceless and those who are witness to such crimes cannot speak out since they themselves are within the prison and are at the mercy of authorities, he pointed out. As an example, he revealed that some prison inmates who were brutally assaulted by prison officers at the Angunukolapelessa prison two years ago claim they weren't assaulted, despite CCTV images showing them being attacked.

Moreover, current rehabilitation concepts used in the country's prisons were themselves outdated, he argued. "Rehabilitation is not simply about observing sil, growing flowers or even vocational training. We know that many of those prison inmates are repeat offenders. They go in and out of prison. If our rehabilitation system works, this should not happen. We need to understand that no one is born a criminal but that they turn to crime due to various social anomalies. Many become hardened criminals within the prisons themselves. We must try to eradicate the criminal mindset they are under," he emphasised.

He also lamented that society was being conditioned to look upon all prison inmates as criminals and advocate their exclusion. "Every prisoner is entitled to the presumption of innocence until proven guilty in a court of law, yet in this country, prison inmates in remand aren't even afforded the right to vote. This is a fundamental violation of their human rights. We have filed a case at the Supreme Court over this matter and hope the court will give a ruling before the next parliamentary elections," he stressed.

---

Overcrowding of prisons a glaring problem

Stats provided by the Department of Prisons reveal just how glaring a problem overcrowding of prisons is.The country's prisons only have authorised accommodation for 11, 762 inmates. Yet, from 2010 onwards, the prison population has never gone below 17, 000 and has been on an upward trend over the last three years, with 19, 278 in 2017, 20, 384 in 2018 and 24, 446 in 2019.Prisons Commissioner General Thushara Upuldeniya stated that the current prison population as at June 2020 is 24, 772. This means that as many as six inmates are now housed in a cell meant for one person.The sheer number of unconvicted inmates has been the reason for overcrowding, as the stats show, pointing to the much discussed topic of delays in the judicial system.

---

Proposals on restructuring Prisons Department handed over to Justice Minister

Based on a concept by newly appointed Prisons Commissioner General Thushara Upuldeniya, the Prison Superintendents' Union this week, drafted a set of proposals on restructuring the Prisons Department. The proposals were handed over to Justice Minister Nimal Siripala De Silva this week by Mr Upuldeniya in the presence of Secretary of the Prison Superintendents' Union, Jagath Weerasinghe.

Among the proposals to strengthen the security of prisons, the union has proposed installing CCTV cameras in every prison and for them to be linked into a single network to enable the Commissioner General and other senior officials to observe. It has also been proposed to remove unauthorized structures built near protective walls of prisons in urban areas and to prohibit any new structures being built nearby. This would prevent people from throwing various contraband into the prison grounds, which is currently a major security issue at these prisons, the proposals note.

The union has also proposed that new equipment such as body scanners should be installed at the entrance to every prison to check prison inmates who return from outside as they try to smuggle in mobile phones and other contraband on their person, while the installation of jammers in prison wards has also been recommended.

Proposals have also been made to reduce overcrowding. They include working with the police and Justice Ministry to draft a mechanism whereby those convicted of narcotics offences can serve out a period of their sentence in prison and then be transferred to work camps and amending the Bail Act to make it easier for those in remand for minor offences to post bail.

---

Tackling corruption in criminal justice system biggest challenge

Corruption at the highest levels of the criminal justice system will always be the main challenge in preventing crimes being carried out from within prisons, a senior retired police officer told the Sunday Times.

Retired Senior Deputy Inspector General (DIG) H.M.G.B. Kotakadeniya singled out corruption within the system as the main reason for mobile phones, drugs and other contraband being smuggled into prison and crimes directed from inside jail.

"There are honest prison officers, but they also face threats. Some years ago, a jailer was stabbed on a bus in Borella. Action should be taken to protect them, otherwise, they will also be forced to look the other way," he stressed.

The retired Senior DIG argued that it will be difficult for corruption to take hold of senior officials stand firm. "If they do that, it will make it harder for junior officers to succumb."

He noted that ideally, the STF should not be used in prisons at all. "They are an elite unit formed to fight terrorism. The fact that they have to be used for searches is evidence that prison officials aren't doing their jobs," he added.

He argued there was a "symbiotic relationship" between politicians, police, criminals, judiciary and the prisons system which needed to be broken.

Retired SDIG Kotakadeniya was hopeful that the situation will improve as President Gotabaya Rajapaksa "understood that corruption in the system is the main issue," but warned it will fail if "politicians prevent officials from doing their jobs."