Ancient mariners find a haven on Sri Lanka's shores
View(s):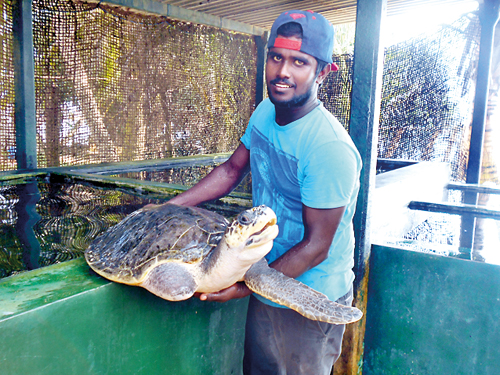 Ancient mariners that come ashore in Sri Lanka's southern coast have been heading to a haven on shore for decades, where their eggs are protected and wounds healed for decades by caring hands. It is mostly the females that come ashore in the nesting season.
Marine turtles are endangered – all seven species. Three among them are critically endangered. Birds and other predators snatch their hatchlings and humans prey on their flesh and eggs.
Multiple thousands of marine turtles fall prey to satisfy the lust for turtle flesh among Chinese, for whom turtle soup is a delicacy and there are other communities that hunt them for food. The green body fat is the main ingredient in soup. Olive ridley turtles are killed for their skin and eggs. The Japanese are major buyers of shells for handicraft.
Dredging and sand filling are among human activities that destroy their nesting sites.
A medical centre operating on a 30 perches site for nearly 14 years in Ambalangoda, treating and releasing wounded turtles has been drawing the attention of the fishing community, the police and wildlife guardians as well. The centre has treated more than 600 turtles and released them.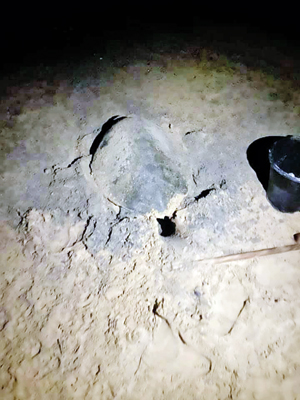 About 40 injured turtles are being treated at the moment.
Jeevan Kasthuriaarachchi, who heads the center, said some turtles had been found with just three flippers, and some are blinded and injured. There are others suffering from various ailments.
Two veterinarians treat the creatures.
The Wildlife Department, the police, other organizations and people bring turtles that need medical care.
"Sometimes, even after they are cured, they are unable to survive in the sea. So, we have to keep them here. We are keeping turtles that are blinded in one are both eyes. Turtles living here need about 20 kilos of fish daily. We buy small, fresh and clean fish with less bones. We also have to remove the moss and bacteria growing on the shells of the turtles carefully. For this, we get the help of undergraduates from 24 countries, who come here and serve voluntarily."
H.L.D. Prasad Nilanga owner of the Turtle Conservation Centre in Mahamodera, Galle, said about 200 females come ashore at Mahamodera to lay eggs from December to May every year.
"I have conserved these eggs for the past eight years. I am proud I have been able to release about 53,000 hatchlings. Sometimes they come from places thousands of kilometres away, to lay eggs here. They dig holes of about 50 centimetres deep and lay 100 to 150 eggs at a turn. A turtle takes about three hours to cover the hole [after laying eggs]. After about 47 days, the eggs hatch. These eggs are damaged by crows, sea gulls, monitors and even by people. So we keep awake at night, observe where they lay eggs, remove them and bury in a more safer area again and keep constant watch until they are hatched."
Pix and Text by
Gamini Mahadura