Colombo City Centre Residences shortly ready for occupation
View(s):

The Residences at the Colombo City Centre is ready to introduce people to the pinnacle of city living, having concluded construction recently on their high-end apartments. These tastefully designed and fully furnished homes are now open for viewing and will shortly be handed over for occupancy, the joint venture with Abans said in a media release.
Colombo City Centre is the premier mixed development project to be completed in Sri Lanka. The project commenced in 2015 with a partnership between Abans Group of Companies and the Singaporean-based NEXT Story Group. The joint venture brought in one of the largest foreign direct investments for Sri Lanka during the recent past, it said.
The mixed development comprises 192 luxury apartments, an international standard shopping mall and a business class hotel.
"Abans Group and Next Story Group combined their resources – with Abans Group's unmatched reputation as one of Sri Lanka's well-established conglomerates and the international chain of hotels under the Next Story brand name lending credibility and trust to investors.
Sanken took the lead in the construction of the entire structure, as Sri Lanka's premier construction company; while the quality inspection and review was handled by JLL, a world leader in real estate services," the release said.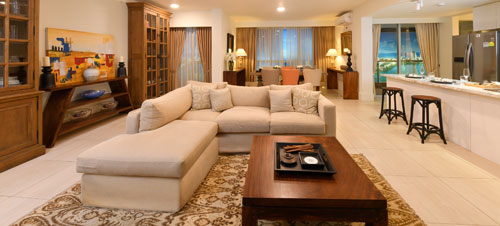 "The completion of the residences is an illustrious accomplishment that assures early ROI for investors and utmost satisfaction for residents. Waterfront ventures such as Colombo City Centre Residences are on high demand across the world, resulting in high appreciation of value. Situated in the ideal location in the heart of Colombo, the Residences are easily accessible. With close proximity to leading local and international schools, the best hospitals, banks and other financial institutes, as well as luxury hotels and shopping malls, the Residences guarantee the pleasures of city living without the drawbacks," it said.