Winning Bradby is icing on the cake – Ashan Ratwatte
View(s):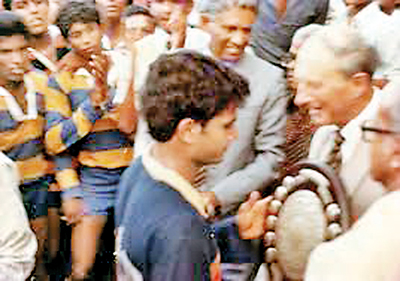 "The Bradby Shield is a part of Trinity. Rugby is a part of Trinity. The Bradby becomes a bigger part of Trinity. Before you even start playing rugby you are familiar with rugby. You are joining Trinity because of rugby. Before you can even start thinking of being a player, you are already familiar with Bradby and rugby," says Ashan Ratwatte, captain of the 1983 Bradby winning Trinity team reflecting on what Bradby and rugby means to Trinity.
"Then your dream is to become a player. The first step is winning the jersey. You win your jersey when you play 1st XV. Until you are really selected to the first XV (not even the 20), the jersey is awarded to you on the day of the first match. That is the realisation of a dream," he said.
"We are talking about a legacy. From a Trinity perspective, Royal may not be the best side but when it comes to the Bradby you always expect something special from Royal and vice-versa. Those days Bradby used to be the last game of the season traditionally. It's the icing on the cake. It's the climax," said Ratwatte who was part of three Bradby Shield winning teams from 1981 to 83.
However, his first glimpse of the Bradby was in 1980 when he played in the second leg in Colombo.
"I am not very proud of that performance. It was quite a stressful match playing against the best in the country Sujanthakumar (Sukumar). It was a Bradby and it was in a packed Longden Place," said Ratwatte shrugging off losing the 100th Bradby match in 1983.
"I played three full seasons of Bradby and just one match in 1980 which we lost. Ever since, I have only won Bradby. Ironically in 1981, we had a very similar case of losing the second leg after winning in Kandy. We were ahead after 15 minutes," related Ratwatte.
"Then Royal crept back in and kept on putting pressure. They really got on top of us. They definitely won that game that day. They almost took the Bradby away but for a last-minute Bradby-saving tackle made on Sriyan (Cooray) by full back Dushyantha (Wijesinghe). That actually saved our lives for us," said Ratwatte.
"I had the unique privilege of receiving the Bradby Shield from Mr Bradby himself," he added proudly tracing his rugby lineage.
"My father Dennis played into the late 40s through to the 50s as a fly half during the era of Kavan Rambukwella and Bertie Dias. My father played in the build-up to the golden years of Trinity rugby before 1956. My three brothers Sheran, Roshan and Dilakshan all of them played rugby," said Ashan.
"I always played with a brother in my team. We also had the Adihetty brothers Pradeep and Dilip, and the Hasan Ali brothers," said Ashan who was also a talented cricketer.
Baby of the side in 1981, he eulogized the Trinity side led by Ravi Bandaranayake.
"I had all these stalwarts and privilege to play with those guys. Six Lions were awarded to Ravi Bandaranayake, Ravi Ponnambalam, Lalith Pilapitiya, Roshan Ratwatte, Pradeep Adihetty and Byron Fernando. Ponnambalam was one of the best players I have played with. He was very talented, defensively perfect and one of those attacking full backs. He always rose to the occasion saving us many times," said Ashan nostalgically.
1982 was even more special because he scored many tries forming a superb combination with skipper Byron Fernando.
"We lost only to Isipathana. Byron Fernando was a really powerful number 8. He also had the kicking skills. He was a special player. When we came into the 25, we were unstoppable. In fact, 90 per cent of tries were scored between Byron and myself. Byron had the highest points that season. Ironically that record was broken by my son Tharinda many years later," said Ratwatte who won his Lion in 1982.
He described the 1983 Trinity side as a "very good humble team".
"Actually we did not have any maestros in the side. It was really a team effort. We had people who went on to be stars like Rohan Abayakoon who had a flamboyant national career. Unfortunately some of the players have passed away. Winger Ruwan Gunasekera who scored lot of tries, and Arjuna de Silva died tragically. Flanker Anjana Dissanayake died in naval action and Dushyantha Wijesinghe," recalled Ratwatte.
"We had some really good scrum halves in school rugby in 1983 like Roger Rodrigo (Isipathana), Sriyan, myself and a few others," said Ratwatte who played for Kandy SC as a schoolboy.
"I started by club career while I was in school in 1982. In fact, Byron, Hiran Muttiah and myself were recruited by Kandy along with Thusitha Seneviratne. Four of us helped Kandy to get to the semifinals of the knockout tournament. So I had already played three or four club matches when I came back in 83 to play for school. I don't think many people can really boast of that," he said.
He was also proud that his son Tharinda outdid him by being part of four Bradby Shield winning teams including as captain in 2014.
"As a father you can't ask for more. He basically did everything I could imagine. I thought I was a great rugby player but he has bettered me in every sphere. He has never lost the Bradby in his life," said Ashan.