Prevention of COVID-19: Handbook in Sinhala, Tamil and English
View(s):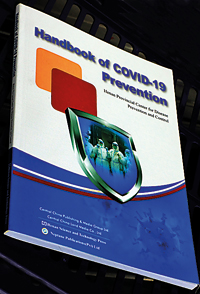 The Handbook of COVID-19 Prevention, originally written in Chinese and published by the Henan Provincial Center for Disease Prevention and Control has been published in Sri Lanka, in English, Sinhala and Tamil, by Neptune Publications.
This handbook along with four more similar awareness books has also been published online and may be downloaded free of charge from: www.neptunepublications.com
Neptune Publications together with its sister companies Printel (Pvt) Limited, Readplus Consortium and IBBY Sri Lanka National Section (Sri Lanka Board on Books for Young People) printed and distributed 20,000 booklets titled, 'Fight against new coronavirus and other harmful viruses' in March, before the outbreak hit Sri Lanka.
The handbook, which has been reviewed by Consultant Physician Dr. Ananda Wijewickrama on the request of the publisher, includes the following topics: How to take protective measures when going out and staying at home during the pandemic; What you should do when a family member has suspicious symptoms; What you should do if you have travelled to or reside in an affected area; What preventive measures should staff working in public spaces take; How to choose the way to go to work; How to disinfect and carry out other preventive measures on public transport; How to protect being infected when attending a meeting; and 27 Myths about COVID-19.