You may now, not kiss the bride — at least not in public
By Nadia Fazlulhaq
View(s):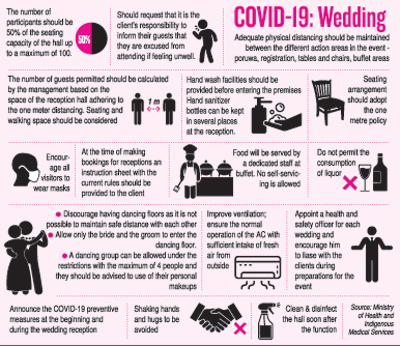 Weddings have been upended, stripped of all intimacy, sense of occasion, and celebrations because a virus could come uninvited to haunt the lives of everyone.
Masks are a must and no socialising.
Health officials have laid down guidelines that say no to hugs, handshakes, kisses, group photos, dance floors, and alcohol. Guests are limited to a maximum of 100.
Wedding planners are reluctantly adjusting.
Charm De Silva, a wedding planner, said many weddings have been postponed to the end of this year, or next year.
"It is not a pleasant scenario when all the guests are wearing masks and it will be an awkward gathering. Weddings are a large gathering of families, relatives, friends and colleagues. There are clients with 300-500 guests who are struggling to reduce numbers to 100. We are hoping the guest restriction would be eased as soon as the pandemic is brought under control," said Ms. De Silva.
She said many weddings are postponed with some limited to registrations involving a few people.
Guidelines for weddings was issued by the Director General of Health Dr. Anil Jasinghe under the Health Ministry's 'new normalcy' policy. Guest seating capacity should be 50% of a hall, up to a maximum of 100 people.
"Guests should be requested to wear face masks. Adequate spacing should be given for people to move around. Shaking hands and hugs are to be avoided, clients should make sure to verify their guests' health status before the wedding day and confirm the attendance," the guidelines said.
"Adequate physical distancing should be maintained between the different action areas in the event —poruwa, registration tables and chairs, and buffet areas. The consumption of liquor is not permitted," the guidelines said.
The guidelines require improved ventilation in a wedding venue and that normal operation of the air conditioning be ensured with sufficient intake of fresh air from outside.
Hand washing facilities should be provided at the entrance to the premises and hand sanitiser can be kept in several places at the reception, the ministry instructed hotels and reception halls. It is also important to inform their guests that they are excused from attending if feeling unwell.
Food should be served by a dedicated staff at a buffet, and self-service is not allowed.
"Discourage having dancing floors as it is not possible to maintain safe distance. If having a dance floor, only the bride and the groom are allowed on the dance floor. A dance group is limited to four people and they should be advised to use their personal makeups," the guidelines said.
Hoteliers and management of reception halls are required to appoint a health and safety officer for each wedding. The person is encouraged to liaise with the clients during preparations for the event.
They are also requested to fill the assurance form, indicating compliance with the instruction. The form should be submitted to the local authority (Municipal Council/ Urban Council/Pradeshiya Sabha) and a copy should be sent to the area Medical Officer of Health.
"We know that a wedding is a once in a lifetime occasion for both the couple and their family and usually have a crowd of over 200 guests. We have advised our clients and hope that all guests at the wedding will adhere to social distancing and safety guidelines," said Kershaw Kanagasundram, business development manager of The Banquet Company.
"We had about 10 weddings that got postponed in the last two months, but fortunately none of them got cancelled. We understand that even with minimum guests, one small act of negligence could spark a domino effect which could have a greater negative impact on our industry," he added.
The decision to scrap the dance floor and bar is affecting many couples, as it is a big part of most weddings, said Dylan Seedin, a professional wedding photographer.
"We capture the celebratory spirit of weddings when there is a dance floor. A wedding with social distancing and less interactions, no hugs and kisses, and no group photos will be a challenge for many wedding photographers," he said.
He said it is not easy to capture candid moments when there are masked guests. But, he appreciates efforts by the ministry to contain the coronavirus disease from spreading.
A separate set of guidelines has been issued by the ministry to photographers including keeping a one metre distance and avoiding group shots.
Families hosting weddings are struggling to reduce guests to 100.
A bride-to-be who requested anonymity, and whose wedding is planned for August, said she suffers from anxiety because of the virus and the pressure to have fewer guests.
"With one party getting about 50 guests, we are now struggling to bring down the number of guests from 300. We are forced to drop a lot of senior members in the families who have underlying health conditions. We have told the dressmaker to arrange specially designed face masks for the bride, bride's maids and flower girls. As it is an outdoor wedding, my fear was the possibility of rain but now the whole event adds so much pressure," she said.