'La Bambas' celebrates solid 45 years
By Sanath Weerasuriya
View(s):
'LSBambas', the pioneer vocal harmony singing group to emerge from the music crazy town of Moratuwa during the golden era of Sinhala group songs in 1966, celebrates its anniversary in May.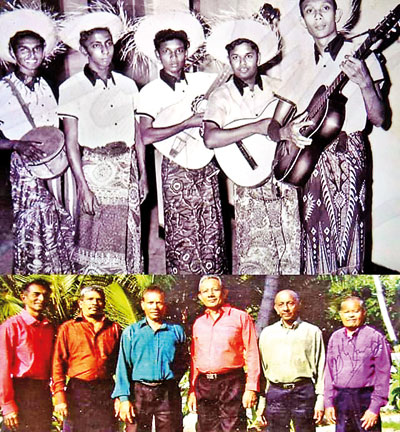 'La Bambas' would have been celebrating 54 years of singing at this moment, if only they had continued to do so. But after the demise of  leader  Brian Fernando in 2013, the  rest of  the, members – namely  Priya Peiris, Lasla Fernando, Rolinson Ferdinando, Erinto Perera and  Malsiri Wijesuriya decided to lie low, since the music without the  regular five some would  not have   sounded original. The arrival of 'La Bambas' in Moratuwa resulted in a flourish of similar bands emerging in the hometown.
'La Bambas' pursued their brand of soft and lilting  music exclusively   with unplugged instruments, comprising classical (gut stringed) box  guitars, percussion sound sand conga drums, supplemented with  two, three and four part harmony singing.
Although 'La  Bambas' had been performing earlier at a few local  functions , their first major Colombo outing  was the 'Observer Talent Contest' at the 'Coconut  Grove' of the Galle Face Hotel, on 25th  May, 1966,  which is regarded as their official  founding.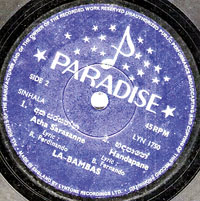 SINGLE TRACK RECORDING 
'La Bambas' had been featured in many EP records and CD productions. Their maiden 45 RPM disc produced in 1967 on the 'Paradise' Label was recorded on a single track machine, when all musical instruments and voices had to be recorded simultaneously. 'This was a daunting task, not experienced by many – including group song musicians' said Priya Peiris, of the La Bambas.
Although music was purely a hobby and a pastime right throughout their entire career, 'it so happened that we had to take it a bit seriously due to the success and popularity of some of our songs remarked Priya Peiris. Their signature  hit  'Cock a' Doodle Do' the most popular  and  the only successful  group song composed in  English, 'Nuwara menikela'', 'Enna Yanna Nelum  Wile', 'Lake Nadee', 'Piyakaru  Mala  obawe', 'Kurulan Piyambaala' are  among their other  popular songs .
In addition, they have composed and recorded many other English  and Sinhala originals such as 'Welcome  to  sunny  Lanka', 'Sri  Lankan  tea  song' and many more – especially to support  Sri Lanka  cricket.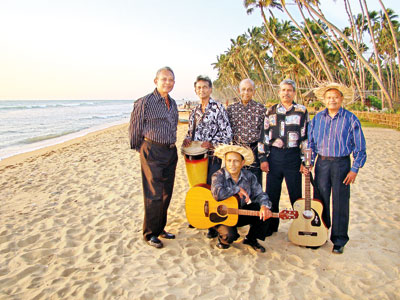 REMARKABLE INTERNATIONAL REPERTOIRE 
An unknown fact about the 'La Bambas', is that they were perhaps the best equipped such band to perform and sing international hits to foreign audiences. This, they did admirably during their 15 year long contract with Hotel Lanka Oberoi in the 70s and 80s period.  They could perform English, Scottish, Irish, Welsh, French, German, Austrian, Italian, Spanish, Arabic, Japanese, Malaysian, Indonesian, Korean and many   more languages. Incidentally, the band 'La Bambas' have the distinction of recording the largest compilation of Latin American favourite songs in the country.  This was their unplugged CD, which was produced in collaboration with 'Sooriya  Village'  to commemorate  the  Golden Jubilee of the band in 2016.
SOCIAL RESPONSIBILITY
Apart from performing music, 'La Bambas' , at the request of the  Sri Lanka  Army had conducted over 15 music workshops for a large  number of army musicians in various  towns of  the Wanni District during  the past decade. Also, they were listed as the first such group to voluntarily perform for the injured soldiers in the army hospital during the War.
INSEPERABLES  
What is truly remarkable and unique about 'La Bambas', is the fact they endured 47 years together – a virtual lifetime, as one inseparable unit, with no breakaways at all. They are  very proud  of  the fact 'La Bamba  music, at every  point  of  time, was one hundred  percent, pure homespun Moratuwa music, with  no outside  affiliates .
BRAVO  La Bambas ,  you  have  done  yourselves , Moratuwa  and  Sri  Lanka  really  proud !