Playing pandu with cricket and politics
View(s):

That is all we needed — another cricket stadium. There they were, Sri Lankan's citizenry suffering from weeks or months of lockdown or lockup or whatever to stop them straying from their abodes and running smack into a passing virus at the first street corner.
With little to do at home day in and day out, they had become accustomed to watching sad and bad television programmes especially with assorted talking heads displaying their mediocrity rather than their self- assumed punditry, the public had perforce been tied to their TV sets with an umbilical cord of sorts. As the old proverb goes beggars can't be choosers.
So when the news broke that Sri Lanka Cricket(SLC) whose international reputation was even lower than our national team's position in the world ratings, that another new stadium is to be constructed, it was as welcome as the prevailing heat in and around Colombo.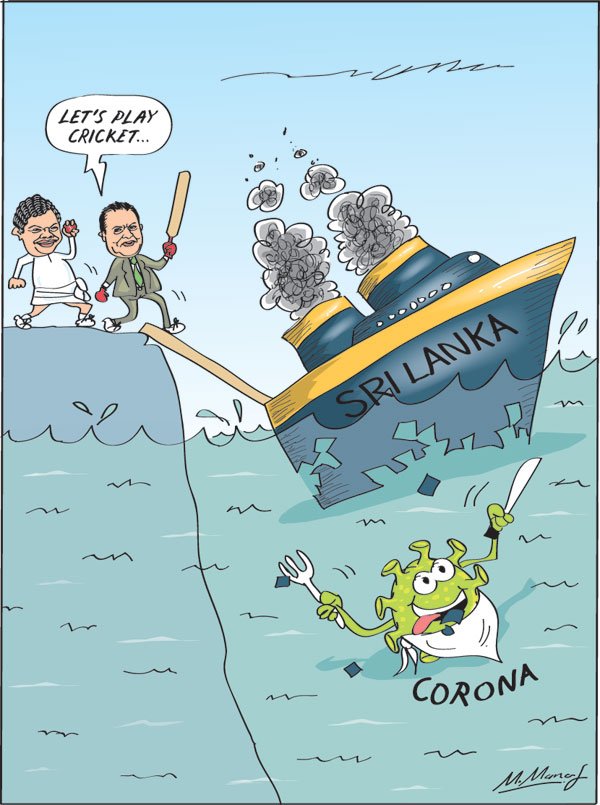 Not that it was earthshattering news though it did shake up some people. But to most, it was something different from the hourly injection of political rubbish and partisan programmes that even today fill the small screens. It is getting to be worse as producers seemingly rack their brains or something for new ideas and how to resurrect old ones without being spotted.
After all, Sri Lanka Cricket had been frequently in the news, particularly since 2017 when the ICC and its anti-corruption investigative arm began taking a keen interest in our cricketing body and some of its officials, employees and players.
As aficionados of the game, especially those who have followed the roller-coaster history of Sri Lanka cricket would know well enough, our cricket administration and administrators were very much on the radar of the investigators at the ICC.
The news that Sri Lanka Cricket was to build an international cricket stadium on the soil of their country like no other, came as a surprise to many.
If one is to accept SLC President Shammi Silva's explanation this project has been hanging fire since 2016 when the Yahapalana government was in power. If the other president Maithripala Sirisena knew about the proposal then the new stadium would have ended up on the banks of the Parakrama Samudra in Polonnaruwa.
Perhaps he will now like to have it off Bullers Road within easy reach of his Paget Road Palace where he now lives in two government houses put together.
I hear that in the capital city and its suburbs now under lock and key, metaphorically speaking, the medical and health services are struggling to mitigate the effects of the coronavirus which is known to have now infected over one thousand persons at the time of writing and will most probably be higher when this column appears.
There were also government politicians juggling with statistics to show that postponing parliamentary elections further is not necessary as the spreading virus is now under control. Nobody has really explained what precisely "under control" means for at this writing the number of infected persons has risen from the previous day.
So while the Health Ministry and other bead counters check the number of the infected and the discharged, the chairman of the Election Commission (EC) faced with a handful of Fundamental Rights petitions filed before the highest court in the land was challenging the decision of the Commission to put off the parliamentary polls as being out of joint, so to say.
The Election Commissioner on the other hand informed court that the election cannot be held even on June 20. Any new date for the election will be decided on the basis of definitive medical advice and an okay from the health authorities to go ahead.
So it is a medical clearance the EC wants not a political order. He was quoted the other day as saying he will not hold elections over the dead bodies of the people.
While human considerations are holding back the Election Commission, no such moral norms and good taste appear to weigh on the conscience of the SLC. It had no qualms about telling the Sri Lankan people and indeed the world that its current interest is in pushing through plans to build another cricket stadium and to hell with corona and any other viruses that might raise their heads or whatever anatomical shape they bear in the coming years.
While the political battle went on in the judicial front and medical experts engaged in splitting hairs, Sri Lanka Cricket ran into heavy flak from prominent cricketers of yesteryear as well as some politicians and influential figures over the need for a new stadium and the timing of the SLC announcement.
For weeks now Sri Lanka had been battling to bring the pandemic that has impacted on many countries round the world, to a reasonable geographical location instead of letting it spread across the country.
From the early days of Covid-19, the nation has been in a state of shock not only because it had caused so much social dislocation but also because of the economic fallout that had resulted in some business closures — temporarily and perhaps permanently — the loss of thousands or more of jobs and cut in salaries and daily wage earners battling to feed their families.
All that has been denied to people who not so long ago made their daily journey to offices or schools or to their retail businesses complaining as some of them did of the rising cost of living but not in a state of shock and concern that enveloped the country more recently.
But to Sri Lanka Cricket, all this seems a matter of little concern. The fact that its high flying administrators decided to tell the people who have little to do but watch TV, that they will have a new international stadium.
Why was it so urgent for SLC and its president Shammi Silva to make this announcement at this point in the country's troubled times? Was it a political move to divert attention from more anxious months ahead and provide a sop to the people of Homagama where the stadium would be built?
Whatever the reason SLC, whose international reputation is hardly one to be proud of, showed that it does not have a modicum of human empathy.
Surely Sri Lankan cricket enthusiasts could not have forgotten the comment made by then Sports Minister Harin Fernando after a visit to Dubai for a meeting. He said in Colombo that the ICC rated Sri Lanka as the most corrupt cricketing nation.
He said that the ICC feels "Sri Lanka's cricket administration is corrupt from top to bottom". That should normally have served as a disgraceful indictment on our cricketing body.
These comments were made less than two years ago and should have made the officials run to the closest shrubbery to bury their faces in the mud. Have they done so? Oh no there is too much at stake for them to fade away into the sunset.
If Sri Lanka Cricket goes ahead with the stadium project it will not be long before scandals are aired and social media get their teeth into them.
They may not be true or just half truths. But the world would find it difficult to rely on any SLC plea of innocence if they were to be guided by ICC reports. Its reputation as a body that has been corrupt as the ICC has stated, lacks accountability and has had too many fingers in the financial pie is sufficient cause for cricket enthusiasts to pronounce it guilty as charged even if scandals are concocted to damn SLC.
If SLC is to come out of all this with a clean image at some point of time, then it needs to be vacuumed clean.
(Neville de Silva is a veteran
Sri Lankan journalist who was Assistant Editor, Diplomatic Editor and Political Columnist of the Hong Kong Standard before moving to London where he worked for Gemini News Service. He was later Sri Lanka's Deputy Chief of Mission in Bangkok and Deputy High Commissioner in London before returning to journalism)