Shadow boxing during pandemic as BASL prepares to fight back
boxing
View(s):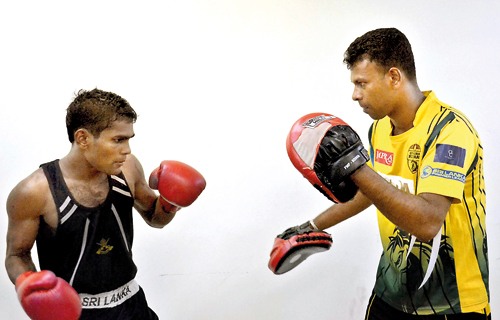 Boxing is one of the hardest hit sports floored by the coronavirus pandemic even though individual training has been encouraged as boxers virtually keep fighting their own shadow to stay on their toes with a return to competition being several months away.
"I think it is too early to say when local tournaments can resume. In two or three months we will know exactly where we stand. If there is no second wave of coronavirus in Sri Lanka and things die down to a certain extent, then we can at least have training sessions," said Sri Lanka's boxing chief Dian Gomes.
The viral outbreak has dented the national development programme of the Boxing Association of Sri Lanka (BASL) especially at the grass root level in the schools. Normally at this time of the year, most of the schools conduct Inter-House Boxing Meets from February to April in preparation for the School Novices Boxing Meets such as L.V. Jayaweera and T.B. Jayah which showcases new talent. But even resuming boxing training, let alone having competitions depends on when schools would reopen.
Elite and school boxing tournaments scheduled to take place in different parts of the island were postponed over the past few months due to the coronavirus epidemic in the country. The last major tournament was the 2019 edition of the School, Junior and Junior National Championship held in Kamburupitiya in January.
The BASL plans to conduct these tournaments after the situation in the country improves, although there is a possibility of a few major tournaments being postponed to next year once the tournament schedule is adjusted with the approval of Ministry of Sports and Ministry of Education.
The five Elite level boxing tournaments are Novices, Intermediates, Layton, Clifford and National Championships while the seven school tournaments conducted with the support of the Schools Boxing Association are L.V. Jayaweera, T.B. Jayah, Schools, Junior, Youth, Junior Nationals and Stubbs Shield Championships.
Nonetheless, the BASL has set its sights on winning medals at the Asian Boxing Championship with the Boxing Federation of India (BFI) going ahead with plans to stage this event in Delhi or Guwahati in November or December.
"For boxing and all sports, it has been bit of a disaster this year. There is one tournament in December, the Asian Championship. We will keep on practicing. There is one more trial for Olympics as well which was supposed to be held in Paris. The AGM of International Boxing Association will be in December. We might get some news of what exactly their plans are. Other than that people are doing their own activity. Still we won't do any sparring or anything because being a contact sport it can be dangerous. Health and well-being of athletes is our number one priority, rather than have any meets even without spectators," said Gomes, who is awaiting directions from the government and advice from BASL's medical commission headed by Dr. Tharanga Aruggoda before resuming any boxing activity.
However, during the period of lockdown the BASL made arrangements to conduct an online seminar for coaches, referees and judges in collaboration with the BFI where more than 50 Sri Lankan officials benefited.
BASL vice president Lt. Col. (Rtd) Hemantha Weerasinghe has coordinated with an expert lecturer panel to include Sri Lanka boxing coaches for a free Sports Science Webinar  series named 'Winning Beyond South Asian Games' from May 16 to 21. Among the variety of topics to be covered are Sports Specific Strength and Conditioning for Sri Lankan Body Types by Deckline Lietao (Head of Sports Science, Gold March Sports); Breaking the Body Size Barrier in Sports – Key Learnings from international sports (panel discussion); Role of Sports Testing for Preventing Sports Injuries by Dr. Daminda Attanayake; Common Sports Injuries and How to Approach Them by Dr. Chirag Thonse, Consultant Orthopaedic and Arthroscopy Surgeon Specialist in Sports Injuries, Bangalore, India; Unlocking and Nurturing the Champion Living in Sri Lankan Athletes by Dr. Chaitanya Sridhar (Sport and Performance Psychologist).