New challenge for rugby players in post-pandemic era
By Allaam Ousman
Dr. Sankalpana sees a September return to training if all goes well
View(s):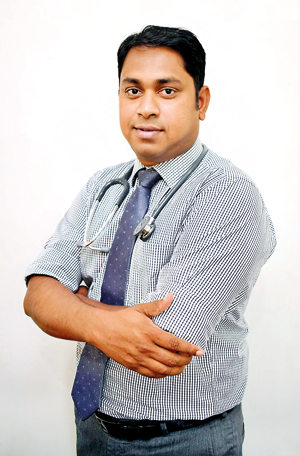 Rugby players will have to change their lifestyles to minimise infections by wearing masks during training and adhering to the strict health guidelines such as hand washing and maintaining social distance during a post-pandemic era, according to the Chief Medical Officer of Sri Lanka Rugby (SLR) Dr. Namith Sankalpana.
"Training with the mask will be difficult initially because people are not used to it. As a healthcare professional, most of the time we use masks in the operation theatre. We are used to that but for players it is new. It will be a challenge for them but there is no option, we have to do it," said Dr. Sankalpana who acknowledged there were risks since rugby is a body contact sport.
"If we wait for COVID-19 to be thrown out of the world, then it will take more than one and half years going by what scientists and health authorities say. We have to go on with normal life but we also have to change our lifestyle," he said.
World Rugby (WR) published guidelines for the safe return to rugby activities in the context of the COVID-19 pandemic via its player welfare website.
The guidelines were authored by World Rugby Chief Medical Officer Dr. Éanna Falvey, Dr. Martin Raftery (World Rugby), Prav Mathema (Welsh Rugby Union), Prof Mary Horgan (Consultant Physician of Infectious Diseases) and supported by data collected through regional COVID-19 steering group chairs who consulted with World Rugby's 124 national member unions, including Dr. Sankalpana, who is a member of the World Rugby Players Welfare Steering Committee.
"I was involved in formulating guidelines through teleconference. It's actually a comprehensive guideline. It doesn't give a time frame on when you can start practices. But it gives guidelines on how you can start small group practices of rugby once your region, country or government authority has given the green light to start," said Dr. Sankalpana, who is South Asia's regional head for Players Welfare and Medical.
"We have incorporated normal day-to-day activities with the rugby activities. For example if the Sri Lanka government gives the green light to re-open schools and non-essential services, then you can start small group rugby practices comprising less than 10 players," he said explaining how to conduct small group practices.
"Everybody should wear a mask, including every player and support staff. They should practice hand washing. They should regularly use alcoholic hand drops and maintain one-metre distance at least. Actually they can do ground practices like running drills and agility training. Even they can start gym practices but with the restrictions," he said.
"There should be limitations. Before a person uses gym equipment, he has to clean with alcoholic spray and after he finishes working, he has to clean it using alcoholic spray and then move to the next machine or station. Then the next person who comes, he will clean again, he will do the set and again use the alcoholic spray to clean the machines."
Dr. Sankalpana sees a September return to rugby training if all goes well but actual competition will require another one and half months for physical conditioning of players.
"We need at least four to six weeks to achieve the match condition of the players. I think it is very unlikely the school season will start before the A/L exam. A September start is best I think," said Dr. Sankalpana, a sports physician by profession.