COVID-19 stalls comeback plans of motor racing ace Dasanayake
By Naushad Amit
Motor Sports
View(s):
Celebrated racing champion Ishan Dasanayake's return to the motorsport track after a premature break last year may have been stalled by the COVID-19 pandemic, but he is eager to reclaim his crown as Sri Lanka's best rider.
Dasanayake was the national title holder in motorsport riding, until he was ruled out of the track due to a string of injuries. Adding more salt to his wounds, Dasanayake's sponsor pulled out from the local racing circuit after Sri Lanka experienced a chain of suicide terrorist attacks in April 2019.
The 28-year-old two-time National Championship winner waits in anticipation for the day he could rev up his two-wheeled machine on the dusty gravel tracks, making daredevil jumps, providing the thrills and spills expected by fans.
"I was eager to return to action during the latter part of last year, but could not due to lack of a sponsor. India's TVS Motorbikes was my main sponsor, but after the Easter Sunday attacks last year, they pulled out from racing activities in Sri Lanka. It's really hard to compete without a proper sponsor in our country. There is a huge cost involved in motorsports. So, reluctantly, I decided to take a break until I find a suitable sponsor, and now the wait will be a longer one I suppose," said Dasanayake, who hails from Kurunegala.
Dasanayake was just a four-year-old toddler when he got involved in motorcross. His father being a former rider brewed the interest within young Ishan, won his first major title in 2015 – the 125cc National Championship. In 2016, Dasanayake grabbed both the National Championships in 125cc and 250cc, after winning the Best Rider title six times consecutively. But the year following was not a good one for the champion rider.
"In 2017 I got involved in a few accidents. I dislocated my shoulder thrice during the Gajaba Supercross in Anuradhapura. The doctors advised me to take a break, at least for three months as I would have to undergo a surgery. But I decided otherwise, because I was keen to compete at the Sigiriya Rallycross. I took that risk, despite the recommendations of the doctors and won all three events I competed," he said recalling one of his epic experiences.
Since 1996 Dasanayake has come a long way even becoming a potential threat as a youngster to ace riders Gayan Sandaruwan and Pasindu Peiris. As expected with age and experience, young Dasanayake matured well to become one of the best riders to emerge from Sri Lanka in recent times.
He has claimed the Best Rider's award at all major motorcross events in the country, while making the country proud at international stage. Representing Sri Lanka for the first time in 2015, he competed at the Asian Motorcross held in Malaysia and finished 18th. In 2017 he represented Sri Lanka in the same event held in the Philippines and Indonesia, and according to overall results, he was placed sixth.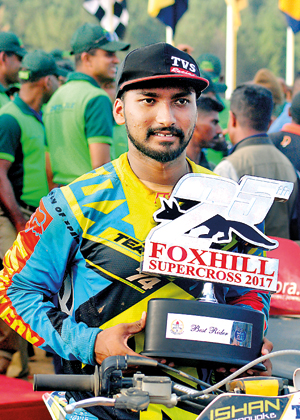 "I competed at the Pune Supercross representing Team TVS in 2015 and I was placed third. In 2018 I was placed second and in 2019 I won the championship. That was my first international title and the best among the lot."
But beyond his achievements Dasanayake was more happy to share the dressing room alongside K.P. Aravind, C.S. Santhosh and Harith Noah as team-mates with TVS. All these three Indian riders went on to compete at the famed Dakar Rally.
"It was very competitive, competing with them in a team and against them on the track. They are highly skilled and experienced riders than me. I learned a lot from them, and they helped me immensely to perfect my skills as a rider. It was a great privilege to be a part of a team they were in," he recalled fondly.
But during the latter part of 2019, Dasanayake was not seen in action due to injuries.
With the double trouble he is encountered with at present, Dasanayake has not totally given up on his mission of raking in a potential sponsor.
"I tried a lot, unfortunately I could not get a sponsor. A few parties showed interest, but I found it very difficult to agree to some of their conditions. Hence, the amounts they promised were not even close to engage in a massive sport like motorcross cycling. But that does not mean that I have totally given up, there is still more action to be seen," added Dasanayake.
If by any chance he fails to attract a sponsor, Dasanayake would gradually call it a day, competing only at events held in his hometown of Kurunegala. Dasanayake has also set his focus on nurturing the next generation of riders, as a motivator or a coach.
"With the current situation it will be a hard task to cover all motorsports events taking place in Sri Lanka, because the expenditure of a race is high. If I decide to compete in all events, I'm taking a major risk in injuring myself, because riding has the risk of causing direct injuries through accidents. So, it's better to discuss with the potential sponsor and then come to an agreement on how many events out, that we see as important, and make a final count. After I give up as a competitive rider, I intend to give back to the sport I love in a different way. But it's too early to call it a day," he said.