Alex the stunt star loses the final battle
View(s):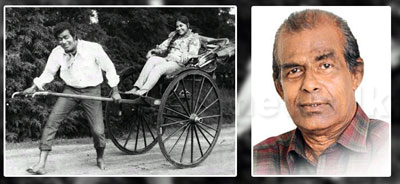 Alexander Fernando, one of the most sought-after stunt actors during the 1960s and 70s, passed away on April 29.  Alex's fans who fondly remembered him by that name, were not able to pay their last respects to their much loved actor and fighter as the funeral took place during the curfew period.
Born on August 25, 1940 in Kotahena, Joseph Manuel Alexander Fernando started his career by acting in a Tamil stage play. His entry to cinema was marked with T. Somasekaran's  "Wena Swargayak Kumatada?" in 1963. Later he acted in some of the box-office hits in yesteryear cinema. These included 'Ruhunu Kumari', ' Ataweni Pudumaya', ' Kohomada Wade', 'Haara Lakshaya', 'Sri Madara', 'Rajagedara Paraviyo', 'Saradielge Putha' and 'Pasa Mithuro'.
Considered as one of the best 'villains' in Sri Lankan cinema, Alex was a much sought-after actor in the era and filmmakers made it a point to keep a role for him in their films. In the 1972 year alone, he acted in seven films. Making another career in cinema, Alex was offered to play the role of stunt director by Sathischandra Edirisinghe in his film 'Matara Achchi' in 1973. Four years after in 1977, Edirisinghe hired Alex to play the lead role in his film 'Sri Madara'. Having realised the potential of Alex veteran filmmaker Neil Rupasinghe offered him the titular role in his film 'Saradielge Putha' in 1976. Alex's talent was not limited to commercial cinema. He won the Presidential Award in 1984 for his role as a Tamil prisoner in 'Pasa Mithuro' directed by Ananda Hewage.
In his long career, Alex had acted in more than 120 Sinhala films, six Tamil films and one English film. The Tamil films included 'Yar Aval', 'Engleil Oruvan', 'Nangu Lechchami' and 'Rattathi Thirtemme', and the English film was 'Reincarnation'.
At the time of his death Alex was 80.