SLPP takes early lead in campaign preparation; others await SC ruling
View(s):

The Sri Lanka Podujana Peramuna (SLPP)-led ruling alliance has gone into high gear to prepare for the upcoming parliamentary elections.

Like during the presidential election in November last year, the party's office at Nelum Mawatha in Battaramulla is being geared. Charts are coming up on the walls and past poll records are being analysed. Discussions are under way on how the campaign should be run, taking into consideration the guidelines of health authorities to avoid large gatherings. Pocket meetings and media campaigns are being discussed.

The campaign this time, however, will not see the main man at the helm. Basil Rajapaksa, who has directed them in the past, is staying away because of his new position – Special Envoy to President Gotabaya Rajapaksa. It is to be in the hands of President Rajapaksa and Prime Minister Mahinda Rajapaksa.

Though the Election Commission has set June 20 as the date for parliamentary elections, Commission Chairman Mahinda Deshapriya has declared that he was empowered to change the date. Commission sources said this was now a strong possibility. More so, with the Supreme Court set to hear fundamental rights petitions challenging the EC move to conduct polls. In view of the SC hearing these cases, the EC is to announce a new date. This is expected to be decided upon only after the court hearings are concluded.

The main opposition parties, including the United National Party (UNP) and the Samagi Jana Balavegaya, are still to focus on their main campaign. They are awaiting the outcome of the SC ruling on a date for the election.
---
Talk of top official's travel plans
A top bureaucrat is making a bid to travel to a western country sparking speculation that he does not plan to return.
Diplomatic sources remained tight lipped over his request for a visa but others said it related to what are being described as 'serious threats.'
---
Dhanapala quits CC
International diplomat Jayantha Dhanapala has resigned from the Constitutional Council.
He represented civil society at the CC and is quitting for health reasons, officials said. The name of a former Secretary General of Parliament has been informally recommended as a replacement.
---
Move to oust alliance leader over alleged secret deal
The Opposition alliance took root after a larger number joined its ranks to contest the impending parliamentary elections.
And now, believe it or not, a new crisis is brewing within. Insiders say that a formidable group, with backing from a few abroad, are making a bid to oust the leader. The group includes a onetime influential minister, among others.
The main allegation, denied by the leader to his confidants, is a so-called "deal" he had worked out with those in power. They claim that the main accusation centres on matters personal.
The group now wants to foist another political leader, known for vying for many positions, and now remaining "neutral."
Those who support the alliance leader say it was far too late now to oust him since nominations have been concluded and the parliamentary elections are pending. Hence, they argue his leadership was required. However, the group does not accept that position and say they would have to go ahead before any more loss of time.
However, as one witty among them said, anything is possible in Sri Lankan politics except to change a man to woman or vice versa. Little wonder, the talking point in the alliance now is about this so-called deal.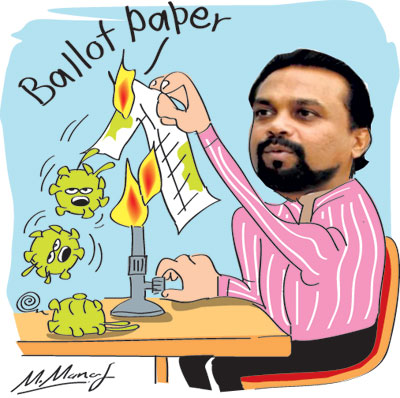 ---
Cooking the votes Wimal style
With various discussions regarding elections and the manner in which the polls should be conducted in times of a pandemic, Minister Wimal Weerawansa has come out with a new idea.
During a programme with a state-run TV channel this week, he spoke of an invention where ballot papers in a ballot box could be placed in a special basket and thereafter heated for 20 minutes at a certain temperature at which the virus can be destroyed.
"We don't have to do it to all ballot papers. We only need to use the device to heat ballot papers at polling stations in areas where COVID-19 is prevalent," the minister said.
Many asked whether Mr Weerawansa was proposing to "cook" ballot papers. Some wondered how much the device would cost, while others wanted to know if it could also be used to cook various types of food. Even Opposition politicians joined in.
There was no word whether the EC had reached out to the Minister regarding the invention he claimed to know about.
---
New envoys present credentials in virtual ceremony
The global pandemic coronavirus forced countries and institutions around the world to adopt new methods to carry out their daily affairs as the 'new normal' of wearing face masks, social distancing and limitations for civilian movement are to be in place for the foreseeable future.
Many of them switched to the digital space to utilise services such as video conferencing, webinars, sharing/editing documents online, avoiding physical presence in their work places.
This week, it became evident that the government too stepped in that direction with the first ever virtual official ceremony of new ambassadors presenting credentials to the President. It was done through video conferencing.
On Thursday, newly appointed Indian High Commissioner Gopal Baglay, who arrived in the island last week with a consignment of medical supplies from India, presented his credentials through video conferencing from his office to President Gotabaya Rajapaksa who was at the Presidential Secretariat, located a few hundred metres away from the High Commission near Galle Face Green.
Two other envoys — Iran's and Brazil's new ambassadors — also presented their credentials through video conferencing.
---
SC petitions: Hoole goes his own way
All three Election Commission members have been forced to retain private lawyers to appear on their behalf in fundamental rights cases coming before the Supreme Court.
But one of them, S Rathnajeevan H Hoole, is said to retain his own counsel, while the other two are to be represented by two President's Counsel.
This came after the Attorney General informed the Supreme Court this week that he is not in a position to represent the Election Commission members in the cases where Commission members have been named as respondents.
This is not the first time Mr Hoole retained a private lawyer in the Supreme Court even though he is a member of an Independent Commission. In November 2018, he joined others in filing FR petitions challenging the dissolution of Parliament by former President Maithripala Sirisena while naming his two other colleagues in the Commission as respondents. He was represented then by Attorney-at-Law Hejaaz Hisbullah who was arrested last month by the Terrorist Investigations Department (TID) over the Easter Sunday 2019 attacks. The lawyer's family has maintained that his arrest was arbitrary and illegal.
---
Home quarantine for Japanese embassy officials
SriLankan Airlines flight UL 455 arrived in Colombo on Friday from Japan's Narita International Airport in Tokyo, with a complement of 234 Sri Lankans.
They were sent to different quarantine centres – Punani (77), Rajagiriya (109) and Negombo (44).
Four Japanese Embassy officials who also returned in the same flight have been allowed self-quarantine in their homes.
Another flight from Myanmar
bringing in Sri Lankans was expected yesterday.