This is not the time to talk of elections – Dr Manil Fernando
By Susil Premalal
View(s):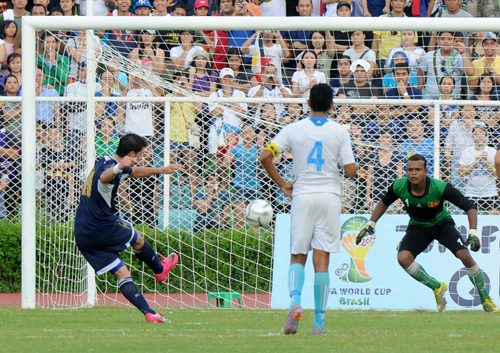 Many football leagues in the country have urged Kalutara Football League chairman Dr Manil Fernando, one of the youngest administrators in the country, to take over governance of the sport in the future by formulating a long-term football development plan and assemble a good team of officials.
"I have the same passion for football which my father (Manilal Fernando) had. From a small age I used accompany my father in football activities," Dr. Manil Fernando told the Sunday Times.
"However, this is the not the time to talk of football elections. We have to focus on how to revive football following the coronavirus pandemic," he said.
Chairman of the Kalutara Football League since 2012, Dr Fernando is also head of the Medical Commission in the Football Federation of Sri Lanka (FFSL). He also served as chairman of the Youth Football Development committee earlier.
Election of office-bearers to the FFSL is held once every four years and the next one is due in May 2021.
"I have got to know that some people have already begun their campaign for next year's elections. This is not the time to fight over elections," said Dr Fernando, who felt the first priority now should be to find ways of how the national pool which got disbanded because of uncertain situation in the country could get back to training.
The FFSL are following the health guidelines of the country and the directives issued by the world governing body for football FIFA and AFC but football administration is expected to resume within a few weeks once normality returns gradually.
With the South Asian Football (SAFF) tournament and the second round of FIFA 2022 Doha World Cup qualifiers postponed indefinitely, the first target of FFSL should be to prepare the national team for these two events next year, said Dr Fernando.
During a discussion he had with FFSL president Anura de Silva recently, Dr Fernando emphasised the need to resume national pool training by providing players proper health protection. Dr Fernando said the FFSL has no intention of sending back the newly appointed Bosnian-born head coach Amir Alagic because of the coronavirus pandemic.
"This is the first time Sri Lanka has got a football coach with a European Pro Licence. We must make the best use of him," he added reiterating that they would retain his services at whatever cost.
In the two months since his arrival in February, he has been unable to execute any of his proposed development programmes, which has been limited to physical training only.
Sri Lanka has dropped to 206 in the latest rankings issued by FIFA on April 9 2020. In the history of Sri Lanka football, only on two occasions has the national team emerged champions – in 1995 when they hosted the SAARC Gold Cup tournament and the Maldives Golden Jubilee tournament in 2000.