Shooting prodigy Suranga Fernando fired up for the Olympics
By Susil Premalal
View(s):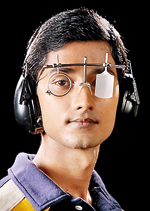 Champion pistol shooter Suranga Fernando has not given up on his dream of representing Sri Lanka at the Olympics in Tokyo next year after achieving the minimum qualifying score (MQS) at the Asian Shooting Championship in Doha in November.
Sharp shooters have represented Sri Lanka at the Olympics since Pushpamalie Ramanayake first took part in the 1992 Barcelona Games in addition to competing in Atlanta (1996) and Athens (2004). Malini Wickramasinghe (1996 and 2000 Sydney), Ruwini Abeymanne (2000 and 2004) and Mangala Samarakoon (2012 London and 2016 Rio) also achieved the distinction of competing in successive Olympics while Edirisinghe Senanayake was the lone entry in Beijing (2008). Two of them, Abeymanne and Senanayake were pistol shooters.
Suranga Fernando has his sights set on competing in Tokyo next year or Paris Olympics in 2024, to put the icing on a career spanning two decades during which he represented Sri Lanka at three Commonwealth Games (2002, 2014 and 2018) in addition to two World Cups apart from regional competitions in his pet 10m Air Pistol event and live up to his early promise after having been introduced to the sport by his father Manjula Fernando, a retired Army officer, at the age of 13.
Suranga won his first gold medal in 1999 in the Junior category at the National Shooting Championship and burst into international limelight at the South Asian Shooting Championship in Pakistan in 2000 when the 14-year-old won the gold medal in the Under-21 event. The precociously talented youngster was selected to represent Sri Lanka at the 2002 Commonwealth Games when he was 16.
"Physical strength is not required in shooting unlike in other sports. It is more mental conditioning apart from other skills. Therefore, it is a good sport for even students who want to focus on developing their mental skills. Also, it is a sport which teaches discipline. There have been no incidents despite pellets being used for firing," he said.
The 10 national and Sri Lanka records he set in five pistol events when he was competing in the Junior (Under-21) category until 2006, has yet to be broken for the past 14 years. It is a testimony to the talent and skill of the child prodigy who was educated at Prince of Wales College, Moratuwa. He was in prime form last year setting three more national and Sri Lanka records in the Senior category in the men's 10m Air Pistol and 10m Air Pistol mixed team event.
Gold medallist in the mixed event at the South Asian Shooting Championship (2010) and silver medallist in the mixed event at the 2019 South Asian Games (SAF), Fernando has also bagged seven bronze medals in the SAG from 2006 to 2019 in addition to having nearly a 100 gold medals in his collection from local tournaments.
At one time in his career, he wanted to obtain a 'B' grade licence to become an international judge but has dropped this idea and wants to coach students in the shooting sport like his father, who is the founder of Cambrians Shooting Club.
"I have hopes of being selected for the Olympics," said the 34-year-old Accounts Executive at Slimline, who shot a personal best score of 577 twice in local tournaments in the 10m Air Pistol event. He achieved scores of 558 in the 25m Standard Pistol (South Asian Games 2010) and 566 in the 25m Centre Fire (Commonwealth Games 2002). He fired a score of 566 at the Doha meet which is above the Olympic qualifying mark.
But his selection for the Olympics depends on whether the National Shooting Sport Federation decides to send a competitor for the rifle or pistol event.
"I have more time to practice now. I train for about four hours a day shooting at a target in the hall. It is dry fire training. For physical training I do yoga exercises and meditation," said Fernando.
Nevertheless, Suranga Fernando is focused on his target and is training diligently during the current lockdown period at his home in Moratuwa.