FFSL set up COVID-19 relief programme for local football community
View(s):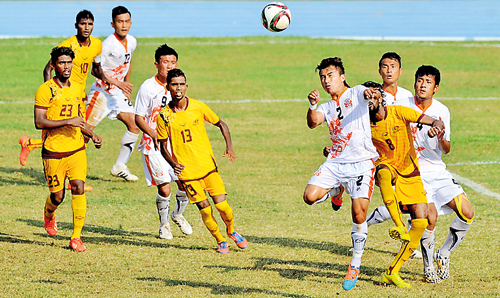 FIFA has taken a decision to distribute allocated funds for all member associations under FIFA Forward 2.0 programme without any restriction. With this development, the Football Federation of Sri Lanka (FFSL) would receive all funds allocated for 2019 and 2020 without any deduction based on Forward 2.0 regulations.
"We requested Fifa to approve US$100,000/- to be used on COVID-19 pandemic relief project initiated by FFSL. Hence, we shall use these funds to assist member leagues of FFSL, clubs, players, referees, coaches and ex-national players, ex-referees, who are in difficulties during this pandemic period," issuing a statement, the FFSL said.
However the FFSL will be obliged to use the funds as per FIFA regulations.
"With the approval from FIFA with regard to COVID-19 Pandemic relief programme, we shall transfer funds to all affiliated and active leagues based on their participation in FFSL conducted events in 2019 or was eligible to participate based on their qualifications for events in 2019," the statement added.
However FFSL could not start some of its competitions and events due to the Easter bombing last year and later due to adverse weather.
The FFSL expects to support its affiliated leagues in two stages. The first set of fund release will take place by May 12 or 13 and the second stage is expected to take place by end May or first week of June.
"FFSL shall implement a criteria for fund allocation based on their participation in 2019 FA Cup as we insisted all leagues to conduct the first round within their league and to consider that as their knockout tournament for 2019."
In addition fund allocations will be done to all clubs of 2018/19 Dialog Champions League and all Clubs of Division I of 2018/19.
"A league will receive between Rs. 100,000/- to Rs. 300,000/- for nearly 54 leagues, the 17 clubs of Dialog Champions League will receive Rs. 300,000/- and  Division I clubs shall receive Rs. 150,000/-. We would also help former national players, coaches and referees," detailing the fund distribution structure, the FFSL release explained.
Furthermore the women's national pool and the Under-19 National pool of 2019 are also earmarked to be given with a grant to support their families.
"FFSL also would do a donation towards National COVID-19 Fund as a gesture for general public in this situation."
FFSL has also requested further approval from FIFA to release fund from FIFA Forward 2.0 fund to use in stage II.