Travelling around the world and locked down in Lanka
By Joshua Surendraraj
View(s):
It's hard to find adventure whilst going through a lockdown, but being under lockdown in a strange country with a toddler is an adventure in itself, although perhaps a rather scary one. What travelling around the world has taught Annalisa and Rob Corrigan from the United Kingdom is the need to appreciate that "home is wherever you are at the time; where your heart is." The smiles of the Sri Lankan community continue to reassure them that they are safer in a "homeland away from their homeland" as the whole world battles a deadly virus.
Annalisa and Rob were travelling around Trincomalee when the first COVID-19 patient in Sri Lanka was detected. The couple had come to the island with their son Leo in November last year.
After hearing the news about the COVID patient, they decided to head to Galle, a place they were familiar with and where they had many friends.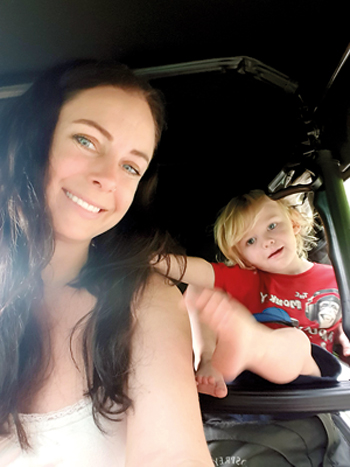 They anticipated the curfew since the UK was already affected too.  It took them three days to get to Galle in a rented trishaw. They rented a house and bought some vegetables and rice so that they could lock in and wait for further instructions.
Choosing to stay in a foreign country and not go home was scary at first, Annalisa recalls. But after a couple of weeks they realised that Sri Lanka was safer than the UK. Today, they are grateful to be here.
Annalisa explains they have got to know the area better and the places to go for food and essentials.  "We are content and as always just take it one day at a time."  They also feel that the curfews have shown them how calm Sri Lankan people are in a time of crisis. This has in turn helped them keep calm and relaxed for Leo.
Annalisa and Rob met 20 years ago when Annalisa was running her own company in Guildford, UK and Rob had applied for a job with her. They became friends and worked together for nine years, before they got together as a couple.
Both travellers at heart, the pair had always known they wanted to see the world. Eight years ago, they decided to look into the possibility of selling their businesses, home and possessions to achieve this goal.
The UK had just come out of a recession and businesses were struggling. Since the two were running their own businesses, they worked many hours a day, seven days a week. With so much work stress, they barely found time for themselves. "We felt like our quality of life and happiness was low," Annalisa says.
They needed a change.
It took them a lot of courage and the next five years to organise things and change everything they had worked towards in life. But, as the plans took shape, Annalisa found that she was pregnant with Leo.
"This was a bit of a shock for us because we had planned to travel as a couple," she recalls.  However, they made the decision to take Leo with them on their adventures.
Annalisa and Roy feel blessed that Leo came along. They believe the experience of travel has broadened his mind in ways that they could not achieve living in the UK.  "I'm sure anyone who has travelled with children will agree that it does make a difference to their learning and personalities," Annalisa says.
Giving up your possessions and sentimental attachments can be hard, but they took it in stages.  They left the UK in 2017, when Leo was five weeks old, and took their campervan to Europe for the summer.
Having lived in a small space for many months helped them cut down on their belongings. Their next trip was to South East Asia, and when they returned to the UK they got rid of the rest of their stuff.
"It was liberating!  It takes time to adjust but we feel free of all of the baggage," Annalisa says. Today, they travel light and can live almost anywhere with just a few personal possessions.
Travelling around the world can be expensive and both Annalisa and Rob budget carefully and remain vigilant about how much they can spend each day.  They earn a small income from a room that they rent out in Brighton and by giving meditation and dance lessons online.
Despite the cost, travelling has enabled them to learn a lot about themselves and each other.  It has taken away the work stress and given them freedom and a chance to immerse themselves in new cultures. As they travel, they find it easy to adapt to the foreign countries they visit.
Neither had been to Sri Lanka before, but they both had pictures of Sri Lanka on their bedroom walls as kids, and dreamed of visiting the country.
Hiring a trishaw in Sri Lanka was new to them instead of the mopeds they were used to. But they found it gave them the freedom to move around.
For the past year, Annalisa has been uploading videos on their YouTube channel 'Along came Leo'. She hoped to create a mini diary for Leo and to also share their journey with their family and friends. More recently, this turned into a vlog for anyone who'd like to follow their journey.
Starting the channel was no easy process. They had little to no experience editing videos, a time-consuming exercise, especially with a toddler around.
Annalisa explains that they try to keep things simple, spending their time away from the tourist spots so that they can get to know the country and the people. They take a camera along whenever they visit an interesting place and if they have enough content, Annalisa makes a video.
Their vlogs include their trips to the USA, India, Thailand, Indonesia, Vietnam, Switzerland, Austria, France and Sri Lanka to name a few. Annalisa hopes to continue building their story, so that in the future they could use this platform to help countries and people in crisis, while using their connections for humanitarian work. Their hope is to draw people's attention to our planet and the things that are happening around us.
If their visas are extended, they hope to stay in Sri Lanka until June and appreciate nature, the ocean and each other.  "I think it is important for us to consolidate and reflect before we head back to the UK," Annalisa says.
Travelling around the world has taught them so much, and living in Sri Lanka has given them a taste of the support, love and humble nature of the locals. They firmly believe that this beautiful quality will bring tourism back to the country once things get back to normal globally.
"This is our second home now and we thank you all from the bottom of our hearts for your humanity, your hospitality and kindness as we experience this virus with you," they say.
Their journey can be followed on Youtube- Along Came Leo (https://www.youtube.com/channel/UCx2aNIUTZzRGw6-IoFS6szg/videos)
or Instagram- alongcame_leo.