Staying connected in a time of social distancing
By Sharadha de Saram
View(s):
With a curfew in place these past several weeks, many of us have had to find new ways to communicate with friends and family. Though Sri Lankans have experienced numerous disasters both man-made and natural, from conflicts and insurgencies to tsunamis and landslides, the experience of living through the COVIDd-19 pandemic is an entirely new one, impacting us in ways that we could not have imagined. Despite this, we find a great resilience and ingenuity among our people.
Speaking to a cross-section of Sri Lankans, I found that many have used the disconnection positively, starting or expanding existing projects, establishing innovative small businesses, distributing essential food to vulnerable communities, or simply connecting with neighbours.
Here are some highlights from my conversations.
Manjula Gamage- Desire Clothing
Working in the garment industry hard hit by the crisis, Manjula knew he had to do something to maintain his family. He had the fabric, he had the skills and the contacts all of which helped him begin manufacturing facial masks. Being high in demand he knew it would be a best-seller and so it is, with his business growing by the minute.
"By delivering the product, COVID-19 has connected me directly and personally with all my customers, which will help my business to grow," Manjula says.
Neela Marikkar, Chairperson and Managing Director, Dentsu Grant Group:
"People want to be well informed but too much negative news can take a toll on their well-being. In these strange and unusual times, we all need a little upliftment in our lives, so we're picking out the good news stories to come out amidst the COVID-19 pandemic in a "Happy News" segment reporting live on Swarnavahini for some light relief and hope for brighter times to come in a joint initiative between Dentsu Grant Group and Swarnavahini."
Brian Kerkoven – Trainer
Instead of getting frustrated with the current situation, unable to run his school 'Walk with Brian Kerkoven'for potential models, Brian along with physical trainer Piyumal Pattuwearachchi, worked out a programme online: updating the students with various skills which will keep them active and ready for work when the crisis is past.
Aneeshan Tyagarajah – Director, Honest Greens
As a result of the curfew, Honest Greens, Sri Lanka's first commercial indoor vertical farm was forced to switch its business model towards home deliveries of fresh produce such as Lettuce, Basil, Rocket and Kale.
"COVID-19 finally gave us the opportunity to connect with end customers and help us to understand how to serve them better," Aneeshan says.
Sivarajasingam Jeyaraj, National Director, Lanka Prison Fellowship:
"Lanka Prison Fellowship connected with one of the most vulnerable groups of communities during COVID-19 – prisoners. As our usual visits to the prisons were not possible, we reached out to prisoners' families, especially those where the breadwinner was the daily wage-earner. Our volunteer network distributed cash to enable them to pay for their greatest needs, enabling us to stay connected."
Lakshman Joseph de Saram,
classical musician:
"My family and I were able to house and feed a delightful cat family of six who found themselves shut out of their usual abode – the now empty garbage cans behind a neighbourhood restaurant. They eventually found permanent housing in a large suburban garden belonging to a classic 'cat' lady – she hosts over fifty of them. Bless her."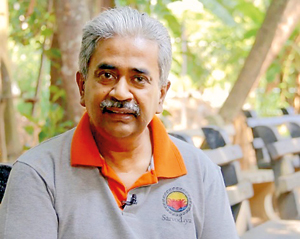 Nigam Ranjan – Yoga Master:
"As a teacher of yoga, I was thinking how to connect with my students during the curfew.  Initially I told them to practise at home and share their videos and photographs on the WhatsApp group. Then came a great idea from a student suggesting an online meeting platform to connect us for yoga classes. It was a new and beautiful experience for the students and me as well. Lockdown forced us to connect in a new way."
Dr. Vinya Ariyaratne, President,
Sarvodaya Movement:
"As a public health practitioner, I thought the best role I could play was to immediately communicate to the public as well as the humanitarian workers the basics about COVID-19; how it spreads, preventive measures including scientific rationale for measures such as social distancing, which were very new concepts to the ordinary public. Engaging the public through two-way communication and community engagement to manage COVID-19 is only one way how Sarvodaya connected to people."
Farzana Ibrahim – Consultant, Special Needs Projects:
"Working out of Colombo alongside communities with special needs, I was going crazy stuck here in Mount Lavinia, unable to engage with our beneficiaries. Luck struck when my friend and I met an elderly lady who had come to withdraw some money. With her bank closed she was glad to be given a ride to the bank head office. We helped her out of the car and made it possible for her to get what she needed. We were so happy to connect to people in need during this time."
Nirmala M. Pieris – GREGRO:
"Even though most of us have lived on Gregory's Road for many years, we hardly knew each other. With restricted deliveries of food supplies, a few of us created the WhatsApp group 'GREGRO' to provide alerts when vans with essentials came on our road. Today, GREGRO has grown to 68 and not only have we built a solid network to obtain essentials but have also strengthened relationships and communication with the wider community."
S. Pradeepan – Vegetable and fruit vendor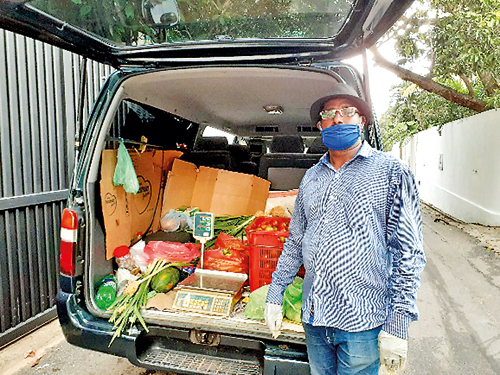 With a family to provide for and no work due to COVID, tri-shaw driver Pradeepan, along with friends started a delivery service for vegetables, fruits and coconuts, one of the first to begin such an initiative. "I may well continue with this business as it has connected me with such wonderful people. I have met so many householders and enjoy the conversations we have, besides making good money," Pradeepan says.
Ramona Rajapakse, Associate  Professor  of  Medicine, Zucker School of Medicine, (New York), Vice President Sri Lanka Medical Association of North America (SLMANA):
"Coronavirus has had an enormous impact on our society in so many different ways and healthcare workers have been called upon to put not only themselves, but their families at risk, in a manner unprecedented since times of war. SLMANA members have done their part, offering free telehealth/advice to members of the Sri Lankan community in need, and as individuals, serving our local communities. Medicine is a calling and we would serve without the thanks, but the love and gratitude of our community makes it easier."
David Rasiah – CEO, Ride4Ceylon
(based in the UK):
"Having been increasingly aware of the impact of this pandemic on daily wage earners and their communities, we wanted to find a way in which we could ease their burden. With the help of the local police, Grama Niladharis and social workers we identified areas that were in need of food and distributed over 4500 ration packs throughout many needy communities over a period of 21 days. Ride for Ceylon is the face of the charity raising funds for its primary project – to rebuild the Green Memorial Hospital in Manipay Jaffna."
Kushil Gunasekera, Founder, The Foundation of Goodness:
"We stayed connected through our work reaching out to communities through our motto 'be good and do good lessons' which has been demonstrated widely by kids, at this difficult time. Not to forget acts of amazing kindness, be it from our trustees, colleagues at FOG and more importantly the beneficiaries themselves who are doing so much good in their communities, trying to help in numerous ways like no other time, I have seen."
Roshan Peries – Trustee,
The Sunshine Charity:
"Although Handwashing Day is usually celebrated in October, we decided to bring forward the date for the benefit of our children. Having conducted a workshop on good hygiene habits and handwashing practice on time, the children were prepared to respond to COVID-19. The activity conducted at the kids washing bay area encouraged them to tell their parents of the fun experience and, more importantly, that they should do the same at home."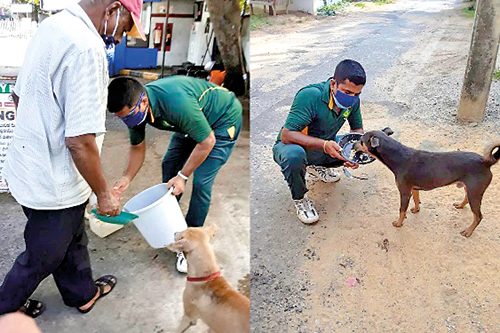 Ruwan Douglas, animal lover
Ruwan Douglas has loved animals ever since he was a child, but the turning point came when he was with the Army and had to seek refuge from a mortar attack inside a hume pipe in which a cat was hiding with her kittens. The scared cat jumped out giving space to Ruwan to hide. "I am living because of the cat. I was so grateful that I began feeding stray animals. I have a curfew pass to continue doing so, which keeps me connected with my animals during COVID-19."
Savitri Rodrigo, Communications Consultant:
"All that running behind delivery trucks and shouting to our neighbours that this truck or that was coming down the road added to the community engagement.  We are now well aware of who our neighbours are.  The dentist who lives two doors away, even gifted us with hand sanitizer that he manufactures. Good neighbours are hard to come by as are all those people who touch our lives daily. COVID-19 has helped us all to see that with more clarity."
Mano Caderamanpulle – Designer:
"I am a gardening enthusiast, but my enthusiasm grew during the curfew. I had time to connect with the beauty that surrounded me. My gardening and my garden brought me so much joy and happiness that being locked down has not denied me anything, nor did I feel isolated in anyway."
  (The writer is Country Advisor, Give2Asia)