APPRECIATIONS
View(s):

Her loving acts of kindness, words of counsel will always be remembered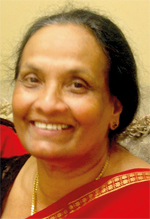 Savithri Esther Chandrapal
Savithri Esther Chandrapal entered eternity on April 9. Savithri akka, as she was known among the clan, was the eldest child of nine, born to Vinacithamby Veluppillai of Vadaliyadaippu near Pandateruppu and Pararajasingham Neelathadchiamma of Lawton Road Manipay, who were then living in Gampaha.
They moved to Negombo where she did her schooling at Ave Maria Convent, living in the boarding. During holidays, her father, a PWD Overseer, would take her to Jaffna. For her higher studies, she attended Jaffna College at Vaddukoddai.
Chandrapal annan and Savithri akka were studying for their GCE A'Ls hoping to enter Medical College when their courtship began.
Annan, sponsored by the American Ceylon Mission, went to the Christian Medical College and Hospital in Vellore, South India, while Savithri akka went to London to study nursing and worked in a hospital in London.
On completion of his MBBS, Chandrapal annan joined the Green Memorial Hospital, Manipay. Savithri akka returned from UK, and they were married at the Manipay Church in 1969.
After a few years of service with the Mission, Chandrapal annan joined the Vadamaradchi cooperative hospital at Vallai Uduppiddy Jaffna. This was a newly built, five-bed hospital managed by Dr Chandrapal and an apothecary with other auxiliary staff.  The Chandrapals were living in Atchuvely at that time. In two years the hospital expanded into a 40-bed one, with a large outpatient clinic.
They had two daughters, Chithra and Subathra, during this time. In April 1973 the family left for the U.K. for higher studies. Dr Chandrapal specialised in ENT in London, during which time a third daughter Harithra was born in Yorkshire.
After seven years in England, the family returned to Sri Lanka in January 1980. Dr Chandrapal started his private clinic at Atchuvely in Jaffna and it soon developed into a very busy practice.
In early 1985, they decided to migrate to London, and having given their daughters a sound education, saw them marry partners of their choice. They were blessed with grandchildren, and loving in-laws, forming a close-knit family unit in London.
Savithri akka was well looked after during her latter years amidst her deteriorating health. She was even taken to Manipay for excellent care amidst a homely environment. Later she was admitted to an aged care facility in London. During the current pandemic, the children took turns to visit and keep in touch.
Savithri's siblings are ever grateful to her for the way she took extra care of their needs, maintaining a close relationship with them throughout her life, through loving acts of kindness, words of counsel and encouragement.
My wife Yogi and I had a rare opportunity to spend a week in 2015 with them in London. The period we spent with them is still fresh in our memories.
May Savithri akka find rest eternal.
 Thambi Prem
---
My banking guru, the man with a heart of gold
D. Attanayaka
Although he breathed his last some months ago, the sweet fragrance of memories so vibrant lingers on. He was warm hearted, charismatic, highly intelligent, eloquent, enthusiastic, analytical and disciplined.
He was D. Attanayaka, retired Senior Deputy General Manager of the Bank of Ceylon, a personality who was greatly respected by the entire staff of the bank.
Mr. Attanayaka belonged to sterling stock from Kundasale, Kandy. His father was a highly respected Principal of a school in the Kandy District while his beloved mother was a housewife. He studied at one of the leading Buddhist schools in the district- Dharmaraja College, Kandy.
He was a brilliant student who excelled in Sinhala and English and in co-curricular activities. After passing his senior school certificate examination with distinction he worked as a clerical staff member at the beginning of his career.
In the early 1940s Mr. Attanayaka joined the Bank of Ceylon. He served with distinction at the City Office, York Street, of the Bank of Ceylon and was appointed Manager of the Sinhala Department.
Mr. Attanayaka obtained his degree from the University of London. He was a great scholar in both Sinhala and English.
I served under Mr. Attanayaka for about a decade at the Sinhala Department of the Bank of Ceylon. Later, I was appointed as the Public Relations and Marketing Manager. I can proudly state that Mr. Attanayaka was my "guru in banking". I am ever grateful to him. After serving BOC for nearly 16 years, I resigned and joined Sampath Bank as one of the pioneer staff members.
A charming personality, Mr. Attanayaka was ever willing to help everyone. He played a vital role, when he served at Anuradhapura Bank of Ceylon as its Manager by granting agriculture loans to the farming community of Anuradhapura and Polonnaruwa.
He revolutionized the English oriented Bank of Ceylon into a Sinhala oriented organization. His name will be written in gold in the annals of the Bank's proud history.
Mr. Attanayaka was also an active member of the Bank of Ceylon Buddhist and Sinhala Literary Association.
When I introduced the "Aradhana swara dehena" musical extravaganza to BOC, Mr. Attanayaka was a tower of inspiration to me. In fact, when he was in charge of the Anuradhapura District, he organized the Poson Aradhana Musical Show at Anuradhapura in the mid-1980s.
Mr. Attanayaka was an active member of the Buddhist Association. He was also instrumental in organizing the Buddhist Bhakthi Gee Programme.
After retiring from the Bank, he joined the Retired Bank Officers Association where he was an active member.
He was a devoted family man. He looked after his ailing wife Daisy with much devotion.
Mr. and Mrs. Attanayaka were blessed with six children  -Jayantha, Padmini, Senerath, Mahasen, Gunarajan and Ananda.
What counts in life is not the mere fact that we lived; it is what difference we made to the lives of others to make them happy. Mr. Attanayaka always helped people. A man of honesty and integrity he possessed a golden heart.
Dear Sir, I am positive the angels gladly welcomed you to Heaven. Abide till such time you achieve the deathless state of Nibbana.
 Premasara Epasinghe
---
A man dedicated to his motherland and the party he helped found
H. Sri Nissanka, KC
During the period when the country was under the British Administration, it had been a daily habit of wealthy families to visit Galle Face Green in the evenings for horse rides for exercise and entertainment.  D.S. Senanayake, Sir John Kotelawala, Solomon Dias Bandaranaike were some of those who enjoyed this pastime and among them was H. Sri Nissanka who was once stopped by a British official when riding his horse at a high speed across the Galle Face. "Who gave you the permission to ride your horse fast on this ground?" he questioned. Mr. Nissanka became furious and pointing his forefinger at the Britisher replied, "I do not need anybody's permission to ride my horse in my motherland at any speed I want."
He was a partner in the rebellion against imperialism from his early childhood and a true patriot whose motto was "my country before me".
Herbert Sri Nissanka Mendis was born on January 17, 1898 at "Garumuni Walawwa" in Balapitiya to  Nissanka Diweris Mendis, a scholar and Mrs. Anoma Wickramaratne Soysa.  Dorothy, Harriet and Charlotte were his sisters. He had his primary education at Ananda College, Colombo and later entered the Royal College.
From his childhood he showed energetic leadership qualities and after his schooling, entered Oxford University to study law. It was there he met S.W.R.D. Bandaranaike and they became trusted friends.  After completing his studies in law he came back to Sri Lanka in 1924 and started his law career.
King's Counsel H. Sri Nissanka is the real pioneer who formed the giant tree called the Sri Lanka Freedom Party. With a mind nourished in Buddhism and with "social democracy" as the theme he prepared the Constitution for the party.  He proposed the name for the party as "Sri Lanka Nidahas" by using his initials "Sri, N" and suggested the 'hand' as party symbol and colour 'blue' to Mr. Bandaranaike. He also asked Mr. Bandaranaike to go forward with the combined five great forces namely: priests, physicians, teachers, farmers and workers.
His dedication towards the motherland and the party and services rendered without thinking about his personal benefits and privileges are not known now.  His diaries show worthy evidence of the commencement of the party.  The table, chairs used at the conference to discuss forming the party and the pen which he used to sign the Constitution can be seen preserved at his residence "Yamuna". It is the duty of the relevant officials to preserve all these articles for future generations.
His loving wife was Murie  Nissanka and they had two daughters Yamuna and Geetha and a son named Ranjith.
During the 1930s-1940s he became prominent as a criminal lawyer.  He was an erudite orator, and his fame spread throughout the island.  He was proficient in Sinhala, English, Pali, Sanskrit, Burmese and Hindi languages.
He published books such as "Ape Lanka" "Engalantha Ithihasaya" "Lanka Dandaneethiya" and "Salgala Pudabima" and also served as an editor of "Heladiva" and "Sanka Nadaya" newspapers.  He was also an artist.
He was elected as a member of the first Parliament in Sri Lanka representing the Kurunegala electorate. He was selected an uncontested member of Colombo, Wellawatte area.
Sadly, he was not able to see the people's great victory of 1956 as he breathed his last on February 26, 1954, casting his eyes on the Buddha statue at his 'Yamuna Sadaham Ashramaya".
 Jagath Janakantha
---