Transforming Mattala Airport to a successful venture
By Dinesh Ranasinghe FCMA, CFA
Features
View(s):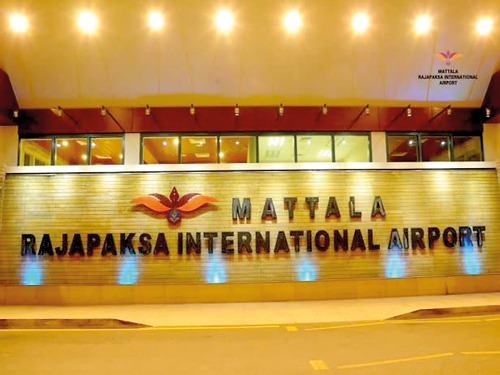 The Mattala Rajapaksa International Airport (MRIA) is a multimillion-dollar mega-investment project that has been operational since 2013. Since then, it has been at the centre of media attention and controversy. The main criticism is that it is merely a political move and that there is no viable business case. However, there are a few fundamental aspects that must be evaluated before jumping to any conclusion.
The master plan for southern Sri Lanka was much bigger than the creation of MRIA alone. It was one component of plans for a large commercial district comprising a seaport, conference centre, hospitality and tourism developments and many other infrastructure projects. Against the overwhelming need for a second alternative airport, MRIA has failed miserably.
Why a second airport in
Southern Sri Lanka?
  To complement the proposed industrial export zone, sea-port and other regional development projects in the southern region of Sri Lanka.
  To complement the island's only international airport by absorbing rising traffic, air and multimodal cargo shipments.
  To reduce Sri Lanka's vulnerability to natural disasters and/or terrorist attacks by depending on one international airport.
  To act as an emergency alternative for airlines coming into BIA and regional airports. This means carrying less fuel or more cargo and operating more fuel-efficient flights.
  Proximity to world-renowned tourist attractions, such as Yala, Udawalawa wildlife parks and the southern coastal beaches.
Why has MRIA failed?
  Lavish investment in the extravagant terminal building is a waste of money. The investment should have been in a low-cost terminal with the possibility of scaling-up at a later date, if required. Many small international airports in the world are built with minimalistic facilities, yet nothing was learnt from them.
  The airport failed, in the most critical aspect of its business plan, to attract airlines and passengers due to poor marketing. MRIA failed to adopt effective commercial relationships with the airlines and retail relationships with passengers.
  Even though the southern region has been identified as the area for the second airport, Mattala is an ill-advised location due to poor infrastructure and connectivity.
  Political influences from concept to construction to execution. Every regime has used the airport to further their political goals; for example, pressuring the national carrier to make MRIA a secondary hub, use to store paddy, car parking, etc.
  Operational failures, such as flights being delayed due to lack of availability of fuel and ground-handling let-downs.
  Lack of enabling facilities, such as hotels, in close proximity for airline crew; lack of water and other utilities to sustain the airport, as well as other ancillary services, coaches to and from key cities, such as Colombo, Kandy, etc.
  Wild animal hazards. As widely reported in the media, amid warnings by environmentalists, the airport is subjected to wildlife intrusions from birds hitting flights to elephants rampaging in the vicinity, posing a risk to safety.
How to make MRIA a success
  Due to planning failures, MRIA was destined to fail as a money-making business, but this is academic now. The focus should be on how to salvage MRIA and minimise the burden on the nation.
  As a new airport in a new region, more needs to be done beyond simply marketing the airport. MRIA should engage in route development with a view to attracting international traffic and airlines; for instance making it a destination for regional low-cost carriers and/or tourists from Europe, including not only regional low-cost airlines such as AirAsia, flydubai, Spicejet etc, but long-haul low-cost airlines, such as Virgin, Scoot, etc. International travel agents should be targeted to promote holiday packages in southern Sri Lanka.
  Employing a specialised marketing agency and investing in an international marketing campaign – including the promotion of Sri Lankan tourism at an international level – are essential and immediate measures that should be taken.
  The possibility of developing MRIA as a maintenance, repair and overhaul headquarters (MRO), to reduce losses, can be sustained as airlines require safety checks twice a year, with South/East Asia and the West Asian airlines as the potential market.
With coronavirus currently battering the global aviation industry, this particular time may not the best. However, the nation is hopeful that MRIA will become a viable venture with the newly opened Colombo-Mattala expressway that may unlock its potential. If the government is still unable to revitalise MRIA sooner rather than later, it should be privatised to prevent it from becoming a greater burden on innocent taxpayers, rather than feeding politicians' egos.