Sri Lanka Society snubs Wekadapola's offer
View(s):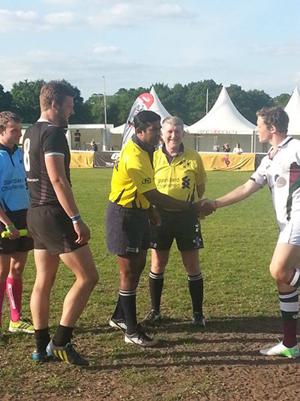 The Sri Lanka Society of Rugby Football Referees (SLSRFR) has spurned former Police SC and Kingswood College player Bandara Wekadapola's offer to coach local referees and has even warned some members not seek his advice.
A Level 7 referee of the London Society of Rugby Football Union Referees (LSRFUR), Wekadapola had the rare honour of being selected in 2018 by the London Society as their Representative to Middlesex County RFU West Region Clubs Council.
"Wekadapola is just a Grade 7 referee in London. If he wants to help us he has to come through the proper channels. He has to go through me, speak to me or go through our site. We have our rules and regulations. There are so many things we have started now. He has to go through that. He can't just come and help referees, just because he is refereeing in England. He must have some credentials," said Lankan referees society president Tony Amit, who took umbrage at the fact that Wekadapola was coaching some referees privately.
"There is a forum going on in Whatsapp. He can't do that. He is trying to do that (coaching) on a phone call. We can't have all that. There are so many who wanted to come like this. There were three from Dubai and one from Australia. They want to do the same thing. You have to go through the proper channel," said Amit.
"This boy Wekadapola came about five years back with a London Society referee and a CMO (Coach of Match Official). They were okay but they were not qualified by World Rugby," he said, refusing to recognise Wekadapola as a Referee coach or educateo.
The only Asian in the London Society, in 2016, 45-year-old Wekadapola successfully completed a Referee Advisors' course and joined the London Society Referee Advisors panel.
"Ask him to send us his certificate. World Rugby qualification is only valid to us or it should be from Asia Rugby. To do something you have to be accredited by World Rugby as a CMO assessor or educator. I can understand if he was in the England Rugby Referees Association," said Amit, who feels Wekadapola is aggrieved because he was not given to blow matches in Sri Lanka during his visits here.
"He just can't come here and do games. If you want to referee, you have to do the fitness test. There are certain criteria. Straight away you can't give them 'A' division club games," he said. However, Wekadapola did blow a school match between St. Joseph's and Wesley.
Amit also denied the fact that Sri Lankan referees missed the opportunity of officiating at the Rosslyn Park tournament.
"It is an expensive thing to send them. We have to look after their lodging and all that. Four referees went to England. It is not him who did it. We got the invitation from the people who came from England. He introduced us. That's all he did," said Amit.