Richard Quest and Panelist of FOT from Transcend Drive
View(s):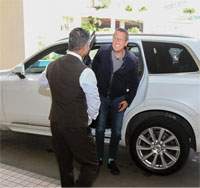 Exclusive and comprehensive luxury transport solutions provider Transcend Drive, recently partnered with the Cinnamon Future of Tourism Summit (FOT) that was held in Colombo. Providing a fleet of its luxury vehicles Transcend Driveprovided airport transfers and all other transport requirements for the Guest of Honor, CNN's famed anchor and business analyst Richard Quest, Keynote Speaker Anita Mendiratta (Special Advisor to the Secretary-General, UNWTO), Dilip Rajakarier CEOAnantara Hotels and Resorts and Minor Hotel Group, Sarah Mathews – from Trip Advisor, Michael Yam – CEO and Managing Director of Impetus Alliance and Ashish Hemrajani, CEO & Co-founder BookMyShow.
"We were indeed privileged to have been associated with the Cinnamon Future of Tourism Summit, which was timely and much needed exposure for our nation, as we recover from the April 21st catastrophe. Our fleet was used extensively for the travel requirements of panelists from around the world and we were happy to have our luxurious vehicles and superior customer-oriented staff work with these panelists. We look forward to working with Cinnamon and other international summits in Sri Lanka as well to provide transport solutions that are customized and portray the true hospitality of our nation", said Transcend's Founder and Managing Director/CEO Kishan de Silva.
The FOT 2019 summit used Transcend Drive's range of Volvo, Audi A6 and Jaguar luxury cars for its transport requirements.
"Transcend Drive was a suitable fit for this event which hosted many national and international dignitaries. The service was punctual and well-planned especially in the context of transporting busy international celebrity media personalities among other important guests. We truly appreciate the professionalism of the Transcend team on this occasion", said DileepMudandeniya, Head of Brand Marketing (Cinnamon Hotels and Resorts), Vice-President (John Keells Group) and CEO (Cinnamon Life Mall)
Transcend Drive is the preferred Transport and Travel Partner of many 5-star local and international hospitality brands including Cinnamon, Shangri-La, Marriott, Anantara, and Hilton. The fleet comprises of Audi sedan and SUVs, Jaguar XF and Land Rovers as well as Mercedes Sedans and Vitos and VOLVO. Transcend is definitely the undisputed market leader in luxury passenger transport who owns its own fleet of Luxury European vehicles. Transcend Drive also serves the transport requirements of corporates and individuals looking to travel in style. A designated agent handles meeting calendars, drop and pick-up timings and travel bookings etc.
Transcend Drive offers top of class chauffeurs who are knowledgeable in routes and destinations in Sri Lanka. All Chauffeurs are trained in English and often speak multiple languages. They are also trained in superior customer service to offer the guest a warm Sri Lanka experience.Transcend Drive also does an extensive background searches prior to employment to ensure safety of passengers. The fleet is fitted with GPS and its movement is monitored by Transcend Drive 24/7.
Transcend Drive fleets come equipped with Wi-Fi facility, phone chargers, mineral water and the day's newspapers and magazines for your reading pleasure.
Established in the late 1990's, Transcend Drive has been providing ground-breaking travel solutions. For more information on Transcend Drive's extensive list of transportation solutions please visit their website www.transcenddrive.com