Randy Chriz makes waves with Godzilla video
By Paramie Jayakody
View(s):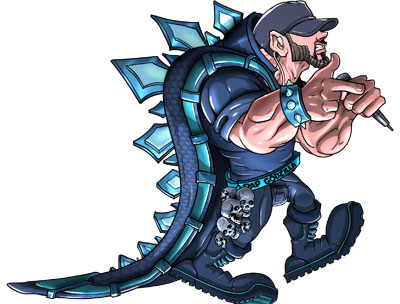 Alongside the bombshell that is the music video for Eminem's hit track Godzilla, another video made headlines recently. Released almost in sync with the official music video, this music video for Godzilla started off just being shared amongst a few friends of the animator.
Since its release almost two weeks ago, the fan made music video of Eminem's Godzilla featuring Juice WRLD has attracted the attention of YouTube celebrities such as No Life Shaq and The Matthews Fam with more than 3 million views. But little is known about its creator, Randy Chriz Perera.
A self taught artist animator with over 15 years of experience in the fields of TV, E-Commerce, Advertising and Music, Randy is no stranger to digital animations and artwork. His portfolio ranges from graphic design (Branding, ATL/BTL & Digital content design), to  Digital/Traditional Caricature Drawing, Cartoon Illustrations, to almost every style of animation conceivable. These include Motion Graphics, Kinetic Typography, Lyric Videos, Cartoon Animations, Animated Drawing Sequences &  Stop Motion etc.
But Randy didn't achieve all this overnight. "I quit my corporate job and ventured out on my own to build a brand for myself 2½ years ago in 2017", shares Randy. Since then, he has been focused on  producing his own productions. "As a result of this, my wife Portia and my brother Shayne joined me mid 2018 and we called our little production unit 'Meraki United'". The unit specialized in digital content and 2D animation with a special focus on the entertainment industry as opposed to the commercial one.
It was through this that Randy came up with an idea to make a fan video for Eminem's Godzilla. "I've always been keen on the entertainment industry and am usually well informed of what's going on internationally. And I usually do some kind of artistic expression of people and topics that inspire me or interest me. If you look at my social media pages, it is flooded with doodles, caricatures and videos of celebrities and global events. I'm just a bit geeky like that. And as a long-time Eminem fan making a video for Godzilla was inevitable. I just HAD to do it. I had done one before for his song "Believe" too because the lyrics of that song deeply resonated with what I have always felt about my journey. As such, Randy looked at his Godzilla fan video as another such passion project.
Creating this video was by no means an easy task. Randy shares that it took him a total of 19 consecutive days to finish the entire video. Although he also commented stating that "to be honest it took me 12 days 18-hour days to finish the video". He added that the additional days were due to a few technical issues where parts of the project were corrupted and required some re-work.
If one were to look at the video, one would definitely find that the video is riddled with a number of details and references. This is all thanks to the keen eyes of Randy. "honestly, detailing comes to me naturally. In fact I find it hard to do a simple drawing". Randy also shared that one look at his work on social media shows exactly how detailed his work actually is.
"Being an Eminem fan, the elements and connections to the lyrics and story-telling came naturally". According to Randy, the video in its entirety was "freestyled" and not scripted. Adding to the freestyle was his wife Portia as well. So just how popular was the video? Well, with 3.8 million views and counting, it's safe to assume that the video is indeed popular. "I don't think I have got a grip of the whole thing yet. It is just unreal", adds a somewhat blushing Randy.
Randy also shared that despite this being his second fan-made video for Eminem, the styles are vastly different Whilst "Believe" was in the style of motion graphics, "Godzilla" takes a more cartoonistic approach and as such is dubbed a "cartoon animation". That being said, this isn't Randy's first foray into music videos.
"I've done music/lyric videos for several local and foreign artists throughout the years". With every video he creates, Randy makes sure that he gives it his all, especially when he has complete creative freedom. And the results definitely speak for themselves.
For example, the music video he created for "Idle mind is a devil's workshop" by local heavy metal band "Stigmata" won the Asia Music Videos Award 2019, organized by ChannelFix. Randy had just 3 days to make the video so there was some serious pedal to the metal there. He credits the same for the success of his Godzilla fan-made video.
"The number one reason was probably the timing; the fact that the original track and the album were both heavily being publicized by the artists' labels" The second reason that Randy shares is the sheer amount of detail that he incorporated into the video "I usually produce a music video in 10 days max. I spent much more time on this one", he says.
Following the success of Randy's Godzilla video, Interscope Records, a record label owned by Universal Music Group whose roster includes Eminem & Billie Eilish contacted him with plans for a collaboration.
"I don't think I have got a grip of the whole thing yet. It is just unreal" shares Randy. Being approached by the label is indeed inspiring to him as he says that "now I know that they are looking and that they are willing to give anyone with real talent a chance". It doesn't stop there though. Randy has also been approached by a few popular rap artists for video creation as well. "I'm excited to work with them and put out more great work."
The publicity received from the Godzilla music video is the icing on the cake. "I think I can only say so much about this movie project, but I can say that the fact that this video went viral among a global audience will definitely help in finalizing the international distribution of our movie, because during the past months we were actually in discussion with producers from Hollywood on the distribution rights of our project".
Indeed it looks like Meraki United is on the cusp of contributing their fair share in taking Sri Lanka to a global audience. "I'm thrilled with this outcome to say the least. And I would like to call on fellow Sri Lankan's to support us all the way", adds a positively beaming Randy. If you're interested in checking out Randy's work, you can check out his tag RandyChriz on Instagram, Twitter and Facebook, as well as Randy Chriz Perera on YouTube.