Rakuten Viber is doubling the maximum number of group call to 10 participants at once in the wake of coronavirusin Sri Lanka
View(s):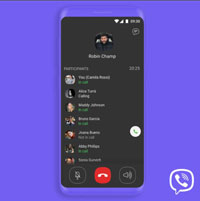 With the growing pandemic in the world due to the Covid 19 epidemic, countless people are being quarantined after exposure. Government organizations, health ministries have requested companies to consider adapting a work-from-home scheme to control the spread of the virus, and several have followed suit.
In fact, working from home has never been a more realistic option. People can work remotely with their computers and smartphones, staying as productive as ever while keeping themselves safe. With apps like Viber, for instance, youcan work-from-home with maximum efficiency and punctuality.  Here are just some of the ways the popular messaging app can help you get things done amid the COVID-19 outbreak.
Have meetings through group call. Since COVID-19 can spread easily in large groups, it's best to restrict your company brainstorming sessions to voice calls. Group calls are a great way to bypass the risk of meetings. Viber recently doubled the number of people who could participate in group calls to help everyone stay connected despite COVID-19. Now, Viber group calls can support up to 10 people at once—enough room for even the most important meetings.
"We're committed to finding more ways for people to connect in groups during this challenging time without having to be physically in the same place. With more people working remotely, in response to the spread of the coronavirus, we want to do our part to ensure that people have a safe and secure environment to stay connected with loved ones and to be able to continue to do their jobs from wherever they are," said OfirEyal, Chief Operating Officer of Rakuten Viber.
Send big files. Viber supports easy file sharing, so you can send your coworkers and business partners important reports and presentations quickly. Files up to 200MB can be directly shared within the app. For even bigger files, you can share links to cloud services on your Viber chat.
Work seamlessly on desktop. The desktop version of Viber also supports chats and calls, letting you meet coworkers and clients from the security of your home. It also has a cool screen sharing feature, which lets you share what you're doing on your computer screen to your contacts. This is really useful when you want to watch a video together, or when you want to give them a quick tutorial of a work app you like.
Call anyone, anywhere in the world. Nowadays, everyone is wary of international travel. If you need to get in touch with contacts who can't make the trip to you, use Viber Out, which lets you call any cellphone or landline in the world for just $8.99 a month.
With Viber's convenient features, it's still business as usual, even if everyone's working from home. On top of keeping your data secure and private, Viber helps you keep your health in check too.
About Rakuten Viber:
At Rakuten Viber, we connect people. No matter who they are, or where they are from. Our global user base has access to a range of features like one-on-one chats, video calls, group messaging, and updates and discussions with their favorite brands and celebrities. We ensure our users have a secure and free environment to share their emotions.
Rakuten Viber is part of Rakuten Inc., a world leader in e-commerce and financial services. It is the official communication channel of FC Barcelona, and the official instant messaging and calling app partner of the Golden State Warriors. Join Viber today and enjoy the world's best communication experience. For further inquiries, contact us at media@viber.com.