APPRECIATIONS
View(s):

He never sought glory but only satisfaction in service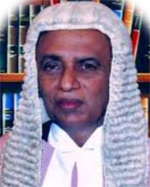 JUSTICE R. K. S. SURESH CHANDRA
How do you memorialize legal luminaries? Is it by the number of cases they have won or the cases they have been retained as counsel? How many juniors are in their chamber or how many cases they have appeared for? It is easy to be misled into believing that any, if not all of the above, is significant when commemorating one of our own. Yet, in truth it is none of the above that bears consideration. In truth, all that matters when looking back at the career of a lawyer is how they have contributed to the enrichment of our noble profession.
Sir Edward Clarke, K.C, once said, that success in the profession of law depends on three factors. First, one needs to have an infinite capacity for hard work. The second was to have no money. The third was to be very much in love with the profession.
A man who aptly demonstrated all three qualities and humbly practised them religiously in his own life is the late Justice R. K. S. Suresh Chandra, former judge of the Supreme Court of Sri Lanka, one-time respected advocate, academic, teacher, senior, much-loved husband, father and grandfather.
Justice Suresh Chandra made it a duty to overstate that to advocate, from a legal professional context, meant to answer to the solemn duty of pleading for the voiceless and thereby when required, being an unwavering force for the legally under-represented. His portfolio of cases, success in cases and lifestyle, manifestly validate the words of Lord Denning in the Petts case, 'if justice is to be done, he (the litigant) ought to have the help of someone to speak for him'.
Justice Suresh Chandra was not bound by considerations of legal practice when he accepted his vocation to serve as a judge of the Supreme Court of Sri Lanka, leaving behind a legal practice which he had built over 35 years. There is a Confucian teaching practised in dynastic China which states that monetary reward for the rendering of legal services was to be prohibited. Should this have been so in Sri Lanka, Justice Suresh Chandra would have still become a lawyer.
I had the privilege of being introduced to Justice Suresh Chandra a week before he was appointed a Judge of Supreme Court. I met him at the Superior Courts Complex, when he had occupied the small chamber in the corner of the fourth floor. A tacit tradition allocated this chamber to the latest addition to the Supreme Court Justices. I expected to be introduced to a person flaunting all the glamour of a judge, dictating orders to his 'árachchi'. I left the Court complex that day with an unforgettable memory: a man humbly yet jovially unpacking his own belongings whilst tidying up his own chambers; a most unexpected activity for a soon-to-be judge of the Supreme Court. I was accompanying Justice Asoka de Silva, the Chief Justice at the time, who was prompt to inquire as to why an assistant had not been assigned to him to arrange his chamber. In his modest way, he replied with a question meant in pure jest, "am I entitled to an assistant?"
After my introduction to Justice Suresh Chandra, I was assigned to assist him as an intern with research and drafting. He however, never treated me like a mere intern. He treated me as if I was a dear friend. My youth, inexperience and inadequacy of knowledge failed to prejudice him when mentoring me.
Justice Suresh Chandra mastered the art of rhetoric and oratory skills whilst winning the hearts and minds of his peers, junior counsel, students and staff, not only as a Counsel and as a Judge, but in all other capacities, as he served our learned profession. His passion for cricket was known to all cricket lovers in the Bar, young and old alike. Being a much-loved cricket commentator and former player himself, he worked tirelessly to organize cricket matches with the other international Bar Associations.
He strived always to be an achiever, to complete tasks given to him. I recall, during his tenure as a Judge of the Supreme Court, he was entrusted the task of automating the Supreme Court Registry and the stenographers' branch, to expedite the process of finalizing judgments. He had several rounds of meetings with the ICTA and the IT Registrar of the Supreme Court. He soon realized the reality that fully-fledged automation would require a great deal of funding which the Supreme Court did not possess. Despite these setbacks, he was not trained to give up. He did not canvass for funds or sophisticated software supported by equally sophisticated hardware. Instead, it was his idea to use a simple technique of local area networking to connect the Supreme Court Judges and stenographers.
Out of the many life lessons I received from him, the most significant was the importance of specializing. Labour law was his forte. He cultivated a passion for his specialization and made practising his profession a pleasure as apart to a mere livelihood. He was known, respected and sought for his legal acumen in labour law. He often lent his knowledge and expertise to the International Labour Organization (ILO), International Organization for Migration (IOM) on human trafficking and forced labour, the Judges Training Institute of Sri Lanka (JTI) and the Bar Association of Sri Lanka (BASL).
Following his retirement as Judge of the Supreme Court of Sri Lanka, he was appointed as Resident Justice of Appeals in Fiji from September 2012. In addition to serving as the Chairperson of the Fiji Law Reports Committee where his efforts managed to revive the Fiji Law Reports which had stopped in 2001, he was Coordinator of the National Judicial Education Committee in Fiji from 2014. He was also the Judge overseeing the revamping and development of the Fiji Judiciary website, and Chairperson of the Fiji Mediation Centre Committee.
Life bestowed many blessings on him and the most important to him undoubtedly was his life partner, friend and companion, his wife Savithri. Their love and affection for each other meant more to him than all the accolades in all the world. He was a devoted father and grandfather and always treasured his family life.
He worked silently. He never sought glory but only satisfaction in service. I had the honour of witnessing first-hand how dedicated he was in engaging in complex research and drafting judgments. He was modest in life and modest in death. I say this with a heavy heart filled with sorrow. It pains me that I never got the opportunity to pay my respects to him and bid farewell. In life he tried his utmost never to trouble anyone, never to seek favours or impose inconveniences. There is no surprise that he bid farewell to us silently. That is the real character of this great man who is no longer with us.
His contributions to the profession remain with us and will strengthen us all. May he attain the supreme bliss of Nibbana and may he rest in peace.
 Ashan Stanislaus
---
Eminent physician whose interests were wide and varied
Dr. Chris Uragoda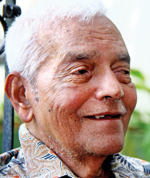 Dr. Christopher Gunapala Uragoda passed away on the night of March 28.
Born on September 28, 1928, he was the third and youngest son of Surveyor N.F. De S. Uragoda and Mrs. Lena Uragoda in Hikkaduwa.  The young family soon moved to Kalegana, Galle, to set up residence there. Following his early secondary education at Richmond College and Mahinda College, Galle, he was admitted to Ananda College, Colombo from where he gained admission to the Medical College.
"Chris" to many of his friends and colleagues, and "Ura" to some of his closest friends, he was always Christie aiya to me. That's what we cousins used to call him. He was my mother's eldest sister's son, his mother being many years older than my mother. Christie aiya's elder brothers were Dr. Hubert Uragoda who was a Medical Administrator in the Health Ministry and Samson Uragoda who was a practising lawyer at the Galle Bar.
When we were residing in Colombo, we used to spend our school holidays at Kalegana and invariably, Hubert aiya and Christie aiya too were there. My family thus got very close to Christie aiya. I have heard it being said that my mother (who was Punchiamma to Christie aiya) was like a mother to him because he was looked after mainly by her before she got married.
Hubert aiya and Christie aiya were in a chummery at Cotta Road at the turn-off to Tickell Road in Borella, when they were medical students in the early '50s. Both of them had push bicycles and were frequent visitors to Manning Town where we were living at that time. On his graduation, he gifted his old push cycle to my brother and myself. I must have been about 15 years old at the time and I recall that I had my first lessons in cycling on this bike!
My earliest recollection about the beginning of his professional career was that he was posted to Pallebadde, a remote station close to Embilipitiya from where he tried his utmost to get out. He succeeded in his efforts when he was appointed to the Thoracic Unit of the General Hospital where he worked under Dr. A.T.S. Paul and came into close contact with Professor Milroy Paul. It was there that he met his lifelong friend Dr. Malinga Fernando who had been one year junior to him in Medical College.
An incident that remains etched in my own mind was the time he took me to H.W. Cave & Co to buy me my first dissecting set when I got into the University Entrance class at Ananda College. Not only did he gift me with the dissecting set, he also treated me at Perera& Sons, Kollupitiya to cakes and milk shake!
I vividly remember the gathering of close relatives at Violet Cottage where he was residing at the time just before his wedding, and accompanyinghim to Prof. Kottegoda's residence at Nawala where a simple ceremony took place. As a schoolboy, I had heard from adult conversations that Christie aiya's bride Padma Rambukpota and Mrs. Kottegoda were sisters.
Christie aiya and Padma akka left for the UK where their eldest son Lalith was born. On their return to Ceylon, he was appointed as the Chest Physician in Kandy and they were blessed with three more children – Dianthi, Neluka and Dishana.
On his transfer to Colombo, he had a long stint as the Physician-in-charge of the Chest Clinic until his retirement in 1974. He was free at last to pursue his other interests like medical research and writing, professional associations, wildlife etc. Details of his achievements are too numerous to mention here, but in my memoirs "From Hikkaduwa to the Carolinas" published in 2010, I wrote, "Dr. C.G. Uragoda was perhaps the most distinguished son of Hikkaduwa of a later generation. Apart from his high academic qualifications (including a Doctor of Science degree) and numerous research papers especially on chest diseases, he has also authored many books on wild life and the history of medicine in Sri Lanka. He is also a past President of the Sri Lanka Medical Association, Ceylon College of Physicians, Sri Lanka Medical Council and the Royal Asiatic Society of Sri Lanka".
Christie aiya lived to the ripe old age of 91. He was devastated when his wife predeceased him a few years ago.  My wife Mangala and I used to visit him frequently at his Nawala residence where he was looked after by his dutiful daughter Dianthi. The other children Lalith and Neluka live in the US with their families while the youngest Dishana is in Australia.
May Christie aiya attain the Supreme Bliss of Nibbana.
 Dr. Lakshman Abeyagunawardena
---
A great communicator of scientific truth is no more
PROF. D.C.H. SENARATH
The news regarding the demise of Emeritus Senior Professor D.C.H. Senarath who served in the Department of Civil Engineering at the University of Moratuwa, brought much sadness to those who knew him. He was an excellent lecturer who dedicated his life to teaching, till the very end, in diverse areas such as Hydraulics and Hydrology, his specialty Groundwater Hydrology, Professional Ethics and latterly in Counselling and Psychology. He was also at one time, the Head of the Dept of Civil Engineering and Dean of the Faculty of Engineering.
My earliest recollection of Prof. Charles Senarath was of a smart gentleman entering the classroom. He wore sunglasses while driving his beautiful blue Volkswagen. It was the era of food rationing, no private buses and only public transport. Hence it was not uncommon for students to trek from the Katubedda junction to campus on foot to get to lectures on time, instead of languishing in the hot sunwaiting for a bus. Many a student would also thumb a ride from kind-hearted souls like Prof. Senarath, who would always oblige. This also enriched the staff-student relationship. The matter of relationships was something he treasured greatly and fostered.
Prof. Senarath was our first guru in Hydraulics in 1972, nearly 50 years ago, when we were third year undergraduate students. This was later followed by the visionary Prof. Dayantha Wijesekera in the final year. Prof. Senarath was a superb lecturer, who could communicate complex topics in easily understandable language. He possessed clarity of thought and presented his material in a well-ordered manner, which in typical fluid mechanics terminology, characterizes 'streamline flow', that he successfully 'injected' into us!  I still remember his clear and simple explanation of the fascinating experiments carried out by Prof. Osborne Reynolds, on laminar flow and turbulent flow at the University of Manchester, which resulted in the concept of the Reynolds Number. This is easy to calculate but has a profound meaning in the analysis of fluid flow. I was fortunate to see some of the remnants of this apparatus in 2015, while on a visit to the University of Manchester, and state this for the benefit of anybody who might be interested in the historical development of the subject. Unfortunately, life does not always run in a smooth 'streamline' mode and as for all of us, Prof Senarath too had his share of 'turbulence'!
Later, Prof. Senarath also taught us someaspects of Hydrology and one of my batchmates living abroad had this to say, "He was very precise in what he said and didn't waste time. He explained the unit hydro-graph so well that it was easy to grasp." Thus, we have lost a great communicator of scientific truth.
During the construction of the Polgolla diversion with the launch of the gigantic Mahaweli project, our batch organized a field visit to Polgolla and Prof. Senarath was the staff member in charge. Telephone communications were poor as it was the era of trunk calls. A critical last-minute trunk call had to be made from the little sub-post office near the campus, to seek permission from the site authorities for the proposed visit. Many hurdles had to be overcome, but it finally materialized! As students, we felt that he shouldered responsibility and saw us through. Here was a person who was there for his students.
In 1982, the Department of Civil Engineering was ready to conduct a postgraduate course in Applied Hydrology and I was appointed as the course coordinator. Prof. B.L. Tennekoon who was the Head of the Department, 'stabilized the foundation' of the postgraduate programme during this time. There were strict schedules to follow, as we were conducting it in collaboration with the International Institute for Hydraulic and Environmental Engineering in the Netherlands. I remember seeking Prof. Senarath's valuable advice and guidance in formulating the course. He delivered lectures in Groundwater Hydrology, his major area of specialization. He played an active role in teaching and research in this area, lecturing to many postgraduate students, both local and international, through the International postgraduate degree programme in Water Resources Engineering at the University of Moratuwa, until recently.
I shall always be grateful to him for an interesting article he passed on to me which has great hydrological relevance. It is titled "Kariba dam: Master of the Zambezi" by Gordon Gaskill, published in the Reader's Digest of December 1959. It gives a classic example where a statistical estimate of a design flood badly misfired! "The Zambezi rebelled against statistics. ……….  These episodes paled to nothing in the 1958 flood season, when the Zambezi effortlessly reached 290,000 cusecs, the kept climbing, climbing – to an incredible 575,000 cusecs! Helpless, Kariba's builders watched ……. Total disaster was averted – but narrowly. ……. Engineers hastened to add two more flood gates so that if ever again there is such a spree, Kariba can handle it". For anybody working on the topic of Flood Frequency Analysis, this is an excellent article, for it illustrates very well, the concept of uncertainty and the problem of large-scale extrapolation. Every time I refer to this article, I remember Prof. Senarath – a person who was ever willing to share his knowledge and expertise for the greater good of others.
During his tenure as Dean, Prof. Senarath made a concerted effort to arrest the ragging menace with the active assistance of staff and students. Those efforts bore fruit subsequently, when for many years we hardly heard of ragging incidents at the University.
Somewhere in his journey, Prof. Senarath equipped himself with further postgraduate qualifications in Psychology and Counsellingand helped many people through his counselling skills. He played a key role as President of the Sri Lanka National Association of Counsellors, in the aftermath of the deadly tsunamiand helped those who were traumatized by this disaster. He was also a lecturer in the field of Counselling and Psychology at several institutions. In particular, he and his wife were very committed to the whole issue of marriage and family and took an active part, through the Catholic church, in building healthy marriages, the basic building block of society. Many students too, had an open door to seek his counsel for their personal problems, confidentially. He would often stress the importance of developing the total personality, not only the intellectual.
I am writing this at a time when the Coronavirus has brought life to a virtual halt globally.  We are deeply sorry that we could not even pay our last respects to you Sir and condole with your family.
Several generations of students have passed through your hands. You have finished your race. The Lord and Master whom you worshipped, will surely say, 'Well done thou good and faithful servant'.
 Sunil S. Wickramasuriya
---