Young ranger shot in the heart by poachers at midnight
By Malaka Rodrigo
View(s):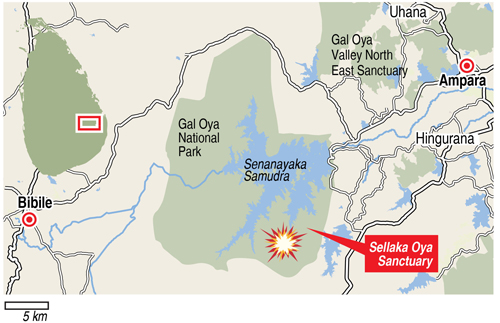 During a confrontation with poachers, Senadeera Pradeep Bandara, a young wildlife ranger aged 25 was killed in Galoya National Park this week.
The incident occurred around midnight on April 22 when a team of eight wildlife guards led by Mr. Bandara were patrolling an area of the southern boundary of the Senanayake Samudraya reservoir in the Gal Oya National Park.
Leaving their camp by boat at dusk, the team nabbed two fishermen illegally fishing in the reservoir. Then they took up positions at Sellakkaoya Wadi Gala, an area notorious for poaching.
Seeing the lights of torches, they silently laid an ambush, spreading out in wait for the approaching trespassers.
Stepping out from cover, Mr. Bandara ordered the poachers to stand still but one of them fired at him at close range.
Other guards managed to arrest four of the poachers, who had been armed with two shotguns, but two managed to escape.
After the mayhem died down the team realised their leader was missing and, looking around, found him shot at close range, lying on ground.
"The wildlife ranger was hit directly in the heart and died on the spot," the Officer-in-Charge of the Dambagalla Police Station, Inspector H.G.S. Jayaweera said.
He said the ranger's body lay in the forest until the next day when the magistrate and Judicial Medical Officer visited the crime scene.
A new recruit, Mr. Bandara joined the Department of Wildlife Conservation (DWC) seven months ago. His colleagues attested that he had joined their ranks out of a deep interest in wildlife conservation.
DWC Director-General Chandana Sooriyabandara said the young man was "an energetic character who showed promise to actively engage in conserving Sri Lanka's wildlife".
He called the death a great loss for his department and promised to do everything in his capacity to give due compensation for the family, acknowledging that no recompense could replace their loss.
Ranger Bandara leaves behind a brother and a sister.
A number of poachers were arrested by DWC officers over the past few weeks.
"We have only about 1,400 cadre in the field we but have to protect Sri Lanka's protected areas, which amount to about 12 per cent of land area," Mr. Sooriyabandara said.
"On top of that, our officers have to manage wildlife tourism activities and participate in divisional development meetings regularly.
"Due to the COVID-19 lockdown, however, such activities were stopped, giving our officers free time to carry out anti-poaching activities."
In the history of the DWC, 76 wildlife officers have been killed for reasons including attacks by elephants and other animals, anti-poaching activities and even falling victim to terrorist activities.
Sri Lanka is not alone in seeing its rangers under attack: the job is recognised as one of the most dangerous in the world. The International Ranger Federation said that in 2018, almost 150 rangers were killed around the world.
In Rwanda this week, 12 rangers engaged in mountain gorilla conservation were killed in a confrontation with rebels.
The DWC's hotline for reporting wildlife incidents is 1992.